for ISKCON News on April 12, 2019
On Saturday May 4th, a unique Rathayatra festival will take place in Texarkana, a city that sits on the state line between Arkansas and Texas. Going down Main Street, Lord Jagannath's chariot will be in both US states at once. The event will also be the first time the Hare Krishna maha-mantra has been chanted on the streets of Texarkana.
The Rathayatra will be organized by UK-native Sri Rangavati and her American husband Bhavananda Das, pioneers who run a small temple in the neighboring Arkansas city of Arkadelphia.
Known as "New Mayapur," the temple has a congregation of just six people. It is home to twenty-inch Deities of Lord Jagannath, Baladeva and Subhadra, specially carved in Jagannath Puri from separate neem trees.
For the past three years, Bhavananda and Sri Rangavati have put on an annual Rathayatra festival for them in the State capital of Little Rock.
"We started in 2016 as our offering to Srila Prabhupada for ISKCON's 50thanniversary," says Rangavati. "We built our own Rathayatra cart, using a 100-year-old farm cart from the early 1900s as a base."
The festival attracts two to three hundred people each year in downtown Little Rock, and a fourth annual event is scheduled for the last Sunday of September this year.
With this success, the husband and wife pioneers decided to organize a Rathayatra in Texarkana as well.
"We teamed up with Dr. Roshan Sharma, a well-known doctor in the town who provides pain and addiction management for patients," Sri Rangavati says. "As part of his therapy he holds Bhagavad-gita classes for them to attend, using Srila Prabhupada's Gita. He is paying for most of the festival himself, which is so nice of him. We're also getting support from the Hindu Association of Texarkana."
The Rathayatra is expected to draw 150 to 200 people, from both ISKCON Dallas and the local Hindu temple. Texarkana itself has only two initiated devotees – husband and wife Rupa Vilasa Das, a disciple of Bhakti Tirtha Swami, and Yamuna Vilasini Dasi, a disciple of Radhanath Swami. Both will be attending with about half a dozen regulars from their Sunday afternoon program Yoga As It Is.
The festival will begin at 11:00am with kirtan and talks by Travis Ransom, the Mayor of Atlanta, Texas; and Dallas temple president Nityananda Das, who is also GBC for Arkansas and will be speaking on the significance of Rathayatra.
After arati to Lord Jagannath and the traditional coconut ceremony, the parade will start at noon on Broad Street, then head up Main Street.
"We'll be starting in Arkansas, so we'll have an escort by Arkansas police," Sri Rangavati says. "Then as we reach the Texas border, we'll be escorted by Texas police."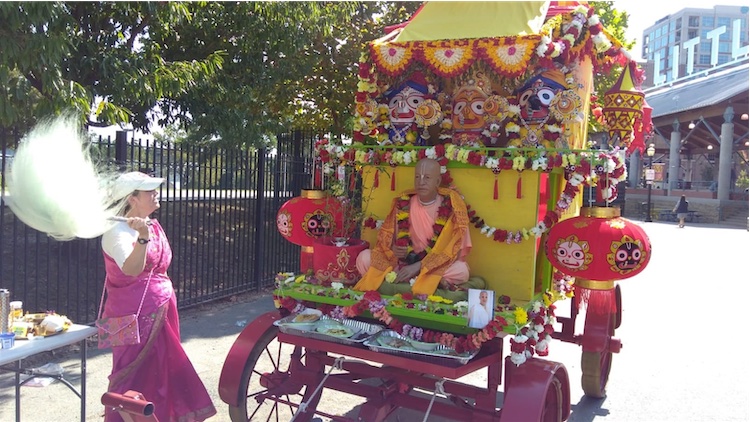 Sri Rangavati Dasi fans Lord Jagannath at last year's Little Rock Rathayatra in Arkansas
She adds: "While we're on Main Street, one side of the street is Arkansas, and the other side is Texas. So we will be chanting the Holy Name in both states at once!"
The two-hour parade will end with devotees serving a free prasadam feast to the public at Front Street Park.
"And that's our whole festival!" says Rangavati. "Because there are so few devotees in Arkansas, we aren't able to put on stage shows and set up booths. We're just going to be giving out the Holy Names, and distributing prasadam – exactly as the pioneering devotees did at the first ever Western Rathayatra in San Francisco."
Sri Rangavati hopes that the Texarkana Rathayatra will inspire Hindu community members to worship Radha and Krishna more and delve more deeply into their spiritual lives; that it will open Arkansas's small Western congregation up to the wider ISKCON family; and that it will attract brand new Americans to start attending programs in Texarkana and Arkadelphia.
ISKCON Arkadelphia, run by Sri Rangavati and Bhavananda, is known as "New Mayapur" by devotees and "Bhakti Yoga and Meditation Center" by the public. Small replicas of the Sri Sri Radha Madhava and Pancha-tattva Deities in ISKCON Mayapur, India are worshipped there along with Lord Jagannath.
Programs every Sunday include arati and kirtan, readings from the Bhagavad-gita, chanting a communal round of japa, and sharing prasadam. All major Vaishnava festivals are also celebrated.
In addition the couple go to community fairs for freshmen at the two small colleges in Arkadelphia, where they give out Prabhupada's books to those who want them, talk about philosophy to the students and invite them to their center.
"I hope people will see the jubilation and color of the Rathayatra and be attracted to take a book or find out more," Sri Rangavati says.
[
arkansas
] [
ratha-yatra
] [
texarkana
] [
texas
]