for ISKCON News on March 27, 2020
The first annual UP Devotional Arts & Film Festival, which took place on March 8th at Srila Prabhupada's Samadhi Auditorium in Mayapur, focused on screening music videos by devotee artists from around the world.
UP stands for "unpublished." "Just as we don't eat food we are about to offer to the Deities, we wanted to present a collective untouched offering to Srila Prabhupada, Pancha Tattva and Sri Sri Radha Madhava," says organizer Gour Govinda Das, a Croatian devotee with 20 years of experience as a professional photographer and filmmaker.
The projects premiered at UP are selected by a group of professionals like Gour Govinda and co-organizer Hari Kirtan Kaufmann, with the intent to contribute to society's upliftment by encouraging the spiritual, ethical and philanthropic development of the world at large.
The festival is also intended to explore and nourish creative expressions of devotion and share the aesthetics of spiritual culture.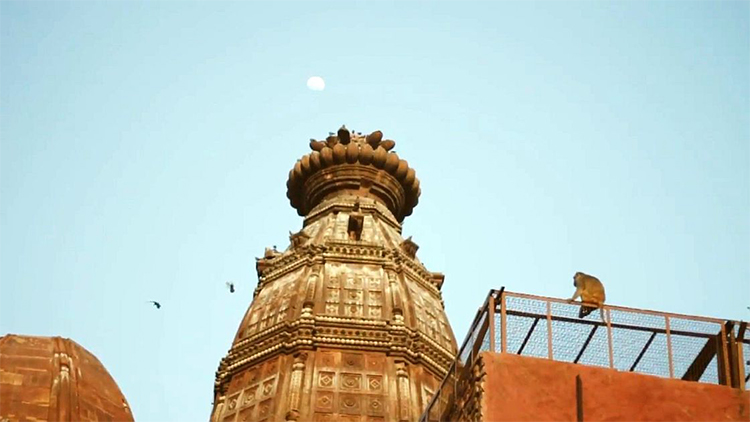 A shot from world traveler Deva Sekhara's video I Love You Vrindavan
This year's event started at 6:30pm with an introduction by guest of honor Yadubara Das, a legendary ISKCON filmmaker and director of "Hare Krishna!" MC Hari Kirtan then presented twenty music videos, some of them promos for artists' new musical releases, and others which were more showcases for filmmakers' talents set to music.
Opening the two-hour event with appropriate auspiciousness was Gratitude (Mangalacarana) by Russian duo Nilambary, consisting of husband-and-wife Nilambary Dasi and Sundara Govinda Das. The couple recently released their debut album, the lush film score-like "Eternal Prayers," and the video, shot by Nilambary herself, is a beautifully poetic offering featuring beach scenes and a plumed pen writing out the mantra in Sanskrit script.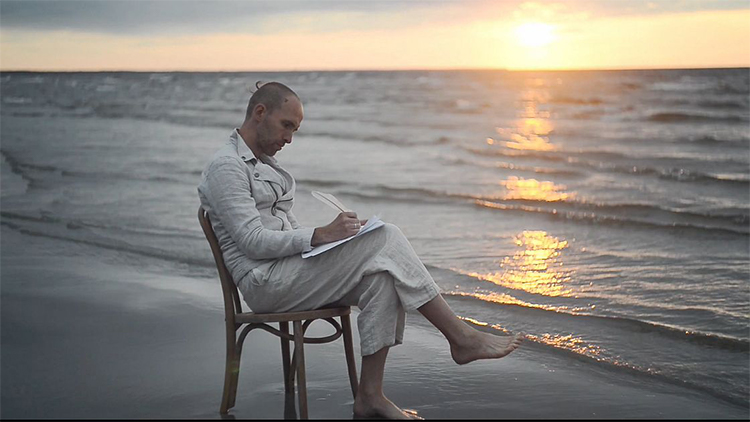 Sundara Govinda Das in Nilambary's 'Gratitude (Mangalacarana)
Other videos included the black-and-white Guru Pranati by Mayapur-based singer Padma Rani; Mapa by Padma Rani and her husband videographer Madhu, featuring children celebrating Holi on the banks of the Jalangi in Mayapur; I Love You Vrindavan, an atmospheric montage of scenes from the holy town by traveler Deva Sekharah from Spain; and Bhaja Gauranga, a slickly-filmed promo by India's Got Talent stars the Madhavas from Chandigargh, Punjab.
There was also Parama Karuna by Mayapurvasis; Radhe by Srikala, a spiritual R&B/hip-hop artist from Brooklyn; Tulasi by Nilambary; and Shyamero, a moving video by renowned kirtan group Kirtaniyas featuring scenes of village life in Vrindavan.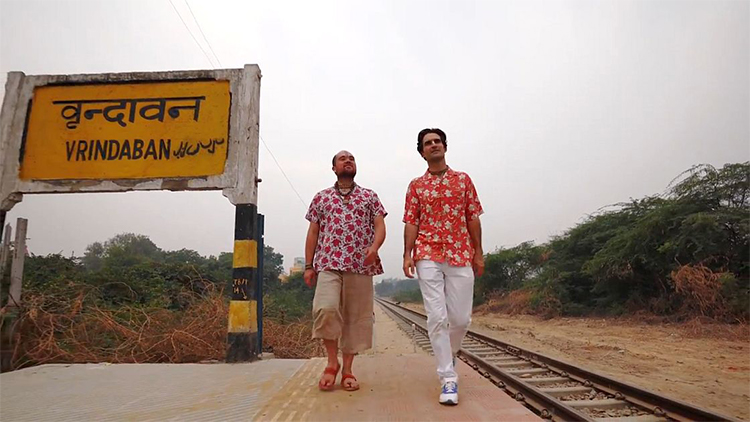 A shot from world traveler Deva Sekhara's video I Love You Vrindavan
Among the unpublished videos – the centerpiece of the festival – were Budim Se by famous Croatian jazz singer Subhadra; Vraja Jana by Kirtaniyas; a video of the Vasant Panchami celebration in Mayapur by TOVP videographer Thakur Sharanga; and Jay Jagannath by Confused Soul, a soft rock/funk duo consisting of two half-French devotees, Tulasi Das and Chandrasekhara Acharya Das.
The latter is the second single from Confused Soul's album Riviera, and wraps the mantra "Jagannatha Swami Nayana Patha Gami" in jazzy, Parisian chords, with a fun, uplifting video filmed on the banks of the Yamuna in Vrindavan during Kartik season.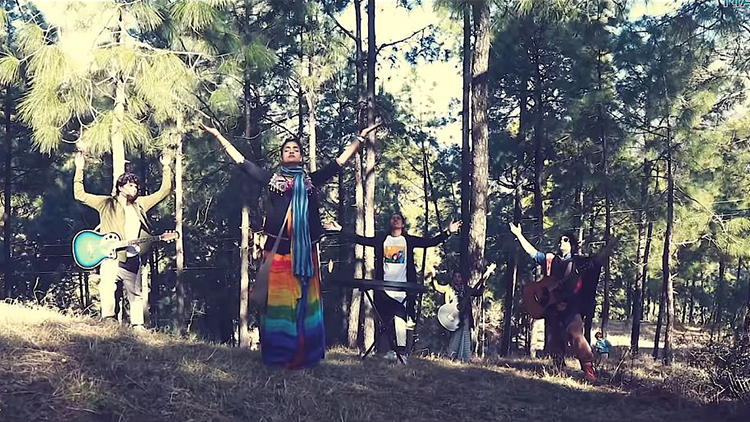 The Madhavas video for Bhaja Gauranga
Another popular unpublished video was that of Krishangi Lila, an Estonian devotional singer, voice healer and sound artist with Kasthuri Tilakam, a prayer from Bilvamangala Thakura's Krishna Karnamrita wherein he describes the beauty and appearance of Sri Krishna. The verse is often recited as part of many Krishna bhaktas' morning sadhana, to help them remember the Lord's form, qualities and beauty, and the ethereal video, filmed at Kusum Sarovara in Vrindavan, puts one in the right meditative mood.
Meanwhile two videos came from the Mantra Festival, a February 1st concert organized in Moscow by preacher Shaktyavesha Avatar Das and his team. Aimed at making devotional music and culture accessible to a wider audience, the event drew hundreds of members of the Russian public.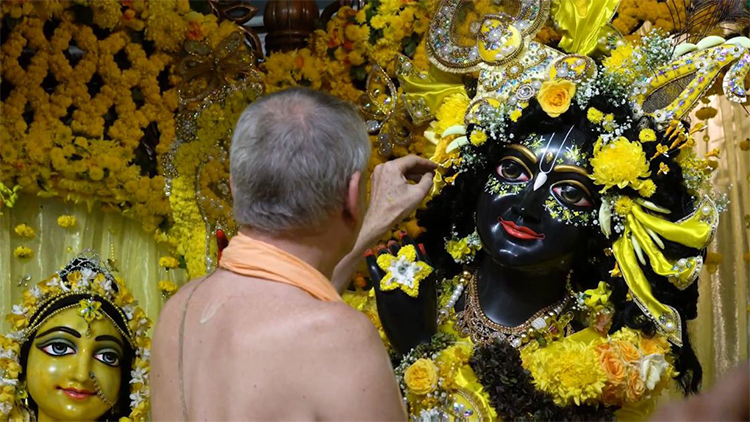 A pujari served Lord Madhava in Mayapur Videographer Thakur Sharanga's 'Vasant Panchami'
The first video from Mantra festival was was a dramatic theater piece directed by Vladimir Yasny, featuring dance and acrobatics, about the spirit soul's struggles in the material world and journey towards Krishna, set to rock ballads of mantras like Jiv Jago.
The second showed Jahnavi Harrison and Ananda Monet chanting the Hare Krishna maha-mantra with a full band onstage, as the crowds sang and danced along in a deeply moving scene.
Both videos were shot with nine cameras and professionally edited for an extremely impactful experience.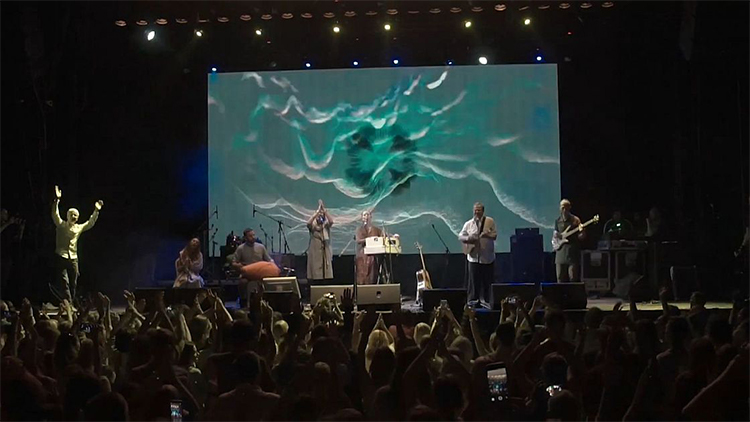 Jahnavi Harrison and Ananda Monet lead a Moscow Crowd in chanting the Hare Krishna Maha-Mantra at Mantra Festival
The first UP Devotional Arts & Film Festival was a success. "Devotees were amazed at the variety and quality of devotional music video expression," Gour Govinda says.
As long as the COVID-19 Pandemic abates, he hopes to continue holding the festival every year, with a growing number of submitted projects from the international spiritual community.
"Next year, we would like to expand to a full week-long event before the Mayapur Gaura Purnima festival, during which we would screen not only music videos, but also other types of videos and films," he says. "We would also like to add photography and art exhibitions."
In addition, the expanded festival would have a jury to ensure quality submissions, and networking to facilitate future collaborations and project funding.
"We'd like to create more space in ISKCON for devotional artistic expression, and for artists to get more publicity as well as inspiration from others," Gour Govinda concludes.
* * *
For more information, please email infoupfestival@gmail.com
[
festival
] [
film
] [
mayapur
] [
music
] [
video
]