on Sept. 12, 2017
Just two weeks after Hurricane Harvey struck Texas, Irma made landfall at the Florida Keys on September 10th as a Category 4 hurricane, bringing 130 mph winds and a storm surge of 10 feet.
Predicted to tear its way through the entire state, the hurricane cast a cloak of fear over many residents in advance of its arrival.
In Alachua, North Central Florida, devotees of New Raman Reti – the largest ISKCON community in the Western World – braced themselves for a Category 1 or 2 hurricane, rarely seen so far inland.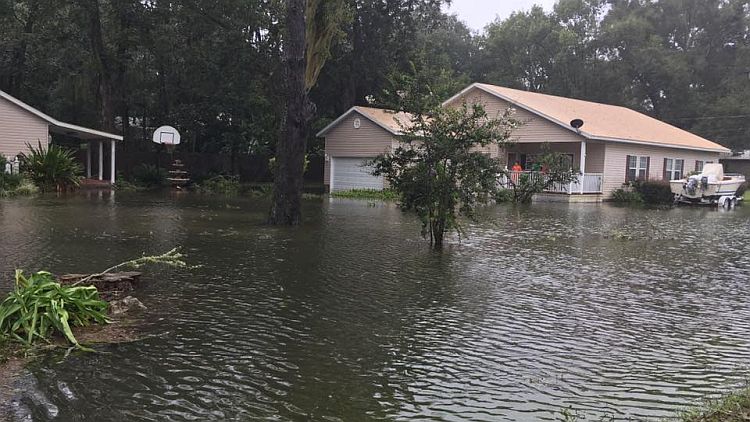 A downtown Alachua neighborhood where devotees live flooded severely
A mandatory evacuation order was issued by authorities for residents of mobile homes, which included many devotees.
The Sunday Feast was cancelled and the New Raman Reti temple boarded up its doors and windows in preparation. The temple room itself was used as a shelter by ashram residents.
Other devotees fled to city-assigned shelters such as the Alachua Elementary School, or stayed with friends who had houses. Some boarded up their homes and used sandbags to protect themselves from flood waters.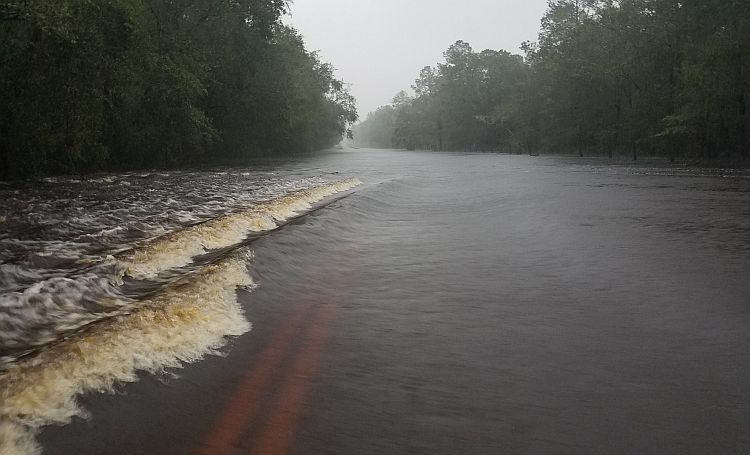 Everyone stocked up on food and water as stores ran out of supplies and gas stations ran out of gas in the panic.
In the end, while there was significant property damage in the Florida Keys and parts of Southwest Florida, the overwhelming mood after the hurricane was one of relief as it turned out to be much less destructive than expected.
In Alachua, rather than the Category 1 hurricane feared with winds over 90 mph, the situation was downgraded to a tropical storm with wind speeds in the mid sixties.
No devotees were hurt, and the temple and most homes were left undamaged. The one known exception is the mobile home of Jishnu and Gaurangi Fitch and their family of four boys, which was struck by a falling tree and sustained damage to its roof that will cost around $8,000. Fortunately, the family were in a shelter at the time – but with no insurance, they will need help. Devotees can contribute here: https://www.gofundme.com/fitch-familys-home-damaged-by-irma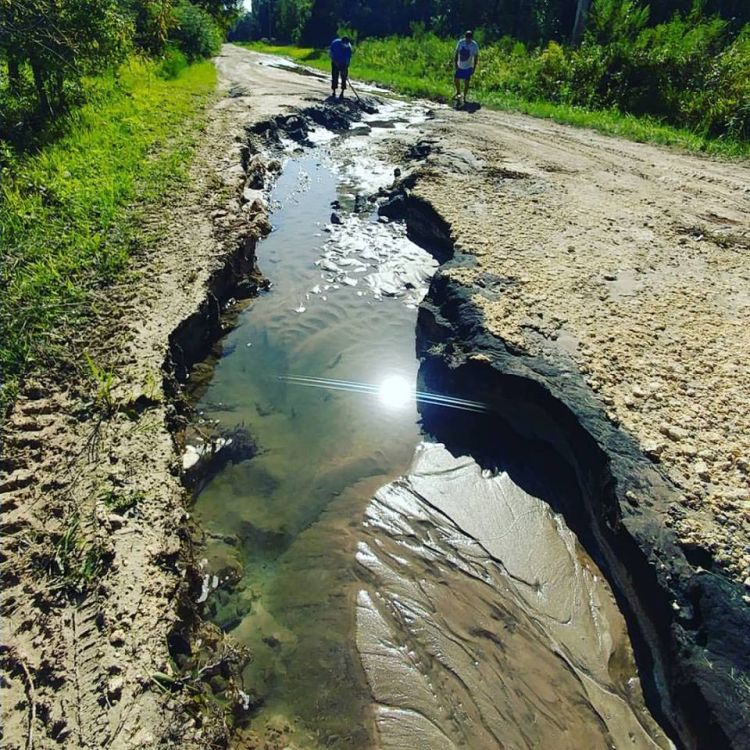 At the Bhaktivedanta Academy elementary and middle school, a large oak tree fell, luckily missing the school itself but knocking out the main power line servicing it. A safety perimeter has been established around the downed power line. School principal Visvambhar Das warns that no one should cross the perimeter under any circumstances as the line – if energized -- could cause serious harm or death to anyone near it.
It is unknown when power will return and thus when the school will re-open. In the meantime, parents and faculty will get together for a post-Irma clean-up day on Wednesday. Visit https://www.facebook.com/bhaktivedantaacademy/ to keep up to date with the latest news.
Individual devotees are safe, but for many life won't be back to normal for some time. It will be about a week before electricity returns to many homes. For some with medical necessities, this is a challenge – Sudharma Dasi, for instance, usually has in-home dialysis treatment that she can't go more two days without, but with power gone she must go to a clinic in town. Other devotees are cooking over open fires outside. Some couldn't get back to their homes for days because the way was blocked by floods, disintegrated roads and fallen trees. Fortunately, city workers are moving fast and most trees have now been removed from the roads.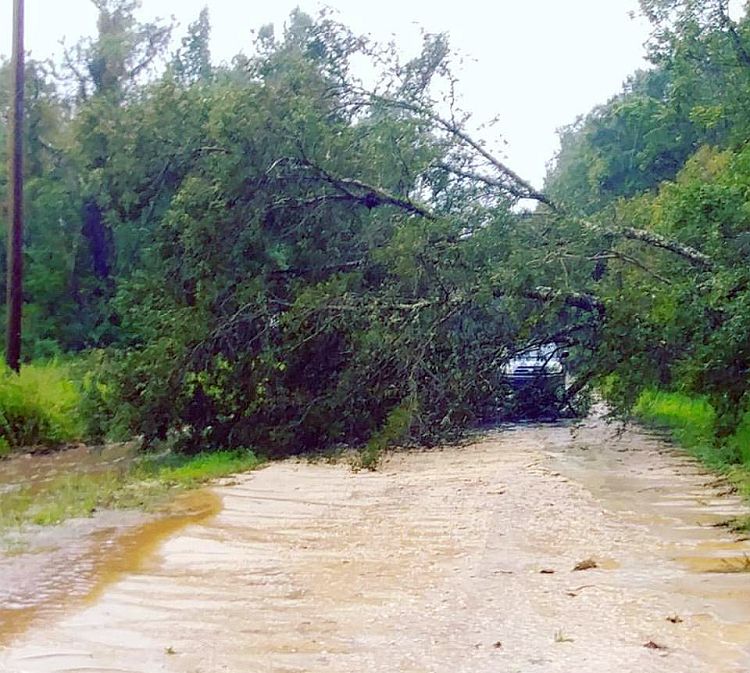 There is a generally positive mood, however, and the togetherness and support for those in need that the hurricane has inspired amongst devotees is heartwarming.
Beyond Alachua, it is not yet known whether devotees' properties in Key West and St. Augustine were lost or damaged, although devotees such as Kanti Dasi, who had to be moved from one shelter to another in Key West, are safe.
Despite major flooding in Jacksonville, devotees there are also reportedly safe. Further detail on any damage to property is still unknown.
ISKCON News will provide any relevant updates as they come in.
[
alachua
] [
bhaktivedanta-academy
] [
hurricane
] [
hurricane irma
]