Florida is (pre-Covid) a season of Rathayatra festival parades that take over the crowded beaches or towns, typically with eight events across the state: at the Gasparilla festival in Tampa, Daytona Beach, St. Augustine, Tallahassee, Jacksonville, Clearwater Beach, Jacksonville Beach, Tampa Bay, and Orlando.
This year, fewer events are scheduled with the Daytona Beach parade just passed on June 26th, and the Clearwater Beach event is upcoming on Saturday, September 18th. It will be a parade co-organized with the Festival of India led by Madhuha Das and will include stage performances, dioramas, and other festivities. We invite everyone to come and participate.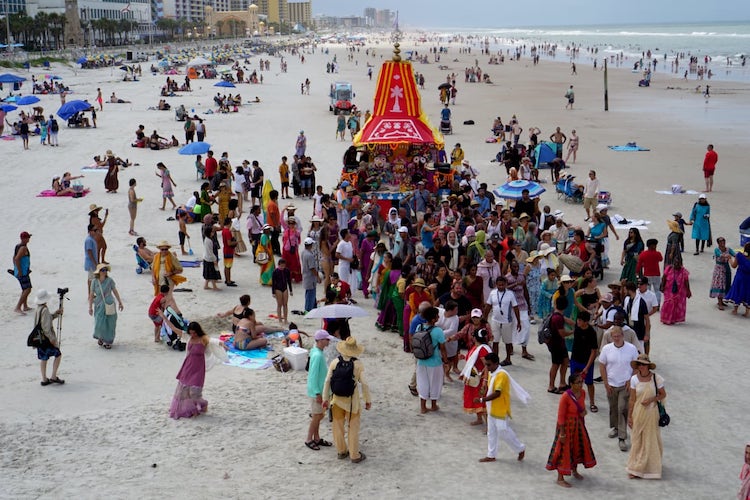 The Daytona Beach Rathayatra festival had more than five hundred devotees from Alachua and other ISKCON communities gathering at the picturesque vacation place in Central Florida, for the festival. It was a long-awaited event, indeed.
The Covid-19 pandemic delayed everything in the world and many festivals and events were placed on hold for months. Millions of people have been pulled out of their comfort zone to realize what Bhagavad-Gita calls the reality of this temporary miserable world, dukhalayam ashashvatam (Bhagavad-Gita, 8.15). Many even regret that life will not be the same. And though some people look at the global spread of Covid-19 with pessimistic eyes, true devotees always seek the shelter of Lord Krishna while trying to preach His message to others in turbulent times.
This time again Daytona Beach has become beautified by the joyful procession of the chariot pulled by many devotees walking on the sands. Ecstatic kirtans led by Alachua youth didn't leave anyone on the shore neutral. The procession was headed by colorfully dressed girls, a group of Russian-speaking volunteers, who performed choreographed dancing in front of the parade. Many devotees were walking around and distributing books to onlookers.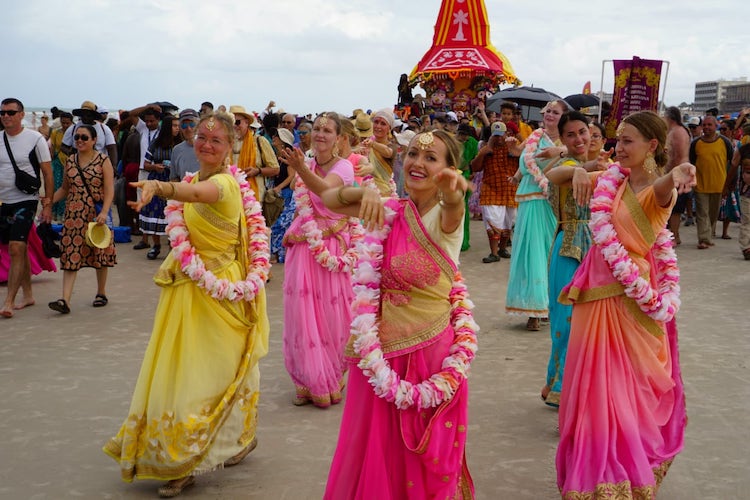 Despite the severe rainy week in Florida, all participants committed to join the Rathayatra festival at Daytona Beach anyway, regardless of worrying forecasts. Their enthusiasm was awarded by the Lord who provided perfect weather just for the period of the parade. As soon as devotees returned to the starting place and broke down the festival site, heavy rain returned and watered the beach again.
According to the Florida Rathayatra head manager Bhadra Das, the festival was a grand success due to the longing of all participants to see Lord Jagannath again.
"Everybody loves our Rathayatra", Bhadra says. "People hear the Holy Name, take nice prasadam and books of Srila Prabhupada. They get excited by seeing the happiness of all devotees, their enthusiasm, choreographed dancing, beautiful dresses, etc. It all touches their hearts. So they like it. That's the beauty of our Festival. And at the end of the day, everyone goes swimming".
More info: http://festivalofchariots.org/events/
[
florida
] [
rathayatra
]