for ISKCON News on Jan. 12, 2019
Although Food For Life Hungary operates all year around, the charity has a huge drive throughout the month of December, organizing events all over the country to feed thousands of people in need.
The effort was started by Dhananjaya Das back in 1993. Pulling up to a square in downtown Budapest and distributing potatoes and orange from an ancient van, devotees were soon surrounded by a crowd of people.
Today Bhakta Vatsala Das heads up the Christmas time drive, reaching out in particular to people in the countryside, where poverty is more pronounced than in the cities.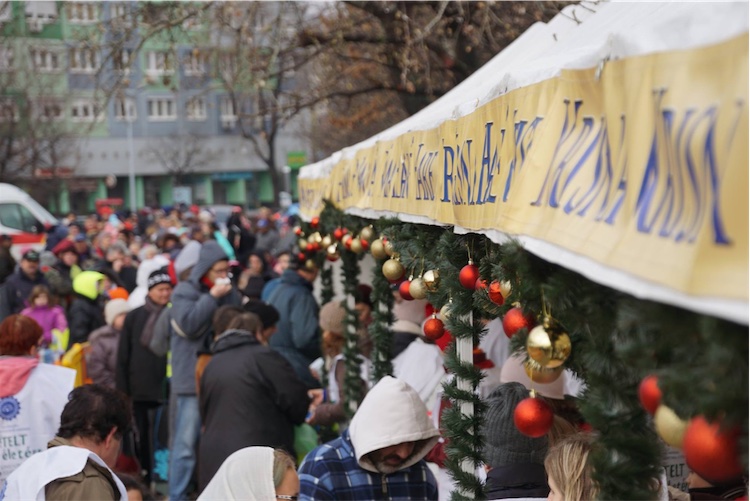 The lines were long at the food distribution
Offerings are a little more elaborate than they were in the early days – devotees dish out hot Hungarian-style meals centered around beans that warm the body and are rich in protein.
But Food For Life Hungary's specialty, and the biggest draw to its food drives, is canned and dry foods.
"There are so many families in Hungary who are on the edge of homelessness," says ISKCON Hungary spokesperson Gandharvika Prema Dasi. "They are in debt, have no jobs, and without external help they struggle to maintain their lives and may lose their homes."
Christhmas lunch
Food For Life gives these families canned food like beans and corn, as well as rice, flour, oil, sugar, milk products like yoghurt, lots of fruits, and a whole kg of bread to take home with them. They also give them sweets for their children – a rare treat.
Such packages were distributed in around ten different locations across Hungary, in places like Eger, Győr, Debrecen, Miskolc, and Somogyvámos, the village near New Vraja Dhama.
In the 3rddistrict of Budapest, where ISKCON's temple is located, Bús Balázs, the mayor of the district, joined devotees as a volunteer, in cooperation with the local social office.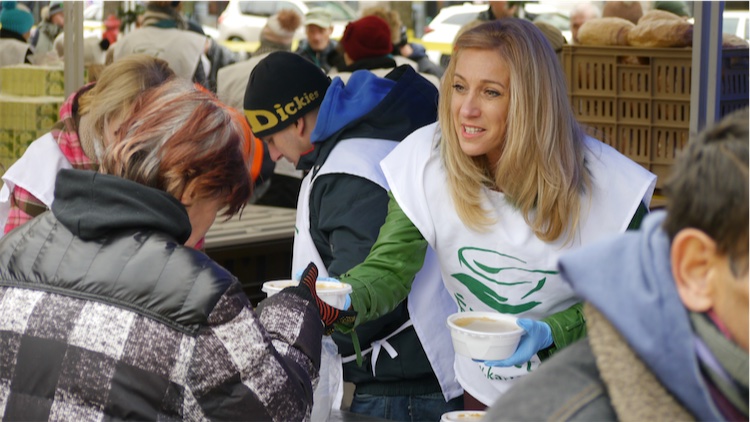 One of the 120 daily volunteers serves prasadam at the Budapest Christmas food distribution event. Both devotees and civilians volunteer
The biggest food distribution event of the month was a three-day effort on Budapest's main square, where around 4,500 dry food packages with hot meals were distributed.
Food For Life volunteers did their best to create a caring holiday experience at the event, erecting a beautifully decorated Christmas tree in the main square were the food distribution took place. The tree was covered with heartwarming messages from followers of Food For Life's Facebook page, with everyone's best wishes for those in need.
This Budapest event has garnered massive publicity over the years, and drew the help of not only devotees but also 120 civil volunteers per day. In addition, many Hungarian celebrities such as actors, singers, and radio and sports personalities assisted in the prasadam distribution.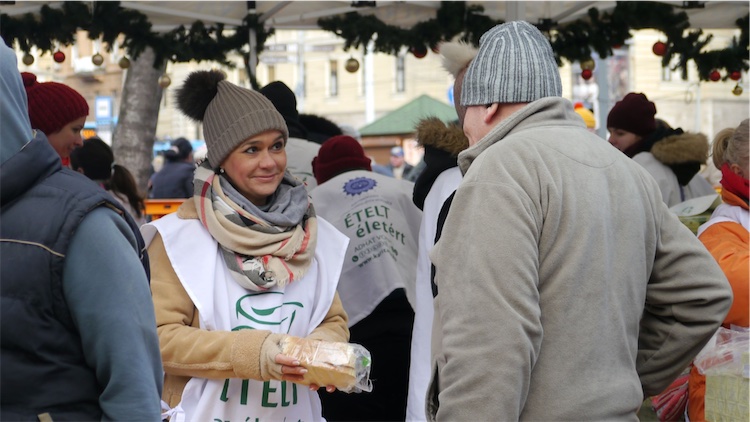 TV presenter Dorottya Geszler joins Food For Life as a volunteer
"There was also a lot of coverage from all branches of the media – most people in Hungary know the Hare Krishnas from our appearances on TV at Christmas time, distributing food," Gandharvika Prema says.
Recipients of Food For Life's help were extremely grateful and appreciative.
"My favorite part is going around and speaking to the people in line," says Gandharvika Prema. "I meet people I only see once a year at Christmas, listen to their stories, and give them some attention and care.
"I especially like speaking to the old ladies. There are so many of them, living in loneliness, all over the country. They come on their own, because their children have moved abroad and never talk to them. So I love to spend some time with them, and they are very grateful for our good wishes."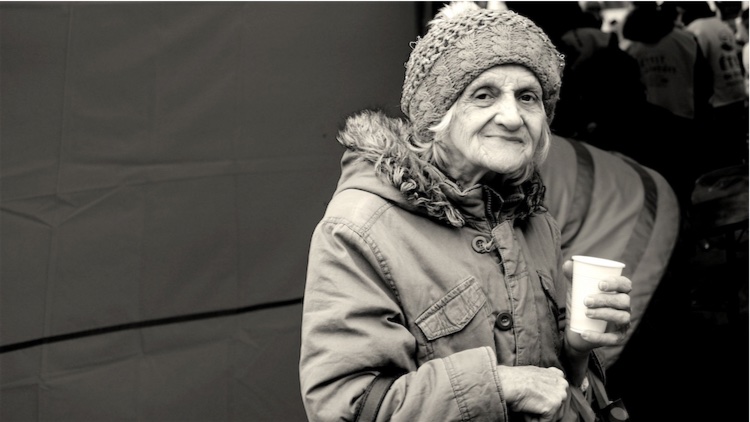 One of the old ladies Gandharvika talked to
Such care is expressed not just by Gandharvika Prema but also by all the other volunteers.
"The people feel so much love," she says. "When they get their package they meet at least thirty different volunteers who wish them Merry Christmas, and look into their eyes. It's very moving for them, and there are a lot of emotions and tears."
[
budapest
] [
charity
] [
food-distribution
] [
food-for-life
] [
hungary
] [
prasadam
]