Volunteers for the Food For Life Program in Turin, one of Italy's largest cities, distributed 15,000 meals to homeless people in need during the Covid-19 pandemic in 2020, and plan to increase to 20,000 meals in 2021.
The project was launched by Prabhu Das, who moved from Milan in 2015 to start a new temple in Turin, where there had been no ISKCON center for many years. He started with nothing, raised funds through book distribution, found a building with a large kitchen and started Food For Life (FFL) on a small scale.
In January 2016, FFL Turin partnered with a local humanitarian organization to arrange their first lunch feeding 250 homeless people on the Feast of the Epiphany, a public holiday in Italy. Positive stories in the press attracted the attention of the local municipality, who offered to support FFL in feeding people at homeless shelters once a week on Mondays.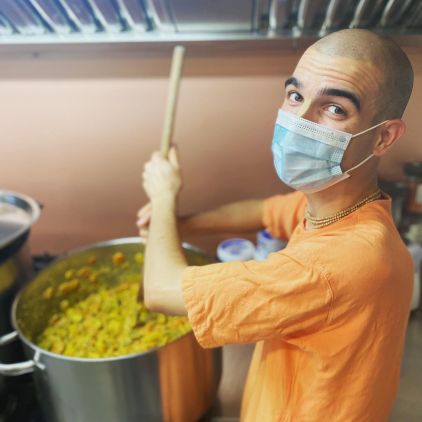 Devotees began by bringing prasadam dinners to one shelter – thirty people. Then, appreciating their service, the municipality asked them to increase to four shelters, or 120 meals every week, and then to five. FFL also partnered with local humanitarian organization the Leonardo Project to deliver hot prasadam meals to homeless people on the streets, bringing the total of meals distributed to 200 a week.
When Covid struck in March 2020, devotees along with everyone else had to go into lockdown, the homeless shelters were closed, and Food For Life ground to a halt.
"After a few weeks, however, some of the big humanitarian organizations in the city asked us to partner with them, because there was a big emergency," says Prabhu Das's son Abhiram Thakur, who currently cooks, organizes volunteers, and fundraises for the project along with Hayagriva Das.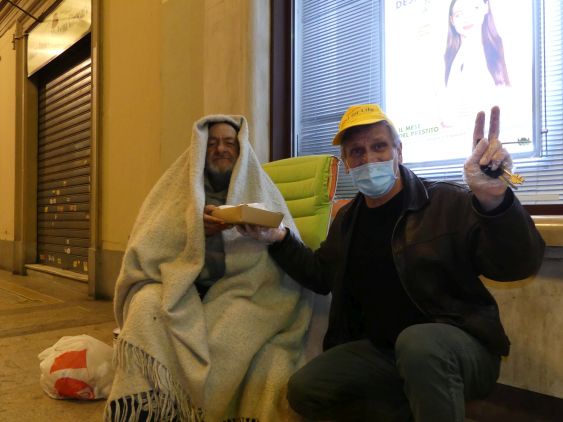 Pre-Covid, FFL volunteers would serve prasadam at the homeless shelters, play music, and spend time sitting and chatting with people. When the pandemic began, however, they started cooking and packing food at the temple, then dropping the individual boxed meals off at the shelter doors. At this point, they increased to 250 meals a week.
Today, Turin Food For Life distributes 330 boxed prasadam meals every Monday. Wearing masks, gloves and social distancing, volunteers start cooking prasadam in the ISKCON Turin temple's spacious industrial kitchen on Mondays at around 10:00am. At 6:00pm, they begin packing delicious hot rice, subji, bread and halava into recyclable cardboard boxes.
"We have become very, very productive," says Abhiram Thakur. "In forty minutes, we pack all 330 boxes. Then volunteers go out in nine different groups to seven homeless shelters and two downtown squares to deliver the prasadam. We leave the boxes outside the homeless shelters, and distribute them with trolleys in the squares downtown."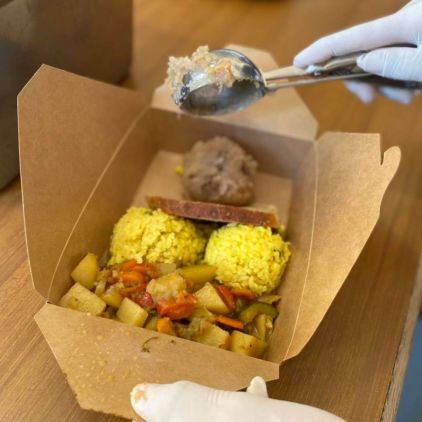 Food For Life Turin's service is very much appreciated by the community. Abhiram Thakur recalls that one municipality officer commented, "The food which is offered by the Hare Krishna Food For Life organization is of another quality, both from the point of view of health, and of taste." Recently, another municipality officer, who oversees many homeless shelters in Turin, contacted Abhiram Thakur saying, "Because you are always so kind, and you treat all the homeless people so well, we want to ask you if you can increase the number of shelters you deliver to."
What's more, many ISKCON Turin congregation members have come to Krishna consciousness through Food For Life over the years, first attracted to the idea of volunteering, and then beginning to attend programs at the temple.
In this connection, Abhiram Thakur quotes Srila Prabhupada's purport to Bhagavad-gita As It Is 3.11: "By performances of yajna one's eatables become sanctified, and by eating sanctified foodstuffs one's very existence becomes purified; by the purification of existence finer tissues in the memory become sanctified, and when memory is sanctified one can think of the path of liberation, and all these combined together lead to Krsna consciousness, the great necessity of present-day society."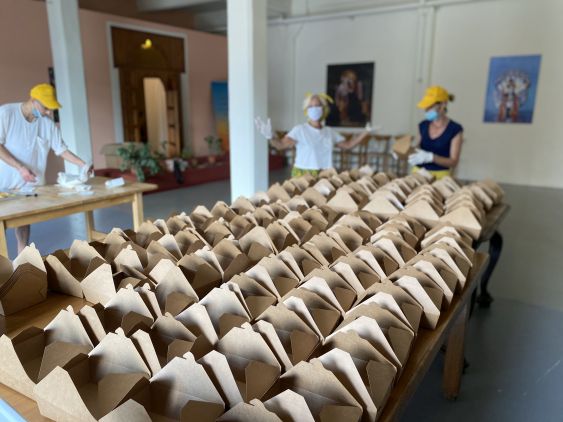 Looking to the future, FFL Turin aims to distribute 20,000 prasadam meals this year; and to start a Food For Life project in Genoa, two hours' drive from Turin, where Turin temple president Prabhu Das also oversees a rural community.
"From the beginning, our mood was to just increase, in the spirit of Srila Prabhupada, who always wanted us to increase our service no matter what," Abhiram Thakur says. "So our mood is to just expand the prasadam distribution more and more; to distribute purified food so that people can awaken their spiritual intelligence, and purify their existence."
To give a donation and support Food For Life Turin, please click here: https://foodforlifeaps.it/dona
To follow the Facebook page, please click here: https://www.facebook.com/foodforlifeaps
[
covid-19
] [
food-for-life
] [
italy
] [
prasadam-distribution
] [
turin
]