ISKCON Cardiff temple president and Food For Life Wales Director Tarakanatha Das has received a Points of Light award from the UK Prime Minister's office, and has accepted it on behalf of the prasadam distribution organization.
The Points of Light award is presented to outstanding volunteers who are making a change in their community. On Friday July 3rd, Food For Life Wales was recognized for its relief work during the COVID-19 pandemic. So far, the team of Cardiff devotees, along with 200 volunteers of other faiths and professions, have distributed over 40,000 prasadam meals during the crisis.
The award came with a personal letter from UK Prime Minister Boris Johnson, who said: "I wanted to write personally to thank you for your extraordinary efforts at 'Food For Life Wales' feeding tens of thousands of vulnerable people and our wonderful NHS workers.
"Your uplifting mission has brought nourishment and care to so many people and I am lost in admiration for the dedication of your army of volunteers who work tirelessly in the service of others."
Secretary of State for Wales Simon Hart also sent a personal letter, writing, "Tarakanatha and his team of volunteers have provided an inspiring service to ensure thousands of people across south Wales receive the meals they need during this crisis.
"I am humbled by Tarakanatha's story and the volunteers' achievements, and am extremely grateful for the hours of service they have contributed to benefit communities ranging from Barry to Pontypridd and Swansea."
Commenting on the award, Tarakanatha Das said, "I am very pleased, humbled and honoured to receive this Points of Light award. I accept this on behalf of our dedicated team of volunteers, that includes the cooks, veg choppers, delivery drivers, route organisers, packing team and all of those who helped organise this fantastic effort. This just goes to show, what we can achieve when we all pull together, together we are stronger. As the old adage says "the more you give, the more you grow."
Food For Life Wales originally started in the mid 1990s, running alongside restaurants like Govinda's café in Swansea. More recently, it has been based at ISKCON Wales' headquarters in the capital city of Cardiff, alongside the Atma café, with devotees distributing three to four hundred plates of prasadam a week to refugees and homeless people.
After March 23rd, when the UK went into a strict lockdown due to the COVID-19 pandemic, the resident devotees of ISKCON Cardiff found their main sources of income and service – book distribution and the Atma café – put to a complete stop.
Looking for a way to continue connecting with people, they decided that prasadam was the answer. With full COVID-19 precautionary apparel and social distancing, they went door to door, dropping flyers through letterboxes of people's homes in the immediate vicinity of the temple. Straight away, they began to receive phone calls from isolated people.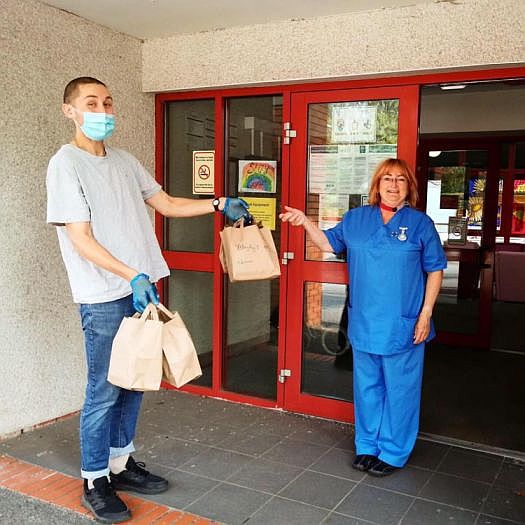 Bhakta Ben delivers meals to a GP surgery in Cardiff
"We started with thirty to fifty meals a day," says Tarakanatha. "We were reaching some people, especially the elderly, who practically hadn't eaten for two to three days! They were really appreciating that we had found them."
Inspired by the response, the Food For Life team reached out to the National Health Service (NHS) and began providing meals for frontline workers. Soon, the small group of about twenty devotees were distributing four to five hundred meals a day – at least as much as what they had previously been taking a whole week to do.
"The operation was growing at a rapid rate, and we had no income coming in, and not enough volunteers," Tarakanatha says. "We put out a call for volunteers on social media, and applied for funding with government agencies."
Food For Life was approved, receiving six months' funding from the Welsh government. Meanwhile, local people showed up to volunteer in their droves.
"They came from all walks of life," Tarakanatha says. "We've had priests of all faiths, magistrates, PCSOs from the police station, even rugby players. Wales is famous for its rugby, it's like a religion here – so when these big strong rugby players came to help distribute prasadam, it really inspired others to do so too."
He adds: "Everyone was feeling useless in lockdown; they wanted to do something. So we were channeling their energy and connecting them to service. Many volunteers told us that they were in dark days, and didn't know what to do, but the devotees and their association were therapeutic. They were really appreciating devotees and prasadam."
Food For Life volunteers were, and still are, distributing prasadam six days a week during the pandemic, working twelve-hour shifts from 8am to 8pm, and at one point delivering up to one thousand meals a day. Because the ISKCON temple kitchen is too small, head cook Prajanya-gopa Das and his helpers work from a large kitchen kindly provided by the local Swami Narayan temple.
Volunteers are meticulously organized by Gopi Gita Dasi and Bhaktin Kim. To protect against Coronavirus, social distancing is employed, with tables set two meters apart. Hand sanitizer is used, and gloves, masks and aprons are worn. Vegetable choppers and prasadam packers are assigned their jobs, delivery drivers sent out on pre-mapped routes.
Prasadam meals of rice, subji, a savory such as pakora or samosa, and cake have been delivered to police stations, prisons, over twenty hospitals, thirty doctor's surgeries, and over thirty care homes across South Wales – including Cardiff, Swansea, Newport and the surrounding valleys. Volunteers have also fed many cancer patients, who were just home from chemotherapy and were too weak to cook for themselves.
As well as the prasadam, devotees have been delivering "Meditation Care Pacakages."
"The idea came about just after the lockdown began, and people were completely uncertain about the future, with so much fear and anxiety," says Tarakanatha. "With all the pressure the frontline workers were under, we decided to reach out to them first. The Meditation Care Packages consist of a set of japa beads, one of Srila Prabhupada's books, a maha-mantra card, and a link to a video clip of a devotee explaining how to chant. The idea was to give them a spiritual perspective of what was going on, as everyone was completely bewildered."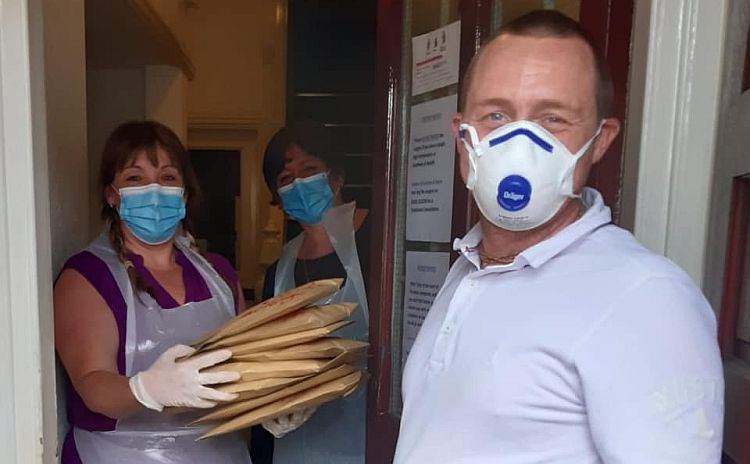 A devotee delivers "Meditation Care Packages"
Early on, over 300 frontline workers – such as radiologists, doctors, nurses, care home assistants, and mental health professionals – registered online for the free care package, as well as some cancer patients.
Devotees are now following up with these recipients with various specifically designed introductory aftercare programs. Among them is "The Spiritual Fitness Program, a 21-day challenge to measure recipients' progress with chanting, which also covers their physical and mental care.
Food For Life volunteers also follow up with everyone who receives prasadam from them, to check on their wellbeing.
"We really want to make sure that we are giving a proper service," Tarakanatha says. "As they say, love is in the details. It's not just a free food thing – this is our service to Krishna. So we really make that extra effort."
This effort has been widely appreciated, with grateful testimonials pouring in from all corners. One woman, Nikki-lee, wrote to thank devotees for helping her father who had just come out of chemotherapy.
"On behalf of my Dad I would like to say a huge thank you for your kindness and food over these past few months," she said. "The food and little interactions he had with your volunteers really helped him during these difficult times. I'm in Senghenydd and he is in Cardiff so it has been difficult to ensure he gets what he needs. But you guys have been amazing in ensuring he had a nutritional meal every day. Thank you all for your kindness and generosity x Great Friendly service that restores my faith in humanity."
Other grateful people wrote, "You guys are REAL heroes in these times," "Where would we be without people/organisations like yourselves, angels!" and "Thank you for the meals… They have been more of a lifesaver than you'll know."
Meanwhile Pontypridd MP Alex Davies-Jones tweeted, "It's been so great to see our #communities coming together to support those who need help the most. Food For Life Wales are just one of the fantastic groups that are operating at the moment. They have been delivering free #plantbased meals to homes across #Pontypridd every Monday and Thursday."
With restrictions now gradually easing in the UK, and volunteers set to start returning to work, Tarakanatha says Food For Life will have to start cutting back somewhat. But he's also certain that the new contacts, new opportunities, and vast goodwill incurred during the crisis so far will enable the food relief organization to continue at a higher level than before.
"When we eventually get back to whatever the new norm is, Food For Life will have increased its stature a lot," he says.
[
cardiff
] [
food-for-life
] [
prasadam-distribution
] [
wales
]