for ISKCON News on Oct. 20, 2018
The fifth day of the GBC Meeting was evoked with the auspicious spiritual initiation ceremony by Bhakti Charu Swami and it marked the fourth installation ceremony of the ISKCON Kanpur temple. Four years ago, it was on Dusshera or Rama Vijaya Dasami day, that the splendid Kanpur temple was inaugurated and the Deities were installed with grandeur and pomp. Zonal Secretary of ISKCON Kanpur, Devakinandan Das recalled, 'Srila Prabhupada always desired a temple to be erected in Kanpur. This did not just enter through my ears and hit my head but it touched my heart and inspired me to work towards fulfilling Prabhupada's desire. Keeping Srila Prabhupada and his teachings at the centre of everything always, celebrating the fourth anniversary amidst the GBC Meetings felt ecstatic.'
At 6.30 am devotees assembled in the temple for the initiation ceremony. Bhakti Charu Swami elaborated on the significance of spiritual initiation and explained the intricacies of spiritual life, which is based on surrender and love. He further gave an insightful lecture on the Ramayana shedding light on the Rama Vijay Dasami celebrations.
The initiation ceremony was ended with a fire sacrifice and loud chanting of the Holy Names of the Lord. The devotees were overjoyed.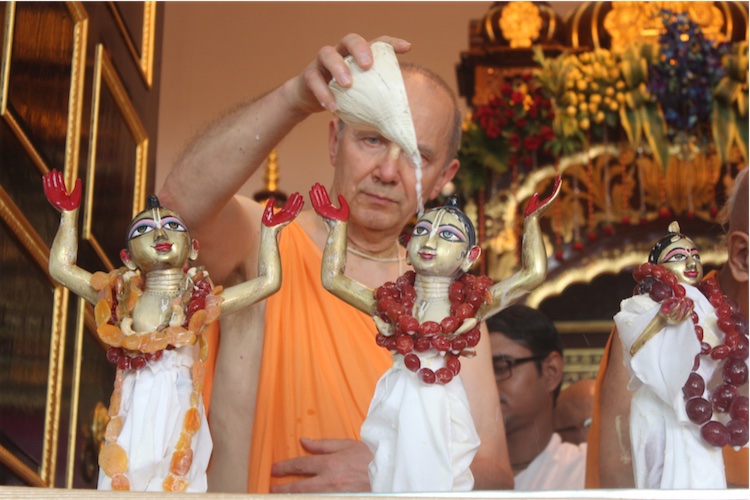 The initiation ceremony was followed by an abhishek ceremony (i.e. the Deities of Radha and Krishna were bathed) by the esteemed GBC members, dignitaries and senior devotees. Devakinandan Das had expressed, 'I always wanted to have the GBC Meeting here in Kanpur. GBC represents Srila Prabhupada, and I wanted the devotees here to get the taste of association of senior devotees. Hence, hosting the dignitaries here has been an honour. By the divine arrangement of the Lord, the temple installation anniversary happened within these days. It just added to the joy of hosting the GBC members here.' By 2pm the abhishek ceremony came to an end and the devotees couldn't stop asking for more, more kirtan, more association and more spiritual ecstasy.
The temple president, Prem Harinama Das along with Radha Ranjan Das and Amritesh Krishna Das has been working relentlessly to plan, arrange, co-ordinate and ultimately serve the GBC members and arrange for the installation ceremony program. Devakinandan Das smiled and uttered, 'When a child is growing the parents are like text books, they simply learn and get nurtured. But once the child grows up, the parents become dictionaries. They simply guide and support the child. I feel the same way, I facilitate and support the devotees and let them sustain and grow.'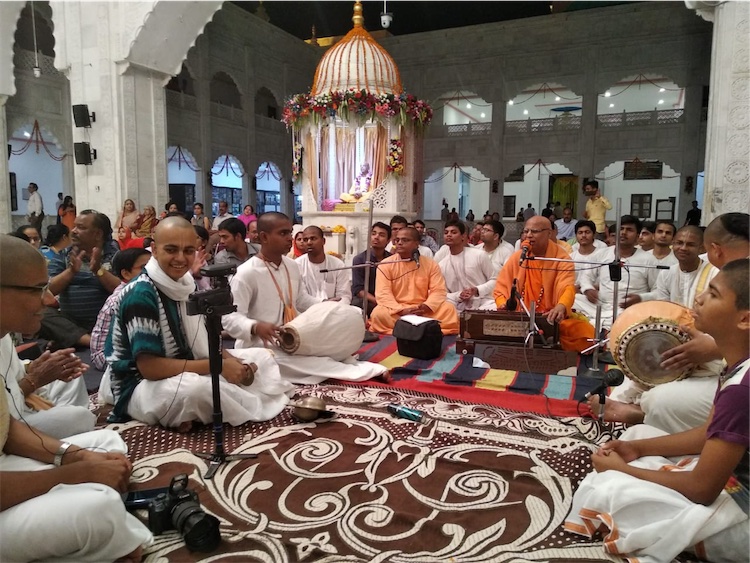 Now that the GBC Meeting is nearing its end, the devotees of ISKCON Kanpur are hoping to host the GBC meeting soon again.
[
dusshera
] [
gbc
] [
kanpur
] [
rama
]