for ISKCON News on March 31, 2019
Today there is a proliferation of different kirtan festivals all over the ISKCON world. But Germany's Kirtan Simha is unique: a mystical experience centered around the Lord's half-man, half-lion avatar Narasimhadeva.
Taking place in the Bavarian Black Forests of South Germany, at the Simhachalam farm community, this year's five-day festival will run from May 15th to 19th.
Around 600 devotees from all over Europe – Italy, Germany, the Netherlands, Belgium, the UK, Czech Republic, Slovenia, Croatia, Lithuania, Poland, Switzerland, and Austria – are expected to attend.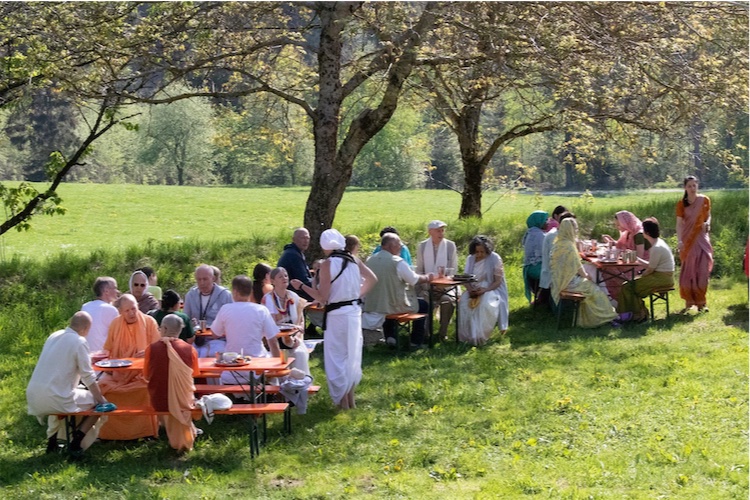 Devotees honor prasadam together against the lush scenery of the Bavarian countryside
Among them will be senior kirtaniyas and guests of honor such as Kadamba Kanana Swami, Krishna Ksetra Swami, Bhakti Vaibhava Swami, Bhakti Bhusana Swami, Chandramauli Swami, German GBC Dina Sharana Dasi, Vijaya Das, and Devaki Dasi.
Younger kirtaniyas will include Vishvambar Sheth, Ramanaji Das, Tarana Caitanya Das, Caitanya Cintamani Dasi, Narahari Das, Abishek Das, Yogindra Das, and Ananda Murti Das.
Next generation gurukulis and youth have been a big part of the creative team behind the special festival too. Organizers include Hari Kirtan Das and his wife Vrindavaneshvari, along with Simhachalam temple president Gour Mahan Das, also a gurukuli.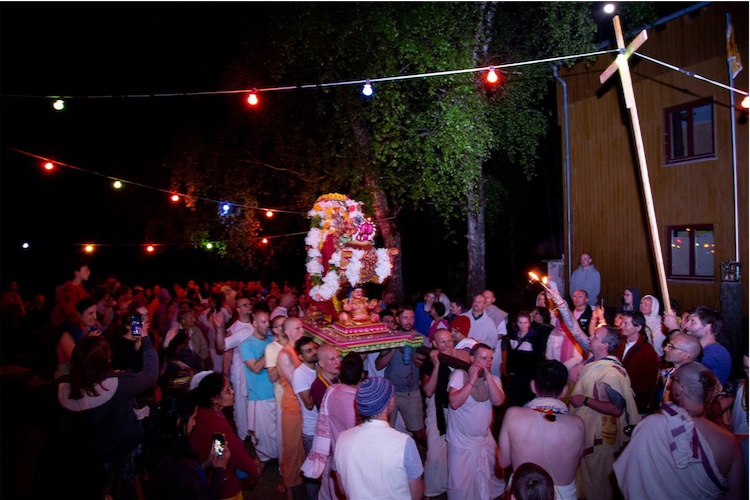 Carrying Lord Narasimha in procession around the temple
"Lord Narasimhadeva was installed on Simhachalam farm back in 1982 to protect devotees going on book distribution in the area," explains Hari Kirtan. "So the Nrsimha Chaturdasi festival has been going on here for many years already. But 2018 was the first year that we added Kirtan Simha – two extra days purely dedicated to roaring kirtan in the mood of Lord Narasimhadeva, rich prasadam feasts, and an opportunity for devotees to go deeper into their relationships with the Lord and with fellow vaishnavas through sharing in seminars and workshops."
All of this, Hari Kirtan says, is solely intended to spread the fame and glories of Lord Narasimhadeva.
The five-day festival will be packed with seminars and workshops on diverse topics from mridanga, dance and martial arts, to yoga, to Vedic architecture. There will be an extensive children's program, including abhishek for the children.
During the Kirtan Simha section, devotees will deliberately meditate on the relationship between Lord Narasimhadeva and Lord Chaitanya.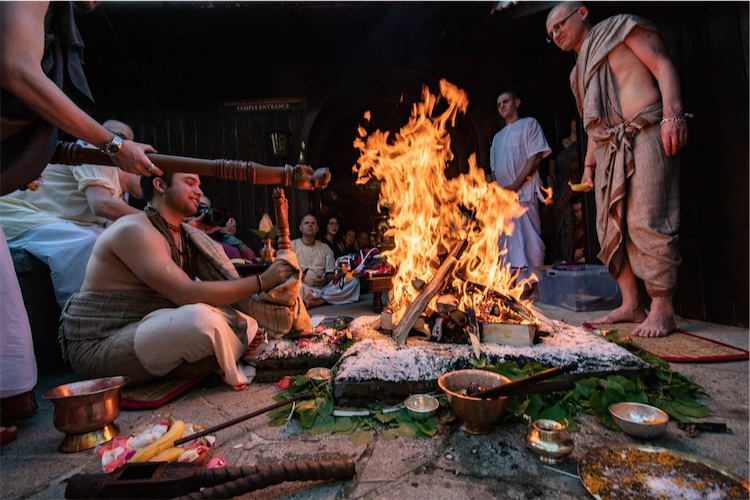 Performing yajnas for Lord Narasimhadeva
"There are many references in the scriptures to their intertwined pastimes," says Hari Kirtan. "Also, the slogan of the Kirtan Simha festival is "Chant with the roar of a lion," as Lord Chaitanya is said to have sung in Harinama with a voice like that of a roaring lion."
Throughout, there will be many special yajnas and abhishek bathing ceremonies such as maha abhishek, oil abhishek, and water abhishek.
Among the highlights will be several stunning unique darshans of Lord Narasimhadeva. During Sandesh Darshan, all the Deities on the altar will be dressed in complete outfits made out of colored and flavored sandesh (a type of sweet). In Forest Darshan, the Lion Lord will appear on the altar in a forest-like setting holding different weapons. Then there'll be late night surprise darshans by the light of only a few candles, where His ruby eyes will appear to glare into the dark temple room.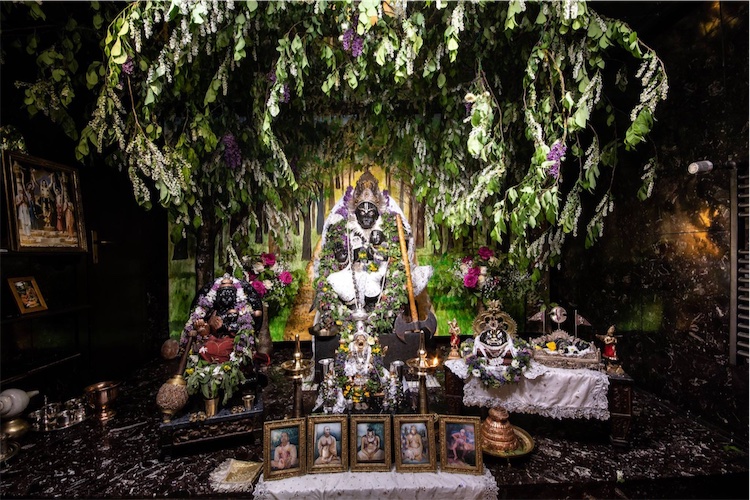 Forest darshan
There will also be swinging of the Lord, dance and drama glorifying His pastimes, and a procession in which Lord Narasimhadeva will be carried around the temple on a special palanquin. Accompanied by Harinama Sankirtana, it will end with a grand fireworks show.
When weather allows, the sumptuous prasadam feasts will be served on the lawn outside the temple, before lush, scenic views of the Bavarian Black Forest.
Last year, devotees described the festival as, "mindblowing," "amazing," "intense," "life changing," "heart warming," and "purifying."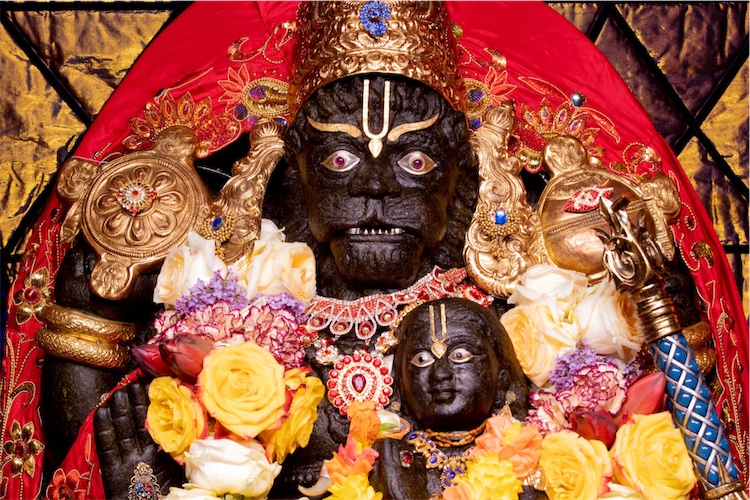 The beautiful Prahlad-Narasimha, presiding Deities of ISKCON Simhachalam, Germany
"The general mood of the festival is very focused and undistracted, as every activity is pulling one into a relationship with Lord Narasimha," Hari Kirtan says. "Devotees take away a deep love and appreciation for the Lord, which is exactly what we are aiming for. We want the devotees and guests to leave the festival with great love for the Deity and to spread His fame and glories."
He adds: "Lord Narasimhadeva is alive during the festival, and you really feel it. Many guests have testified to their unique experiences during the festival, as Lord Narasimhadeva prevails in all activities and brings a certain fire and enthusiasm that is special to Simhachalam."
For more information, please visit: https://simhachalam.de/narasimha-caturdasi/
[
germany
] [
kirtan
] [
narasimha
] [
narasimhadeva
]