for ISKCON News on Feb. 24, 2017
Spiritual leader and ISKCON's governing member Gopal Krishna Goswami inaugurated the Conscious Leadership Conclave organized by the Prerana Forum at the famous India Habitat Centre in New Delhi earlier this month.
The spiritual teacher addressing the 180 members of the audience comprising India's leading industry professionals, government officials, academicians and journalists, said "spirituality is essential for conscientious leadership". Quoting from the sacred text, Bhagavad Gita, he said "whatever action is performed by a great man, common men follow in his footsteps, therefore, it is very important for leaders from any sphere of life to have integrity, compassion and faith. Long lasting institutions can be built when we have a spiritual underpinning."
Other distinguished speakers included Jayant Sinha, India's Civil Aviation Minister; Rajeev Dubey Group President (HR & Corporate Services) and Board Member, Mahindra; Ajay Mehra, Managing Director (South Asia), Airbus Group; Dr. Bibek Debroy, Member, NITI Aayog; Brian Bloch, Organizational Ombudsman, US Interior Department; Pranjal Sharma, Economic Analyst and a member of the World Economic Forum. Suresh Prabhu, India's Railway Minister, and Shaurya Doval, Managing Director of Zeus Capitals, participated through video links.
Rajeev Dubey pointed out that in any situation, there are three questions: "What do we have to do? Why are we doing this? How do we do it? The answers to these questions lie in the answer to the question 'Who am I?' as an individual and as an organization."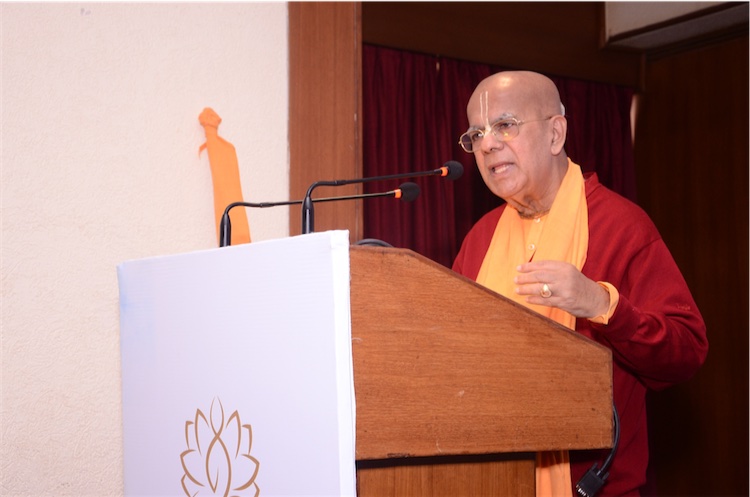 Gopal Krishna Goswami addressing the forum
"Being inspired by the teachings of Srila Prabhupada (ISKCON's Founder-Acharya), we organized the Conscious Leadership Conclave to discuss issues pertaining to the economy and institutions which we felt needed a holistic approach. Many interesting topics were discussed such as understanding the role and ideal of a Business Leader; Can the ancient wisdom have pointers, if not solutions, to the modern business' challenges?" said Yudhistir Govinda Das, Director of Prerana Forum.
Prerana Forum is a center focused on assisting business leaders and enterprises address individual and work-related issues and challenges while helping them leverage on opportunities by offering a holistic leadership and work paradigm which is based on the principles of integrity, compassion, and service.
The event was organized in partnership with Paytm, Businessworld, Times Foundation, Thinkers, Shared Value Initiative India.
[
business
] [
gopal-krishna-goswami
] [
leadership
] [
new-delhi
]