for ISKCON News on May 9, 2019
Twelve hundred devotees from all over India and the rest of the world, as well as thousands of locals, gathered to celebrate the opening of a gorgeous new ISKCON temple in Rajkot, Gujarat. The festival was centered around Rama Navami and ran from April 12thto 14th.
The event was particularly joyous because it was the realization of a long-term dream by disciples of the late ISKCON guru Mahavishnu Swami.
Construction began twelve years ago, starting after Mahavishnu Swami performed the Bhumi Puja or groundbreaking ceremony in 2007, and going on under his guidance.
Soon after, however, devotees encountered struggles with raising money for the project, and construction stopped. Advising them not to use a loan and get into debt, Mahavishnu Swami asked them to build only as they got the money. In 2010, he passed away, and devotees continued on whenever they could as a labor of love.
The temple features many intricate arches, lattice windows and domes
The opening festival drew local GBC members Devakinandana Das, Bhima Das, and Vrajavihari Das as well as sannyasis Gopal Krishna Goswami, Lokanath Swami, and Bhakti Ashraya Vaishnava Swami, and Prabhupada disciples Deena Bandhu Das, Yasomatinandana Das, Pankajanghri Das, and Jananivasa Das.
It began on April 12thwith ceremonies such as Vastu Homa and Nyasadi Homa, which continued the next day with Netra Unmilanam (opening of the Deities' eyes) and sayana adivasa.
On the evening of April 13th, sannyasis and Srila Prabhupada disciples gave lectures in glorification of Mahavishnu Swami, who had inspired the whole project.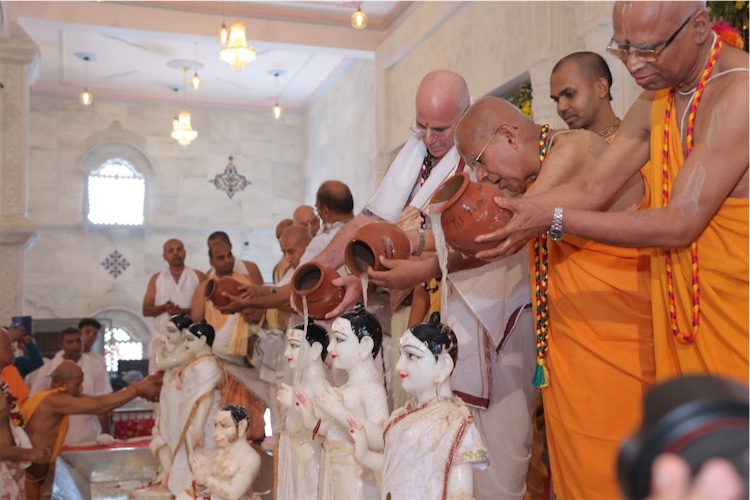 Lokanath Swami, Gopal Krishna Goswami and others bathe the new Deities of Sita Rama Lakshman Hanuman
On April 14th, the official inauguration day, all the presiding Deities were bathed in a maha abhisekha. Their Lordships included Sri Sri Radha Nilamadhava, Jagannath, Baladeva and Subhadra, and Prahlad Nrsimha, who had been worshipped by the congregation for many years in the previous, smaller temple. Alongside Them were the newly installed Deities of Sri Sri Gaura Nitai and Sita, Rama, Lakshman and Hanuman.
In the afternoon, as thousands of locals poured in to take darshan, the Honorable Chief Minister of Gujarat, Vijay Rupani, also attended with several police commissioners and other dignitaries.
The VIPs offered items to the Deities, and were presented with mementos and certificates by Gopal Krishna Goswami, Yasomatinandana Das, and Rajkot temple president Vaishnavaseva Das. They then gave speeches appreciating the temple, the festival and all the services ISKCON does worldwide.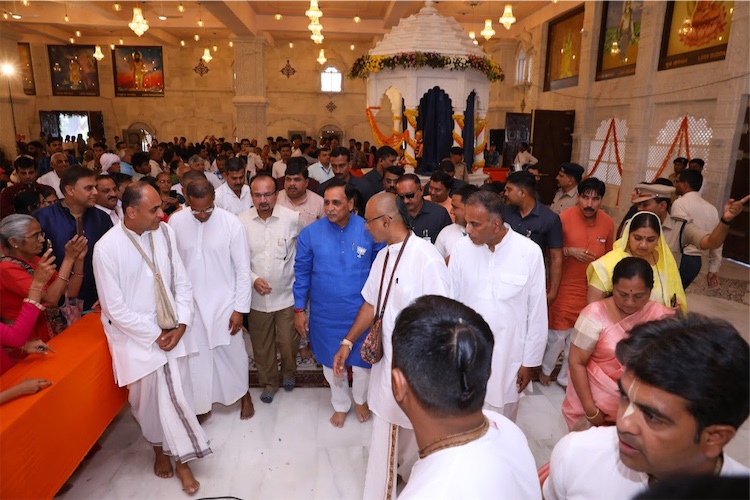 Chief Minister of Gujarat Vijay Rupani tours the temple
Throughout all these activities, a kirtan mela also ran from 6pm to 9pm on Friday, and 9am to 9pm on both Saturday and Sunday, with senior devotees and other established kirtaniyas chanting a total of 27 hours of the Holy Names.
The new temple is quite the sight to see. Built entirely of white Rajasthani marble, it features intricate arches, lattice windows and many domes. Inside are a banquet hall, wedding hall, prasadam hall, deity dressing room, and brahmachari ashram. The very large temple room is decorated with mini chandeliers and glass Dasavatar paintings inset into the walls, and has an elaborate marble vyasasana for Srila Prabhupada and separate marble altar for Prahlad Nrsimha, along with the three polished teakwood altars for the main Deities.
The rest of the campus includes a samadhi and bhajan kutir for Mahavishnu Swami, a goshala, a guesthouse, and a Prahlad primary school.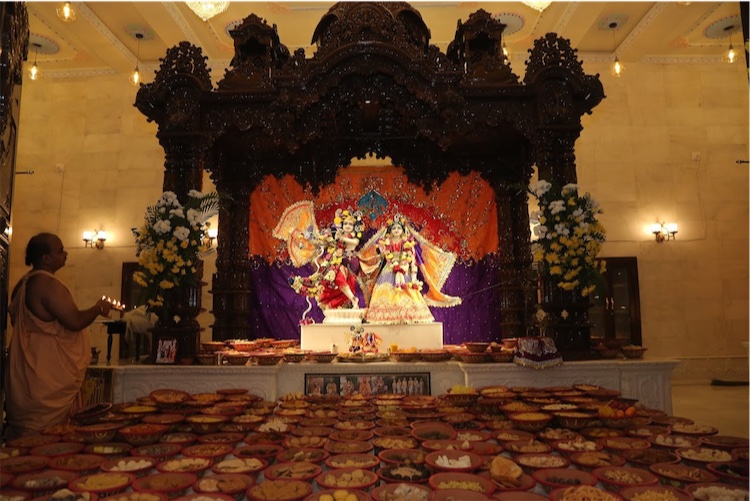 Hundreds of preparations are offered to Sri Sri Radha Nilamadhava on Their elaborate new teakwood altar
All this is located on Kalawad Road, an affluent area on the outskirts of Rajkot that is currently undergoing development, ensuring that large numbers of people will regularly visit.
Among many preaching activities, devotees have distributed prasadam, performed Harinama Sankirtana and distributed Prabhupada's books to walkers and joggers at the nearby Racecourse Road for many years, and will continue to do so from the new temple.
"Everyone at the festival appreciated and glorified the Rajkot devotees' efforts both in building the temple and creating such a first-class festival," says Sanatana Gauranga Das, who organized the kirtan mela at the event.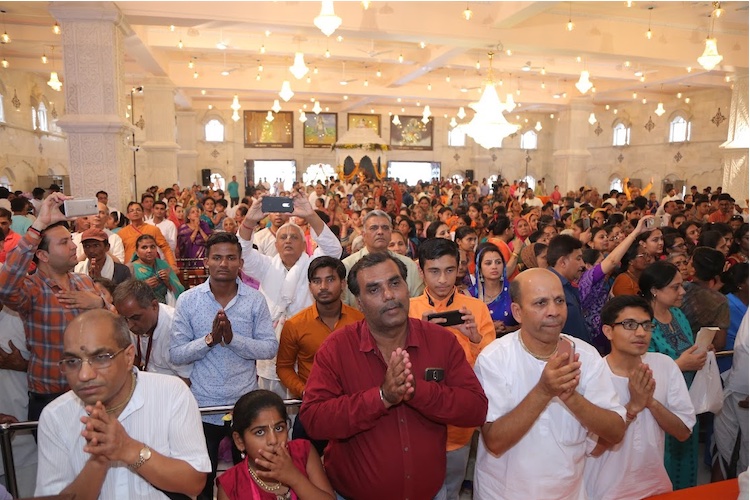 Worshippers take darshan of the Deities in the beautiful temple room
"As for the Rajkot devotees themselves, tears were rolling down their cheeks to see this dream of their Guru Maharaja, which they had held in their heart for so many years, finally coming true."
[
gujarat
] [
rajkot
]