for ISKCON News on July 12, 2019
Now held in nearly 200 countries around the world, Rathayatra has also reached the island nation of Indonesia. This year, on June 30th, ISKCON devotees celebrated the Lord of the Universe in the capital city, Jakarta, as part of the "Jakarnaval" cultural parade, a major tourist attraction.
"Every year we participate in this parade along with other communities and ethnic and cultural groups," says ISKCON Jakarta secretary Trivikrama Das.
The Rathayatra started at Pasar Baru Street and made its way to Monas in the City Center, the Governor's Office, Thamrin Street, and Merdeka Selatan, before returningto Pasar Baru.
Thousands of Jakarta citizens and tourists turned out to watch the parade, see Lord Jagannath, Baladeva and Subhadra on Their unique Indonesian-style yellow chariot, and receive Their blessings.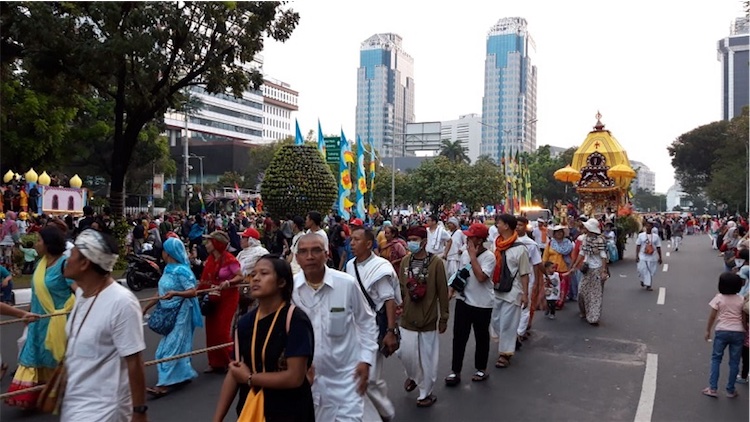 The Rathatra in Jakarta
Meanwhile devotees chanted and danced ecstatically, carrying Hare Krishna mantra and ISKCON Jakarta banners, as well as a giant Jagannath face.
Members of the public danced with them, and took photos and selfies along the parade route.
After the parade, Mr. Anies Baswedan, the Governor of Jakarta,was invited onto the VIP podium. There, ISKCON Indonesia representative Sundarananda Das, and Jakarta temple president Bal Mukunda Das garlanded him and presented him with Srila Prabhupada's Bhagavad-gita As It Is.
The governor then gave all Hare Krishna devotees in Indonesia his best regards, and promised to visit the ISKCON temple when he next comes to the area.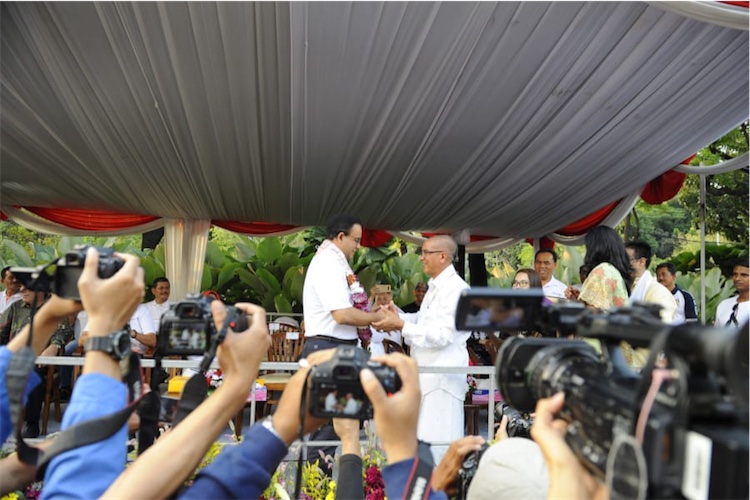 Jakarta temple president Bal Mukunda Das presents the Governor of Jakarta with Srila Prabhupada's Bhagavad-gita As It Is
The Rathayatra also gave devotees and the Hindu community in general the opportunity to come together to raise funds for the planned new ISKCON temple in the Pasar Baru area of Jakarta.
The temple will be built near the Jakarta Cathedral and Istaqlal Mosque, the largest Mosque in Southeast Asia. It will be a major place of worship for Hindus in Jakarta city.
Meanwhile, Jakarta is not the only place to host the Rathayatra festival – recent Rathayatras have also been held in Banda Aceh on the island of Sumatra, and in the remote city of Jayapura in the province of Papua.
* * *
For more information, please visit www.iskconjakarta.org
[
indonesia
] [
jakarta
] [
ratha-yatra
]