'Strengthening the Bonds that Free Us,' a Grihastha Course that will teach devotees how to develop the insights and skills for a more meaningful, happy, and inspiring marriage will be offered online via Bhaktivedanta College from April 12th to May 16th. The course is facilitated by husband and wife Partha Das and Uttama Dasi, who have been married for the past fifty years.
Uttama and Partha are part of the Grihastha Vision Team (GVT), a group of Vaishnava couples and professional counselors and educators who help ISKCON devotees have healthy marriages and happy families.
The GVT initially developed 'Strengthening the Bonds that Free Us' in 2005, a year after the group began. Looking at the challenges ISKCON couples had encountered in their married lives and the negative paradigms that may have contributed to them, they brainstormed 12 Principles and Values for a Successful Krishna Conscious Family Life, which they hoped would prevent such problems in the future.
These included Alignment with Srila Prabhupada, Spiritual Growth and Progress, Mutual Respect and Appreciation, Commitment and Dedication, Open and Honest Communications, Focus on Children's Welfare, Family Love and Affection, and a Regulated, Balanced and Exemplary Lifestyle.
From this starting point, the GVT's next step was to develop a course – Strengthening the Bonds That Free Us – to teach devotees how to have healthy marriages, which was taught in person in at least fifteen countries over the years.
"I have seen many of the negative paradigms that existed around Grihastha life in ISKCON dramatically improve since we started to teach this course," says Uttama Dasi.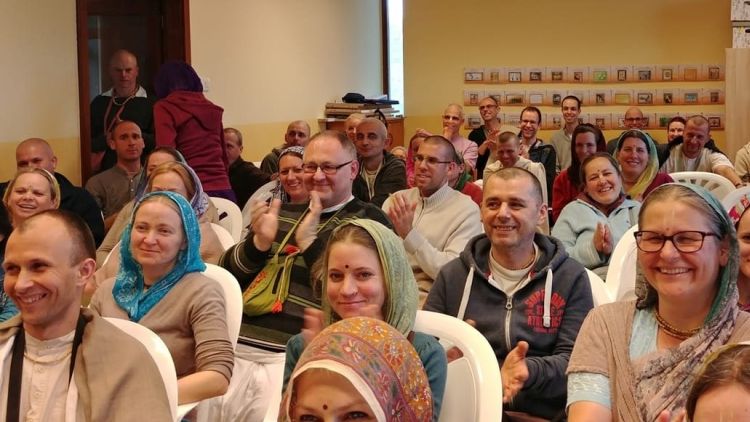 To make the course widely available, the GVT then created an online version, which will be offered on Bhaktivedanta College's website this Spring. Students will have a week to do each of the seven modules in the seven-week course. These will include pre-recorded video lectures that can be viewed at the student's convenience (during mornings, evenings, weekdays, or weekends), live student-to-teacher Zoom conferences, group forums, reading, and exercises.
Topics covered in the course will include principles, values, and paradigms that govern our lives; cultural norms; roles of husband and wife; gender differences and expectations; healthy communication; undermining conversation; behavior patterns; conflict resolution; and different techniques for good communication.
"Healthy communication is a big part of a healthy relationship," says Uttama. "So we try to help you develop better patterns of communication – how to reach out and find the need of the other person, instead of just reacting; how to positively deal with conflict, using good communication techniques; and how to get rid of complaining, and positively request instead of reverting to our negative patterns. It sounds simple, but when we get into close relationships, we do tend to revert to unhealthy patterns that we may have learned, or get defensive and fight for our needs, instead of reaching out and helping the other person."
Other topics to be covered in the course include affection in marriage, which Uttama says can be a grey area for devotees; needs of children and parenting styles; four horsemen of the marital apocalypse; abuse; ground rules for a great relationship; developing shared meaning; and balancing our lives and sadhana.
"We'll look at how to balance the hectic lives that we have nowadays with the added dimension that devotees have of trying to fit in their sadhana," Uttama says. "How to find the values that are important to you, and prioritize your time around those values."
The course will be facilitated by Uttama and Partha, experienced teachers who will give demonstrations with warmth and humor, explain how to practically apply skills, and make plenty of room for personal questions and feedback.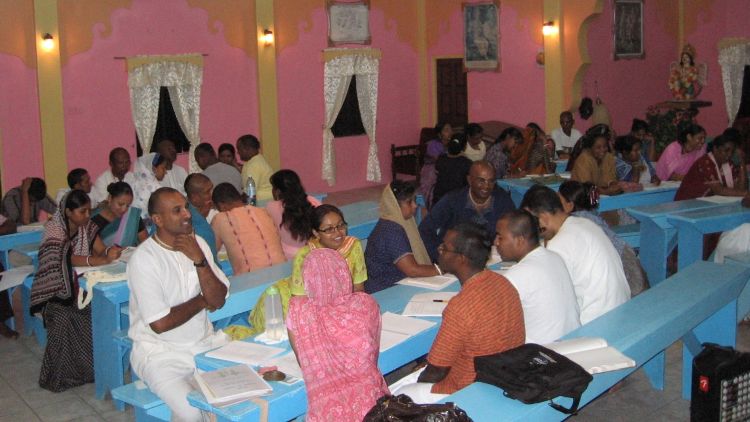 "We hope that students will come out of the course with more connected, meaningful relationships, and better communication skills," Uttama explains. "We hope that they will learn how to resolve their conflicts; how to negotiate their various differences in ways that help them to grow; how to ascertain the needs of their children and deal with them appropriately; how to inspire their children to become Krishna conscious; and how to develop a good balance in their lives."
She opines that such a course is very important for ISKCON devotees because "the quality of our relationships affects the quality of our lives."
"It's never too late to work on your relationship," she says, "And relationships always benefit from improvement. In fact, the hallmark of a healthy relationship is that you continually want to improve."
Enroll in Grihastha Course: Strengthening the Bonds That Free Us here:
https://bhaktivedantacollege.com/events/grihastha-course/
[
counseling
] [
grhastha
] [
marriage
]