on Nov. 4, 2021
What is Govardhan Puja?
The tenth Canto of Srimad-Bhagavatam relates many of Krishna's pastimes. Of these, "The Lifting of Govardhan Hill" is one of our most important. It tells the story of how Krishna lifted Govardhan Hill in Vrindavan for seven days and seven nights, balancing it on the tip of his small finger and thus providing a huge umbrella under which all the residents and animals of Vrindavan could find shelter from the devastating rainstorm sent by Lord Indra (god of rain and king of heaven) upon their village. When Lord Indra realized that only the Supreme Lord could defeat him in such a mystical way, he surrendered to Krishna. Traditionally in Vrindavan, this festival is celebrated by cooking very large amounts of food offerings which are then arranged in the form of Govardhan Hill. It is called Anna (grains) Kuta (mountain) and takes place on the day after Diwali.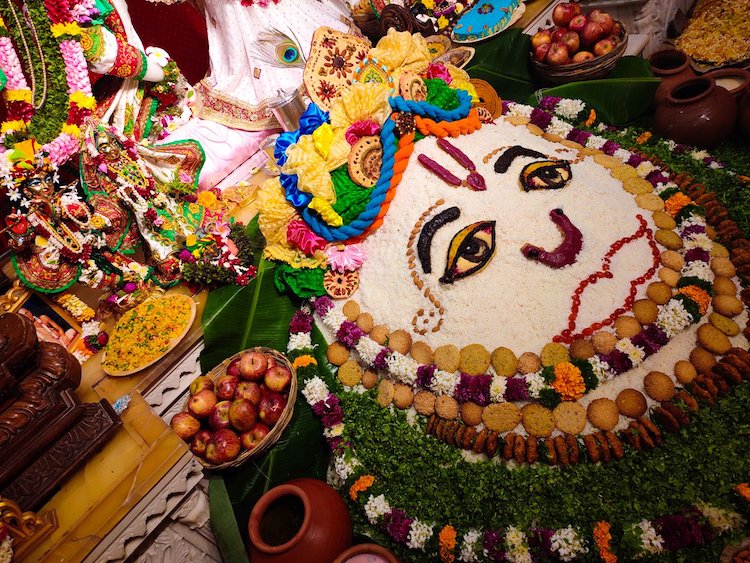 ISKCON Puna Anna Kuta, 2019
In ISKCON, devotees have developed unique offerings of halvah and sweets beautifully arranged in a replica of Govardhan Hill. Sometimes a Govardhan shila is placed on top of the hill. Devotees jubilantly circumambulate the hill of sweets and worship it as Govardhan Hill itself. A sumptuous feast is served on the occasion. - ISKCON Pune
Where to Watch and Listen:
Most ISKCON temples will be holding local Govardhan Puja festivals live and there are many past classes available online to get you in the festival spirit. Mayaput.tv will have many live broadcasts available as well.
How to Celebrate Govardhan Puja at Home:
Due to the Covid-19 pandemic, and different regions' rules on social distancing, many of us may have to stay home for festivals for the time being, Whether due to the pandemic or other reasons, celebrations can still be had at home.
You can build a small Govardhan Hill at home: It doesn't have to be too elaborate, a few food preparations, and have fun building, remember that Krishna sees and is happy with our efforts.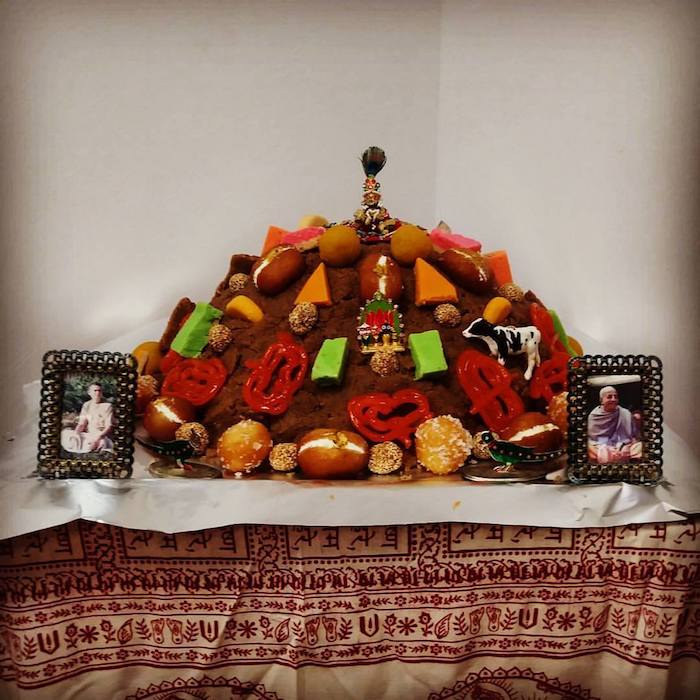 Small Govardhan Hill from a home program, c/o Kamala Radha devi dasi
The Govardhan Hill Lila (Pastime):
The following excerpt is from Krsna Book, Chapter 24: Worshiping Govardhan Hill
While engaged with the brāhmaṇas who were too much involved in the performance of Vedic sacrifices, Kṛṣṇa and Balarāma also saw that the cowherd men were preparing a similar sacrifice in order to pacify Indra, the king of heaven, who is responsible for supplying water. As stated in the Caitanya-caritāmṛta, a devotee of Kṛṣṇa has strong and firm faith in the understanding that if he is simply engaged in Kṛṣṇa consciousness and Kṛṣṇa's transcendental loving service, then he is freed from all other obligations. A pure devotee of Lord Kṛṣṇa doesn't have to perform any of the ritualistic functions enjoined in the Vedas; nor is he required to worship any demigods. Being a devotee of Lord Kṛṣṇa, one is understood to have performed all kinds of Vedic rituals and all kinds of worship to the demigods. One does not develop devotional service for Kṛṣṇa by performing the Vedic ritualistic ceremonies or worshiping the demigods, but it should be understood that one who is engaged fully in the service of the Lord has already fulfilled all Vedic injunctions.
In order to stop all such activities by His devotees, Kṛṣṇa wanted to firmly establish exclusive devotional service during His presence in Vṛndāvana. Because He is the omniscient Personality of Godhead, Kṛṣṇa knew that the cowherd men were preparing for the Indra sacrifice, but as a matter of etiquette He began to inquire with great honor and submission from elder personalities like Mahārāja Nanda.
Kṛṣṇa asked His father, "My dear Father, what is this arrangement going on for a great sacrifice? What is the result of such a sacrifice, and for whom is it meant? How is it performed? Will you kindly let Me know? I am very eager to know this procedure, so please explain to Me the purpose of this sacrifice." Upon this inquiry, His father, Nanda Mahārāja, remained silent, thinking that his young boy would not be able to understand the intricacies of performing the yajña. Kṛṣṇa, however, persisted: "My dear Father, for those who are liberal and saintly, there is no secrecy. They do not think anyone to be a friend, an enemy or a neutral party, because they are always open to everyone. And even for those who are not so liberal, nothing should be kept secret from the family members and friends, although secrecy may be maintained for persons who are inimical. Therefore you cannot keep any secrets from Me. All persons are engaged in fruitive activities. Some know what these activities are, and they know the result, and some execute activities without knowing the purpose or the result. A person who acts with full knowledge gets the full result; one who acts without knowledge does not get such a perfect result. Therefore, please let Me know the purpose of the sacrifice you are going to perform. Is it according to Vedic injunction? Or is it simply a popular ceremony? Kindly let Me know in detail about the sacrifice."
On hearing this inquiry from Kṛṣṇa, Mahārāja Nanda replied, "My dear boy, this ceremonial performance is more or less traditional. Because rainfall is due to the mercy of King Indra and the clouds are his representatives, and because water is so important for our living, we must show some gratitude to the controller of this rainfall, Mahārāja Indra. We are arranging, therefore, to pacify King Indra, because he has very kindly sent us clouds to pour down a sufficient quantity of rain for successful agricultural activities. Water is very important: without rainfall we cannot farm or produce grain, and without grain we cannot live. Therefore rain is necessary for successful religious ceremonies, economic development and, ultimately, liberation. So we should not give up this traditional ceremonial function; if one gives it up, being influenced by lust, greed or fear, then it does not look very good for him."
After hearing this, Kṛṣṇa, the Supreme Personality of Godhead, in the presence of His father and all the elder cowherd men of Vṛndāvana, spoke in such a way as to make the heavenly king, Indra, very angry. He suggested that they forgo the sacrifice. His reasons for discouraging the sacrifice performed to please Indra were twofold. First, as stated in the Bhagavad-gītā, there is no need to worship the demigods for any material advancement; all results derived from worshiping the demigods are simply temporary, and only those who are less intelligent are interested in temporary results. Second, whatever temporary result one derives from worshiping the demigods is actually granted by the permission of the Supreme Personality of Godhead. It is clearly stated in the Bhagavad-gītā: mayaiva vihitān hi tān. Whatever benefit is supposed to be derived from the demigods is actually bestowed by the Supreme Personality of Godhead. Without the permission of the Supreme Personality of Godhead, one cannot bestow any benefit upon others. But sometimes the demigods become puffed up by the influence of material nature; thinking themselves all in all, they forget the supremacy of the Personality of Godhead. In Śrīmad-Bhāgavatam it is clearly stated that in this instance Kṛṣṇa wanted to make King Indra angry. Kṛṣṇa's advent was especially meant for the annihilation of the demons and protection of the devotees. King Indra was certainly a devotee, not a demon, but because he was puffed up, Kṛṣṇa wanted to teach him a lesson. He first made Indra angry by stopping the Indra-pūjā, which had been arranged by the cowherd men in Vṛndāvana.
With this purpose in mind, Kṛṣṇa began to talk as if He were an atheist supporting the philosophy of Karma-mīmāṁsā. Advocates of this philosophy do not accept the supreme authority of the Personality of Godhead. They put forward the argument that if anyone works nicely, the result is sure to come. Their opinion is that even if there is a God who gives man the result of his fruitive activities, there is no need to worship Him because unless man works He cannot bestow any good result. They say that instead of worshiping a demigod or God, people should give attention to their own duties, and thus the good result will surely come. Lord Kṛṣṇa began to speak to His father according to these principles of the Karma-mīmāṁsā philosophy. "My dear Father," He said, "I don't think you need to worship any demigod for the successful performance of your agricultural activities. Every living being is born according to his past karma and leaves this life simply taking the result of his present karma. Everyone is born in different types or species of life according to his past activities, and he gets his next birth according to the activities of this life. Different grades of material happiness and distress, comforts and disadvantages of life, are different results of different kinds of activities, from either the past or present life."
Read more for free on Vedabase
[
govardhan
] [
govardhana
] [
govardhana-puja
]