A Hare Krishna Explosion is happening in Columbus, Ohio.
That's according to ISKCON Columbus temple council member Prem Vilas Das (Dr. Piyush Gupta), who says that many new families are joining, there are six bhakti vriksha groups in the city, and more full-time devotees are moving into the temple.
Fifty students visit regularly, and there are programs at Ohio State University every week. Devotees also reach out to nearby Dayton, Marysville, Cincinnati, Kent and Athens with college programs and home bhakti yoga programs. Up to 75 congregational members on Sundays and 120 on festival days cram into the current temple, a house across the street from the OSU campus.
It's time to find somewhere for the community to grow.
Right now, that somewhere is little more than a pleasantly verdant fifty-five acre plot in Hilliard, an attractive upcoming suburb fifteen minutes from downtown Columbus.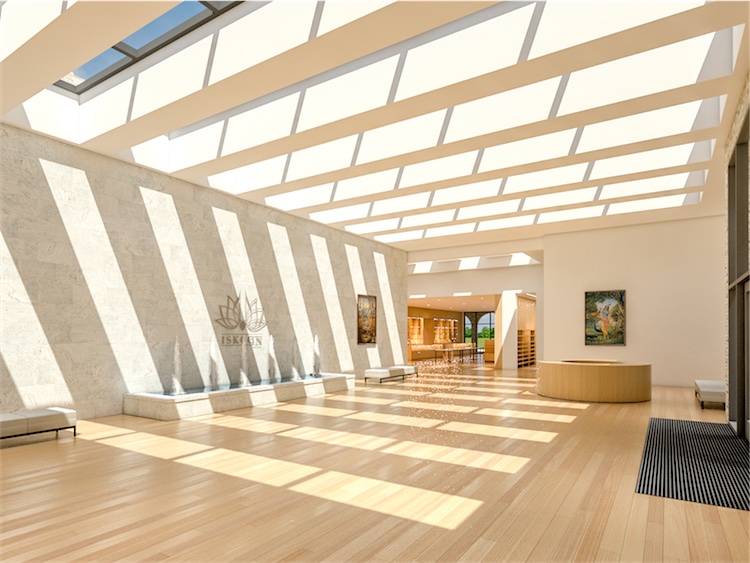 The lobby
But a highly ambitious plan is underway to transform it into a beautiful "Hare Krishna Land."
The $10 million project has been designed by award-winning architect Tim Lai. At its center will be a 45,000 square foot temple that aspires to be a harmonious synthesis between modern Western architecture and classic Vedic building traditions.
The temple will feature a large dome, clean-line details, and will be clad with rustic bricks and limestone. To keep worshippers connected to nature in line with Srila Prabhupada's simple living ideals, all walkways will feature large windows and skylights to let in lots of natural light.
Inside the temple will be a large Radha Krishna temple room for 500 devotees; an Institute of Vaishnava Studies offering different seminars; a Vedic library; a farm to table café; a Vegetarian Culinary Institute giving cooking classes; a Bhakti Lounge; a Yoga Studio; a residence for full-time devotees to live in; a gift shop; and an art gallery.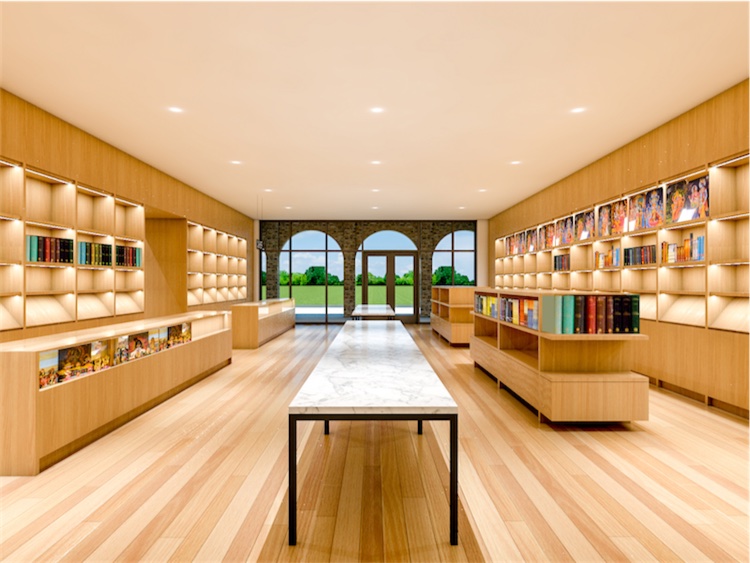 Gift shop
The hallways will be lined with a pictorial tour of 5,000 years of Vaishnava history, with a special emphasis on Srila Prabhupada and his achievements around the world.
There will also be an Institute of Performing arts, where children will be taught music, dance, and art; a Deity Worship Training Program; and a school beginning with a preschool.
Outside, there will be an organic farm, facilities for cow care (devotees plan to start with two cows and build from there), walking trails, gardens, and a play area for children.
The plan is to also continue growing ISKCON Columbus' existing outreach efforts. "Whenever people come to our temple, we connect them to weekly Bhakti Vriksha home programs," says Prem Vilas. "We also have a siksa program, which is a tool of the Congregational Development Ministry, where devotees take regular vows to chant Hare Krishna, progressing from one round, to four, to eight, twelve and then sixteen."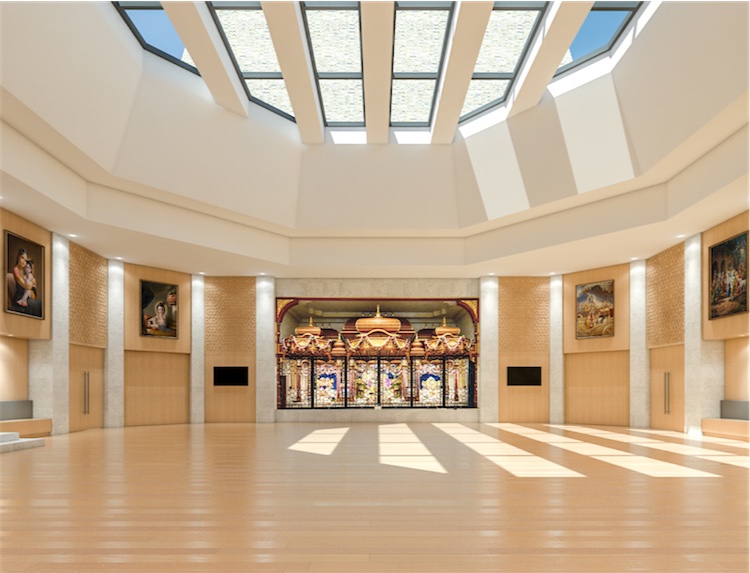 The temple room
On Mondays, devotees hold vegetarian cooking workshops at Ohio State University which draw 150 students. Many of these regularly attend the temple for a free lunch. Around forty students also come for the Sunday Feast every week. Meanwhile on Wednesday evenings, there are bhakti-yoga programs geared specifically to a Western audience.
If all goes according to plan, the temple should see a groundbreaking ceremony in July 2019, and will open on Janmastami 2020.
So far $4 million in pledges has been received from 300 families around the world, out of the $10 million required for the project. If that number goes up to $8 million by July 2019, construction can begin.
"If 20,000 people throughout the world give just one square foot, or $250, in the next year, our fundraising will be done," says Prem Vilas. "So I am begging everybody in ISKCON, please just give one square foot to Srila Prabhupada for this amazing project in Columbus. Columbus is the 14th largest city in the United States, with 860,000 people living there. And we want every high school student within a three-hour radius to come to our temple. We want more and more devotees to come, and we want this temple to be a blueprint for future development in ISKCON."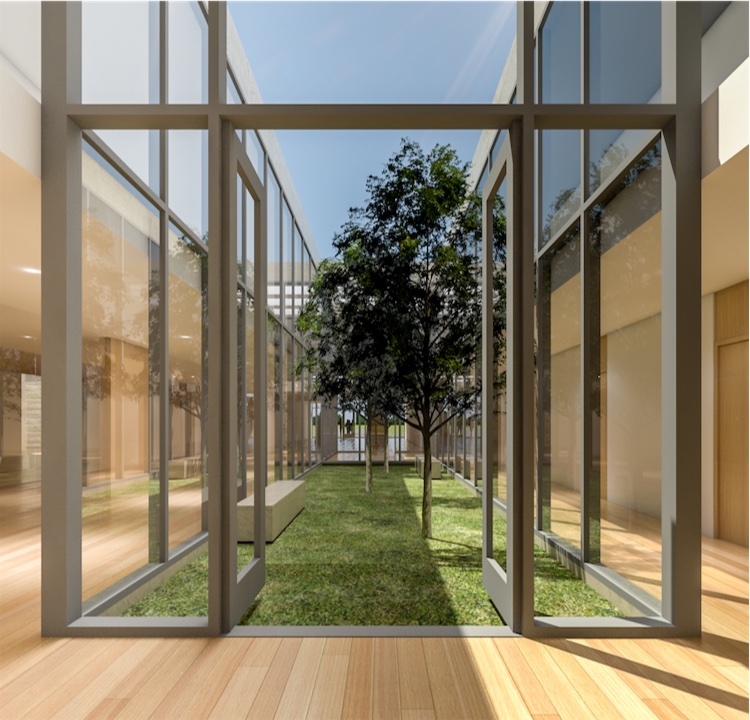 Temple garden
Prem Vilas is also looking for devotees skilled in organic farming and cow protection to join the project, as well as qualified teachers for Hare Krishna Land's school, with a vision to grow all the way up to 12th grade.
* * *
For more information, please visit https://www.iskconcolumbus.com/ or https://www.iskcongreatercolumbus.com.
[
colombus
] [
ohio
]