for ISKCON News on Oct. 19, 2018
Students of the Hare Krishna School on the New Varshana farm near Auckland, New Zealand performed Harinama live on one of New Zealand's top TV shows on Sunday October 7th.
What Now? is a New Zealand institution. The children's television program has been running for nearly forty years and is one of the top ten most popular shows in the country. It is filmed before a live audience at a different school in Auckland every week, and airs every Sunday at 8am on the national TV station TVNZ 2.
Producers contacted the Hare Krishna School's principal Krsnananda Das about having the children and members of the New Varshana community featured in their next live program, which was to be held at a nearby school.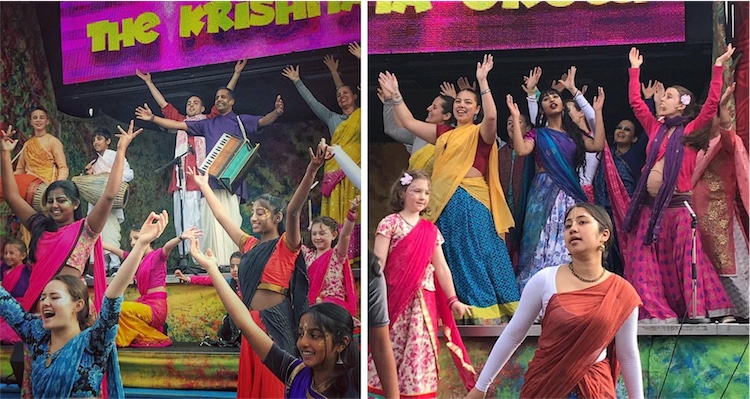 Devotees chant live on National TV in New Zealand
"They explained that they wanted the Hare Krishnas because we are important members of the greater community, and are so colourful and joyful," says New Varshana temple president Kalasamvara Das.
Since he would be traveling in India at the time, principal Krsnananda Das handed over organization of the performance to Bhaktin Harriet, mother of one of the children at the Hare Krishna school, who made the event a great success.
Around fifty primary school students, former students and other New Varshana community members turned up for the show.
Devotees chanted Harinama in the school courtyard on a stage decorated with intricate designs, under a large screen that read "The Krishna Crew." Dressed in beautiful, colorful outfits, spinning and dancing, playing drums and calling out the Holy Name, they entranced everyone.
Afterwards, they distributed simply wonderfuls, an ISKCON staple sweet, amongst audience and crew members.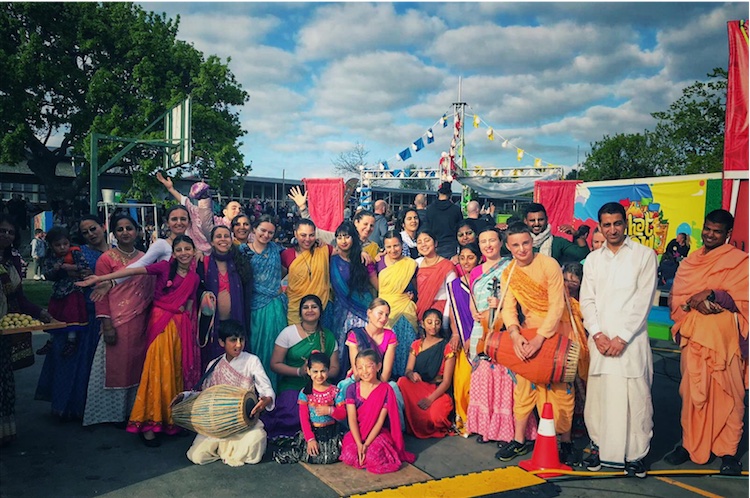 Fifty Hare Krishna School students, former students and New Varshana community members performed Harinama live on popular NZ TV show What Now
Meanwhile Varshana Pere, a local Maori devotee whose parents are also devotees, spoke to What Now? host Erin Wells about the joy of being a Hare Krishna.
"Overall it was a great and wonderful experience for all," says Kalasamvara Das. "The crew, the audience, the devotees; and of course the thousands of Kiwis who got the opportunity to see happy and colourful Hare Krishnas dancing and chanting the Holy Names of the Lord on National TV in their homes."
[
auckland
] [
new
] [
zealand
]