for ISKCON News on Nov. 17, 2017
A delegation from the Hindu Forum of Belgium (HFB), including two ISKCON devotees, met with the King and Queen of Belgium as well as many influential Indian politicians last week in Delhi, India. Their aim was to gain support to make Hinduism an officially-recognized religion in Belgium.
In the delegation were Mahaprabhu Das, General Secretary of the HFB and Director of ISKCON Communications Europe; Malati Dasi, a member of the HFB's Executive Board and Vice President of ISKCON Radhadesh; and businesswoman and supporter Kanta Odido.
Mahaprabhu explains that while all religions have the freedom to operate in Belgium, only six are officially recognized: Catholicism, Protestantism, Anglicanism, Orthodox, Judaism and Islam. Buddhism is soon to be recognized too. But Hinduism, the third largest religion in the world, is not -- yet.
In the early 2000s, ISKCON was instrumental in creating the Hindu Forum of Belgium as a platform to represent all Hindu communities. Forum members now include three ISKCON temples – Antwerp, Brussels and Radhadesh – as well as Bhaktivedanta College, plus Hindu groups from India, Sri Lanka, Nepal, Mauritus and Afghanistan. Since its inception the HFB has been working hard to get official recognition for Hinduism.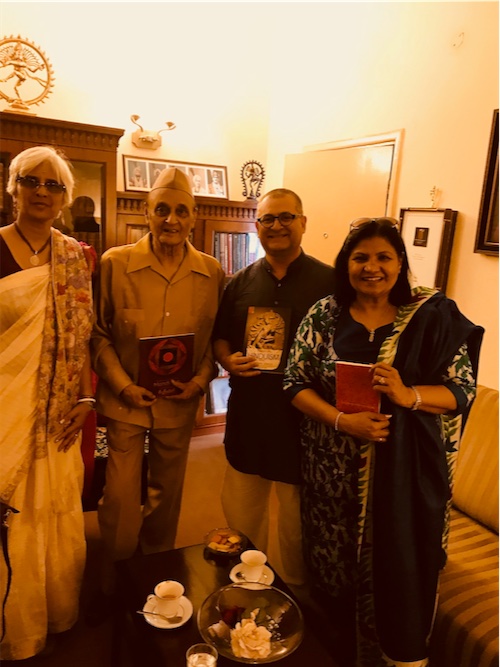 Why is this important to ISKCON? Because in Belgium, official recognition comes with many benefits. If Hinduism becomes an official religion in Belgium, the government will maintain ISKCON's temples there financially, and provide maintenance in the form of salary plus housing to its priests. Devotees will be able to teach faith-based courses in public schools, serve as chaplains in prisons, hospitals and the military, and get broadcasting time on public TV and radio. ISKCON leaders will also be invited to high-level government functions, and be briefed and consulted by the government on important issues and crises.
Although Hinduism already meets the criteria, the process to get to this point is arduous. The Hindu Forum of Belgium made its request in 2013, and the process is likely to take at least five more years.
"There are many things that you have to do," says Mahaprabhu. "You have to show the government that you have training programs for your priests, that you have a study program for schools, and of course you have to get a lot of political support."
This was HFB members' mission in Delhi – to, as Mahaprabhu says, "put a little bit of pressure on the Belgian government to not forget us and continue with the recognition process."
The delegates first attended a reception for King Philippe and Queen Mathilde of Belgium at the Belgian Embassy in Delhi on November 8th.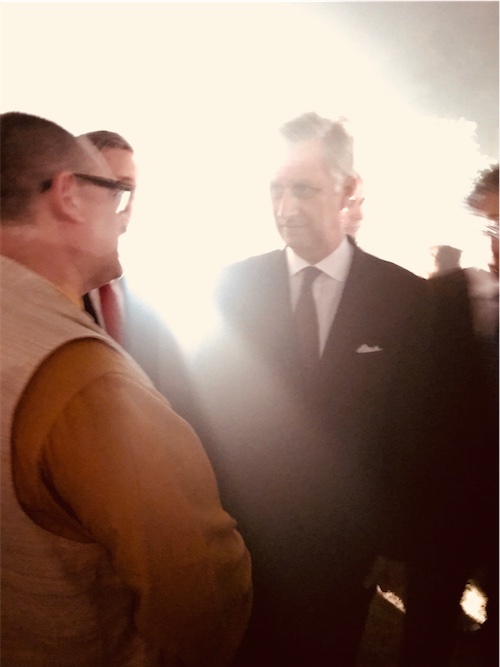 Mahaprabhu Das (left) speaks with King Philippe of Belgium
The King and Queen arrived with their own delegation of two hundred from Belgium, including ministers, businessmen and academics, to strike agreements with the Indian government and Indian businesses.
With India currently such a major business presence in the world and an important business partner of Belgium's, Belgian politicians are keen to assuage Indian concerns about how the Hindu community is being treated in Belgium. This gave the Hindu Forum delegates good leverage to raise awareness of and support of their mission.
"We had the opportunity to speak with the King and Queen – we had a nice exchange – and also with many politicians, such as the President of the French community, the President of the Flemish community, and the President of Brussels," says Mahaprabhu.
As a result of these conversations, HFB representatives also developed a closer relationship with the Chief of the King's Cabinet. "Now that we know each other better, there's a good chance we will be able to organize a meeting with the King and Queen and the Hindu leaders of Belgium in the next few months," Mahaprabhu adds.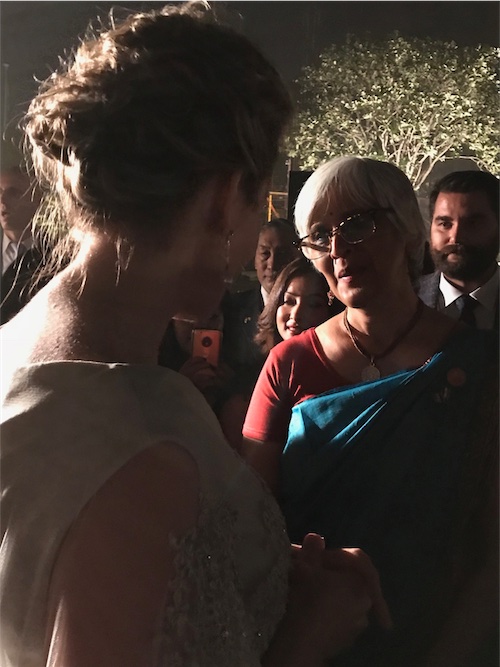 Malati Dasi (right) speaks with Queen Matilde of Belgium
During their stay in Delhi the HFB delegation also got to meet with and garner support from Indian politicians including Minister of Culture Dr. Mahesh Sharma, MP And BJP leader Manoj Tirwari, and General Secretary of VHP Swami Vigyananand.
They also met with the elderly Congress Leader Dr. Karan Singh, a much-loved and legendary personality in India, who hosted Srila Prabhupada twice in his house in Delhi. Dr. Singh offered his support by writing a letter requesting the recognition of Hinduism in Belgium.
This kind of support is key, according to Mahaprabhu. "Belgian politicians have a tendency to put this on the backburner and forget about it," he explains. "But if we can regularly remind that we are in contact with top politicians in India, and they would like to be briefed about the situation in Belgium, then the Belgian government and politicians will be more invested."
[
belgium
] [
forum
] [
hindu
] [
mahaprabhu
]