for ISKCON News on Dec. 5, 2016
For the first time in the history of Chile and its Courts of Justice, a concert was held in the Hall of Honor of the Supreme Court. Never before had there been a musical presentation in this space of great historical value for the country. The concert, consisting of an exhibition of classical and devotional music from India, was performed by Krishna Sambandha, a band composed of members of the International Society for Krishna Consciousness.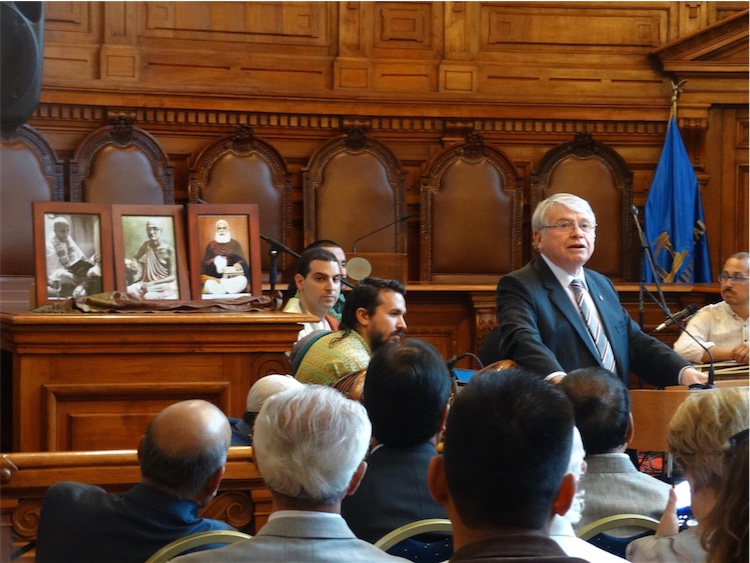 This activity was initiated with a speech by His Excellency Mr. Hugo Dolmestch, President of the Supreme Court, and was attended by the Minister of Supreme Court, Gloria Ana Chevesich, the National Prosecutor of the Public Ministry, Andrés Montes; Ministers of the Constitutional Court; The President of the Court for the Defense of Free Competition, Enrique Vergara; The first Secretary and Cultural Manager of the Embassy of India in Chile, Mr. Venkataraman and Mr. Shammi Arora; The President of the Indian Federation in Chile, Kishan Dadlani and the leading exponent of classical Indian music in Chile, Master Millapol Gajardo.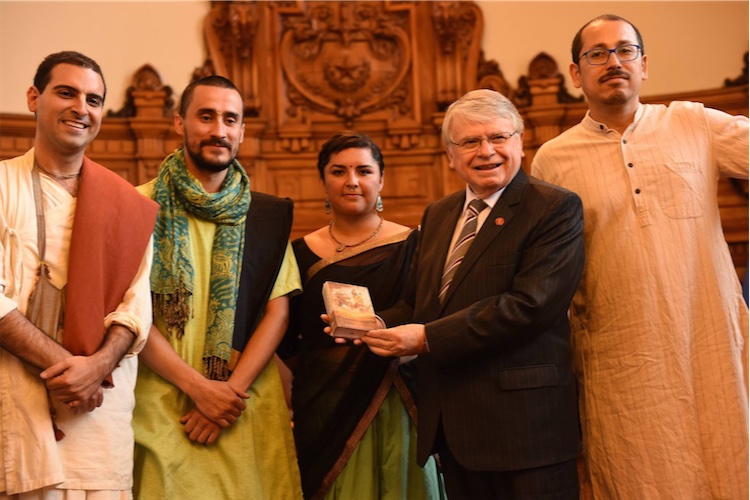 In a gesture of gratitude and respect for the teachers of the Gaudiya Vaisnava tradition, three framed pictures were placed on the podium of the High Court Ministry, that of A.C. Bhaktivedanta Swami Prabhupada, Founder of the International Society for the Consciousness of Krishna (ISKCON), his spiritual master Srila Bhaktisiddhanta Saraswati Goswami and his father Srila Bhaktivinoda Thakur, a great magistrate and scholar of Bengal, whose works can still be found in the British Museum in London.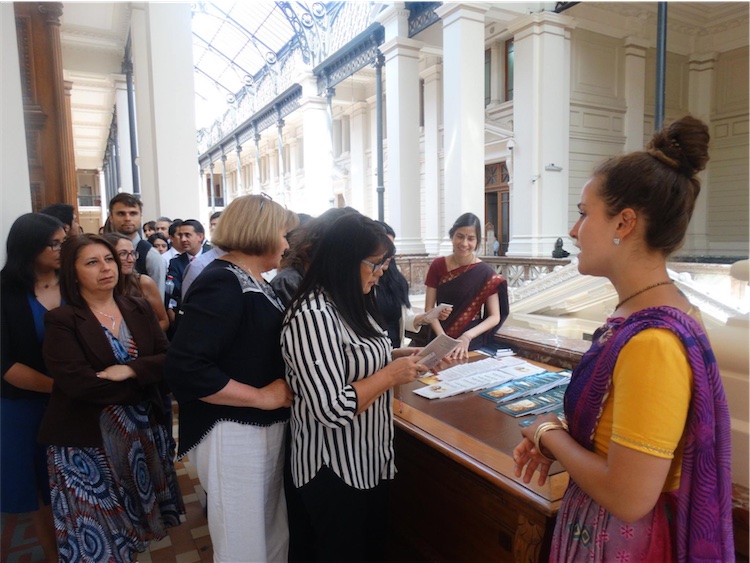 The President of the Supreme Court received a gift of the "Bhagavad Gita As It Is" from A.C. Bhaktivedanta Swami Prabhupada. All other attendes also left with book presents.

This cultural program ended with a cocktail with elaborated Indian vegetarian preparations.
[
chile
]