for ISKCON News on Feb. 10, 2017
The new Govinda's restaurant at the ISKCON temple complex in Houston, Texas is set to receive a grand opening on March 11th, just before Gaura Purnima, with local TV channels, newspapers and radio stations to get a free meal and tour.
Govinda's already had its "soft opening" back in July 2016, launching with no fanfare or advertising. But according to manager Shyamasundara Das it's been a success from day one, often packing out the large 130-person capacity space, and drawing a 4.6 rating from 121 reviews on Yelp and a 4.7 rating from 71 Google reviews. What's more, 95% of its customers are locals of non-Indian extraction.
Much of this success is due to the fact that Govinda's is offering people something different. First off, there's its exotic setting: the restaurant's bright red awning sits against the backdrop of the 24,000 square-foot Radha-Nila-Madhava temple complex, its eighty-foot tall ornate dome rising into the sky.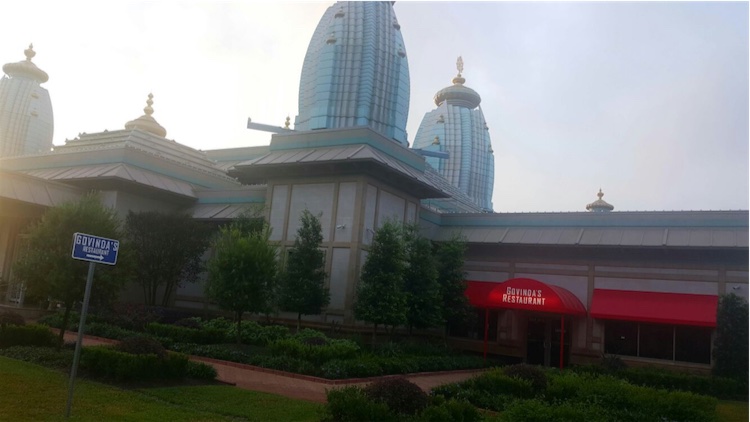 Govinda's restaurant is set against the backdrop of Radha Nila Madhava Mandir
Then there's the fact that it's the only Indian restaurant in the area. "Ironically, we originally wanted to have a multinational menu," says Shyamasundara, who is also ISKCON Houston's temple president. "But when we opened, diners kept writing reviews calling it 'One of the best Indian restaurants in Houston,' so we decided to stick with that!"
Inside, some ornate ceiling domes and a marble floor are the only giveaway that Govinda's used to be the ISKCON Houston temple before the current temple opened in 2014. Otherwise the design by Gensler – one of the largest architectural firms in the U.S. – is extremely broad and welcoming.
There are none of the typical old-school ISKCON hallmarks here. Just modern lighting, food-court-style spaciousness, stylish wall art depicting Indian village life, and an open-view state-of-the-art kitchen, so patrons can see what's going on behind the scenes.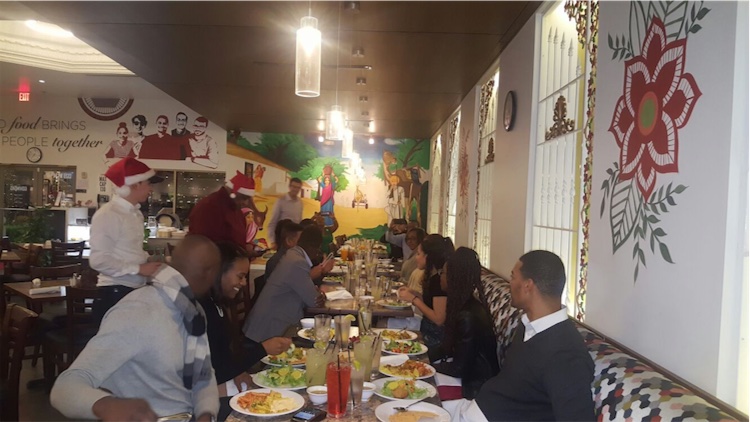 Customers often book large tables ahead
Krishna consciousness is, however, injected into the design in a trendy, subtle way. Above the buffet counter are stylized images of a leaf, flower, fruit and water, embodying the Bhagavad-gita verse "Patram puspam phalam toyam" where Lord Krishna says, "If one offers Me with love and devotion a leaf, a flower, fruit or water, I will accept it."
Meanwhile at the end of the buffet line, as patrons reach the cashier, there is a beautiful painting of Lord Krishna, "so they are indirectly offering their food," says Shyamasundara.
Much thought has been put into the food, or prasadam, itself too. While many ISKCON restaurants have their own Americanized version of Indian food, Govinda's of Houston serves authentic Indian fare, meeting the high demand locally for such cuisine.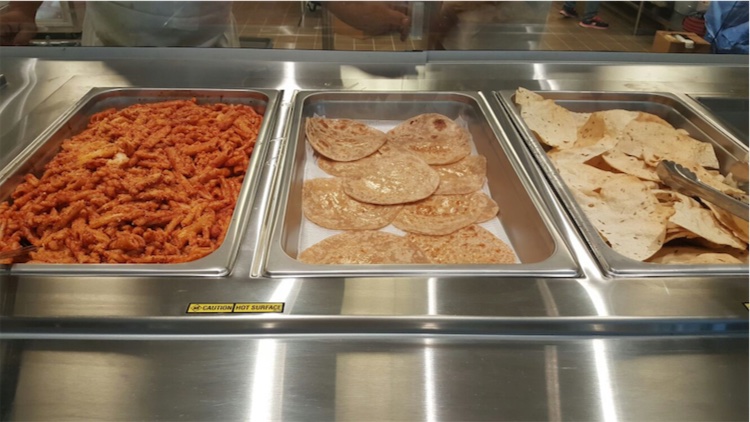 Papadams and hot chapatis
Devotee husband and wife chef team Joy Nitai Das and Jamuna Dasi, who served at ISKCON restaurants in Tucson, Denver and San Diego, are trained under expert Indian chef Amar Singh Vishwakarma – who previously worked at the Bombay Brasserie, one of the most famous Indian restaurants in Houston.
They thus serve up a thirty to forty item rotating menu of dishes like dal makhani, channa pindi (spicy chickpeas with tomato), saag paneer (spinach and curd), vegetable korma, baingan bharta (a North Indian curry made with eggplant and tomatos), and more, along with rice and gauranga potatoes.
There are also papadams, mixed vegetable pakoras with cilantro, chile or tamarind chutneys, and a fourteen-item salad bar with two salad dressings.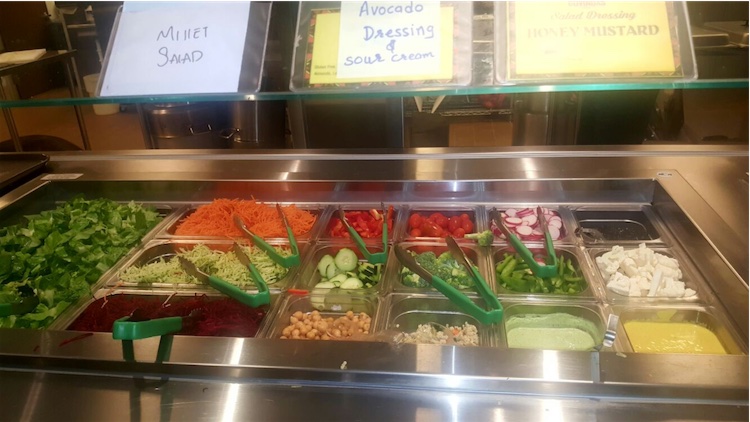 The 14 item salad bar
For sweets, there's kheer (sweet rice), carrot, mango or pineapple halava, and mango, pineapple or banana vegan cakes. There are also packaged sweets for takeaway such as gulab jamun and boondi laddoo. And drinks include bottled organic fruit juices and in-house offerings like rose drink, mango lassi, and ginger mint lemonade.
There's no table service, only buffet service, with the buffet open seven days a week from 11:00am to 2:30pm for lunch, and from 5:00pm to 9:00pm for dinner. But hot chapatis are brought straight to the table of any customer who sits down with a full buffet, bringing a touch of homespun hospitality to proceedings. And at only $10.95 for lunch and $12.95 for dinner, it's all extremely affordable.
The response has been enthusiastic. Lawyers, educational department heads, and CEOs count among the customers. One software company CEO pays in advance for his 140 employees to eat Govinda's once a month. A yoga teacher association booked tables for 30 people at once. And one raw foodist switched to eating cooked food at Govinda's only. "He said he couldn't resist because he felt that the food has some spiritual potency," Shyamasundara recalls.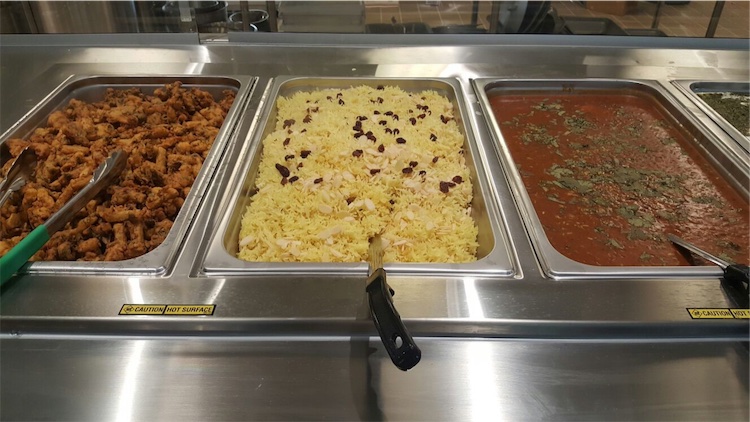 Some of the delicious buffet items
Many enjoy the beautifully landscaped gardens after a meal, and parents love the fully equipped playground, decorated with weatherproof panels of Lord Krishna and Chaitanya Mahaprabhu's pastimes.
Interestingly, Govinda's staff are trained not to wear tilak or devotional clothing so that the customers will feel like they are in a neutral environment, and not to preach or even ask anyone if they'd like to visit the temple.
"We treat them nicely, give them fresh food and good service – give them what they came for," Shyamasundara says. "We don't impose anything on them. Then naturally, they'll become friends, and they'll be open. I have seen already, more than 40 per cent of customers ask to see the temple on their own."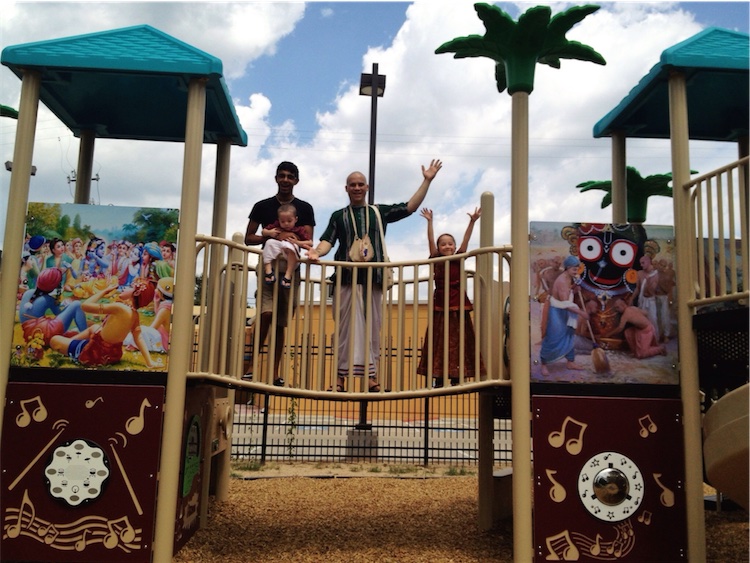 Nityananda Chandra Das (center) visits the restaurant's playground with his friend Govinda Kakkad, son Ramananda and daughter Visakha
Then staff gladly take patrons on a tour of the temple. Still, however, they don't preach or push people, but simply say "We believe that Krishna is a name for God, which means 'all-attractive' in Sanskrit." They explain that whatever your beliefs, there is only one God, aligning devotees with respecting God in all religions equally. And they emphasize a healthy lifestyle – defined as a vegetarian diet, no smoking and no drinking – and working towards harmony in society.
"And that, people very much appreciate," Shyamasundara says.
[
govindas
] [
houston
] [
restaurant
] [
texas
] [
vegetarianism
]