for ISKCON News on Feb. 19, 2016
With ISKCON's 50th anniversary year now here, ISKCON devotees all over the world are getting inspired to bring their communities together and celebrate in creative ways.
At the temple in Potomac, a suburb of Washington D.C., for example, community members are holding their first 50-hour kirtan.
"Actually, it's more like 60 hours," says organizer Manu Bhattacharjee. "We started on February 12th, and until the 20th we're holding kirtans from 4:30pm to 8:30pm every weekday, and from 10:00am to 8:30 on the weekend."
Manu, 25, grew up in ISKCON and works as a navy engineer on aircraft carriers "as big as cities."
Despite his demanding job, he tries not to miss a Sunday at the temple, and in his spare time "bites off more than he can chew" and helps organize events like this week's 50-hour kirtan.
"Somehow, Krishna gives me the intelligence and the time," he says.
Like most of ISKCON of D.C.'s congregation, Manu is commuting to the temple after work every day for the 50-hour kirtan.
"There's always about 20 to 50 people there at any one time," he says. "On Sunday, there were over 300. And on February 20th, which is Nityananda Prabhu's appearance day, we're expecting up to 400."
ISKCON of D.C.'s 50 hours of kirtan is a perfect example of one of the many smaller "village-style" events ISKCON's 50th anniversary is inspiring. There's no effort at trying to pack a bill with international "kirtan stars." Rather, it's an attempt to really bring the community together.
"Throughout the week I've always been pleasantly surprised by how many people come and stay to just chant and hear," says Manu. "They're not jockeying for a slot or anything – they're really just there to serve Radha Madan-Mohan and to be part of the kirtan."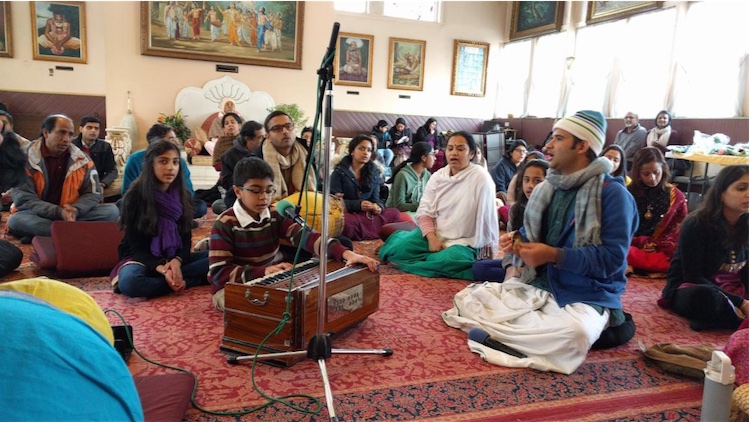 A young Sunday School student tries out what he's learned by singing for the Lord
Among the sweetest moments during the week, Manu says, were when devotees who don't often get the chance to lead kirtan did so.
"Especially when the children got the chance to shine and serve," he recalls. "That was the whole point of this festival."
Children of all ages would often sing in groups – many of them students of Laksmivan Dasa's Sunday School classes, where they learn kirtan instruments such as harmonium and mridanga.
"It's awesome – every time one of these festivals come around and they have a chance to lead, you can see them getting better and better," says Manu.
Also making the event especially sweet is the fact that the week is packed with special days – as well as Nityananda Trayodasi, there's the appearance days of Raghunath Das Goswami and Advaita Acharya, and the disappearance days of Madhvacharya and Ramanujacharya.
"It's an amazing opportunity to multiply the results of any sort of service we do, especially kirtan," says Manu.
ISKCON's 50th anniversary has also inspired devotees in Washington D.C. to undertake other efforts, and to increase what they're already doing for Krishna and Srila Prabhupada. They've built a large new state-of-the-art greenhouse for their Tulasi Devi plants; more have joined the weekly Saturday and Sunday public Harinama Sankirtan; and community organizers are getting more and more people involved.
"Whether it's becoming a monthly donor, joining the team that greets visitors, cooking or serving prasadam, or guiding cars to their parking spots on festival days, we're encouraging everyone to take ownership for their temple and to share it with others," Manu says. "We're trying to move towards being a community of people who share, rather than one who just attends."
Many other ISKCON communities around the world are also being brought together by the 50th anniversary, and inspired at the thought of what the next 50 years of Srila Prabhupada's legacy could bring.
"When I was younger growing up in the movement, I had an abstract view of it as something that had kind of always existed – all the temples, deities, organizations and devotees I interacted with felt like they had always been there," says Manu. "But the 50th anniversary of ISKCON has really brought perspective to how recent and young ISKCON is, and gives me tremendous hope for its outlook in the future.
"Because if we've come so far in just fifty years, who knows where we can be in another fifty?"
[
dc
] [
washington-dc
]