for ISKCON News on Sept. 9, 2016
On August 25th, 2016, ISKCON Korsnäs Gård in Stockholm, Sweden, not only celebrated a wonderful Janmastami festival and the 50th anniversary of ISKCON, but also presented the results of an European Union Erasmus+ project named 'Simple Living - High Thinking'. Present were ISKCON members, guests and several VIPs including the Ambassador of India and two politicians from the local municipality.
'Simple Living - High Thinking' is a strategic partnership project with the goal of exchanging experiences and researching new possibilities in two fields: Ecological Sustainability and Youth Development. Five organizations from five countries participated in the project: Belgium (Radhadesh), Hungary (Eco Valley Foundation), Slovenia (Spiritual Society for the Soul), Czech Republic (Sanga) and Sweden (ISKCON Korsnäs Gård). The project started one and a half years ago and included three conferences were knowledge was exchanged, new possibilities were explored, and several workshops were organized.
Ecological Sustainability
Facing the consequences of global warming and environment pollution, made this project very relevant for today's society. The project showed how ISKCON actively contributes to minimizing these problems so that the Earth can be passed on in good condition to future generations. 50 years ago, when Bhaktivedanta Swami Prabhupada founded ISKCON he requested his followers to start farm projects so that they could grow their own vegetables, raise cows and live a life in harmony with nature. Today ISKCON has 65 farms and eco villages globally. One of the most successful one is Krishna Valley in Hungary, and Eco Valley Foundation, the organization, which represents this farming community worldwide, was fortunately one of the partners in this project. This eco village was established in 1993 and is one of Europe's largest organic farm. The foundation has an observer status in the U.N. Climate Change Convention and is affiliated with several higher educational institutions in Hungary.
Krishna Valley has developed various aspects of a sustainability paradigm such as organic agriculture, efficient water and waste management, and also a cow protection center and an apiary. The community of 150 families is self-sufficient in terms of grain-, vegetables-, fruits- and honey production. Krishna Valley draws 20,000 visitors and tourists annually, and it hosts sustainability conferences, too.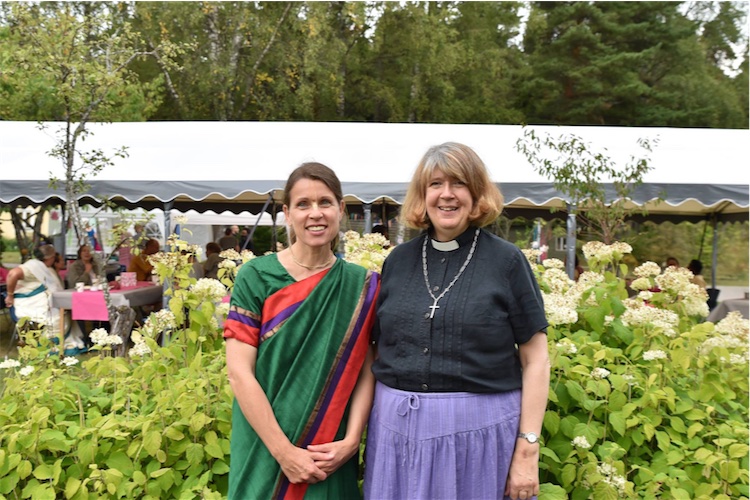 In Sweden both at ISKCON Korsnäs gård as well as at Almviks gård (Almvik farm) located nearby, organic gardening is providing flowers, fruits, and vegetables to residential members, and in Almvik even grains. The Almvik farm community is also selling their products on the local market, including bread and pastries from the Almvik's bakery.
Youth Development
The community in Radhadesh, Belgium, has a lot of experience with youth development. There are many opportunities for young people to their skills and personalities, and to receive education and ideas for entrepreneurship. The community offers different workshops and courses such as drawing, cooking, music, dance or even courses on fashion design, meditation or yoga. The community also offers the youth opportunities to engage themselves in the local restaurant, Indian shop, museum, serve as tourist guides and more.
There is the Bhaktivedanta College connected to the community where one can earn a bachelor degree in Religious Studies, and the Alfred Ford School of Management where one can earn a master degree on conscious leadership.
At ISKCON Korsnäs gård a youth event was held in August 2015. At that youth event ISKCON Sweden started a Youth Forum. The Youth Forum is a platform to meet, to learn and to develop. Last year the Youth Forum had several activities such as forest walks, travels abroad and music events. It also organized workshops, which the youth partially organized and led themselves. To organize and hold workshops helps the youth to take up responsibility, develop organizational and pedagogical skills and dive deeper into a topic. The first Holi festival celebrated in ISKCON Sweden, was great fun for both, children, youth and adults.
Several honorable guests appreciated ISKCON's initiatives and visited the 'Simple Living - High Thinking' event including H.E. The Ambassador of India for Sweden and Latvia Mrs. Banashri Bose Harrison; Ebba Östlin, president of the local municipality (Botkyrka in Stockholm); Jimmy Baker, vice-president of the local municipality; Helene Egnell, bishop's advisor and leader of the Centre for Interfaith Dialogues in Stockholm; Ewa Hollén, local Child and Youth Ombudsman; Paola Masdeu Vaerlien, municipality developer; Marie Spennare, president of a municipality's umbrella organization that includes 32 NGOs; Chitra Paul, president of Hindu Forum Sweden; Smita Krishna Swami from ISKCON Sweden, and representatives of ISKCON Youth Forum Sweden.
The results of the project were published at the website /www.simplelivinghighthinking.eu/ in the form of articles, a practical manual and an educational movie. They can all be downloaded from the website and were presented and distributed at events.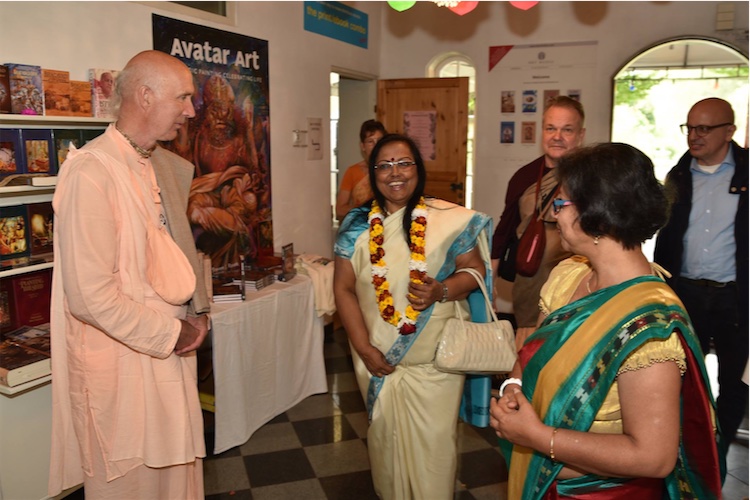 After the presentation of the project by the coordinator Kamala Priya Dasi, H.E. the ambassador of India expressed her appreciation and gave a heartfelt speech. She encouraged ISKCON to share its value and wisdom with the world: "Wherever you are present, share the joy and sorrows with your community and of your community. Whether the people are your members or not, you should, we should, try to bring a touch of happiness to their lives. And when there is sorrow I feel it is also our responsibility, and completely in line with the thinking and the values of your movement, that you must share in those sorrows and try to reduce them. ... So this mutual respect and openness, I think, is a value that a movement like yours can, is and should be spreading more and more because it is absolutely needed in today's world. Unless there is mutual respect you cannot have sustainable integration. Unless there is mutual respect you cannot have sustainable peace. So the message that I feel a movement like yours can take, starting from India but developing it and growing it along the way, is that of mutual respect, sustainability, peace, tolerance, and not just accepting diversity and difference, but welcoming diversity and difference."
After the ambassador's kind words, Raman and several youth from the Youth Forum Sweden captured the attention of the audience by beautifully singing 'Jaya Radha Madhava'. The program then continued with several workshops like Yoga, Healthy Lifestyle and Ayurveda, Organic Gardening, Conflict Resolution and Indian Drums. Finally, a delicious organic vegetarian Indian feast was served to all the participants.
The guests appreciated the event and the project a lot, and in the end, cooperation and participation at upcoming events and local festivals were discussed.
[
farming
] [
simple-living-high-thinking
] [
sweden
]