on Aug. 11, 2016
Indian Prime Minister Sri Narendra Modi has congratulated ISKCON on its 50th anniversary, praising its accomplishments in a way that shows a strong understanding of ISKCON's core message and efforts. We hope its Founder-Acarya Srila Prabhupada, who always tried to reach the leaders of society, is pleased.
The Prime Minister's letter, released on August 8th, reads in full:
"I am delighted to learn that the International Society for Krishna Consciousness (ISKCON) is celebrating its 50th anniversary.
"Over the last five decades, the journey of ISKCON has been one of selfless service to society.
"The ISKCON family has emerged at the forefront of the quest to create a more peaceful, harmonious and compassionate society. ISKCON's journey has been a manifestation of 'Vasudhaiva Kutumbakam.' Integration has been at the core of your philosophy.
"ISKCON's story has been the story of the determination and devotion of lakhs of devotees spread across the world. Inspired by the teachings of Lord Krishna, they spread His message far and wide. The efforts of the ISKCON family in sectors like education, publishing and disaster-relief are commendable.
"On this occasion, I convey my best wishes to the ISKCON family and hope they continue to serve humanity with the same enthusiasm and diligence as they have been doing for the last five decades. May this family of devotees be agents of change in creating a better tomorrow.
"Jai Shri Krishna!
"Signed, Narendra Modi
"New Delhi
"08 August, 2016"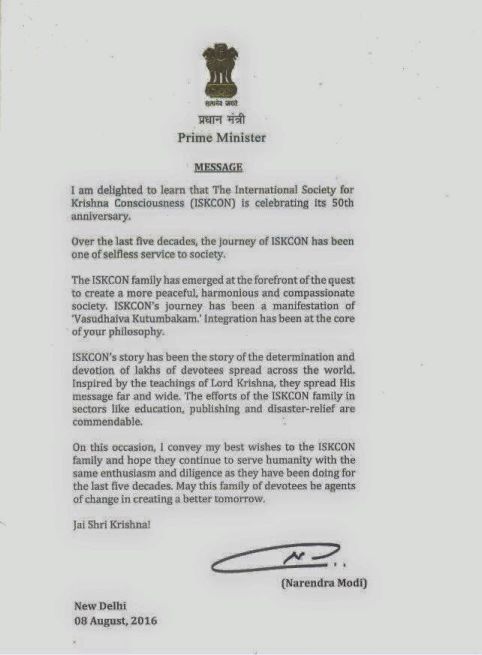 The Prime Minister's letter
[
iskcon-50th-anniversary
] [
narendra-modi
]