for ISKCON News on March 3, 2019
Indian Prime Minister Narendra Modi unveiled a giant version of Srila Prabhupada's Bhagavad-gita As It Is, weighing 800kg (1,763 lbs) and running to 670 pages, at an event at ISKCON's Sri-Sri Radha Parthasarathi temple in Delhi on February 26th.
Dubbed "The Astounding Bhagavad-gita," the book measures 2.80 x 2.00 meters (9 x 6.5 ft) and is billed by its creators at the Mediterranean branch of the BBT as "the largest principal sacred text ever printed."
Attending its unveiling along with the Prime Minister were Culture Minister of India Mahesh Sharma, Members of Parliament, diplomats from foreign countries such as Italy, Mauritius and New Zealand, prominent businesspeople, ISKCON leaders like Gopal Krishna Goswami, Radhanath Swami, Lokanath Swami and Ambarisa Das (Alfred Ford), and ISKCON devotees from Delhi and other parts of India.
Upon his arrival Prime Minister Modi was welcomed by Gurukula boys from ISKCON Mayapur, who chanted mantras and offered him a garland. He then pulled open red velvet curtains to reveal the huge Bhagavad-gita As It Is along with an inaugural plaque in its place at the Glory of India Vedic Museum.
Modi also performed arati to the Gita, and ceremonially opened it to the first page. Next, he viewed the nearly sixty foreign language translations of Srila Prabhupada's Bhagavad-gita. Finally, he proceeded to ISKCON Delhi's auditorium, where he bowed down in front of a murti of Srila Prabhupada.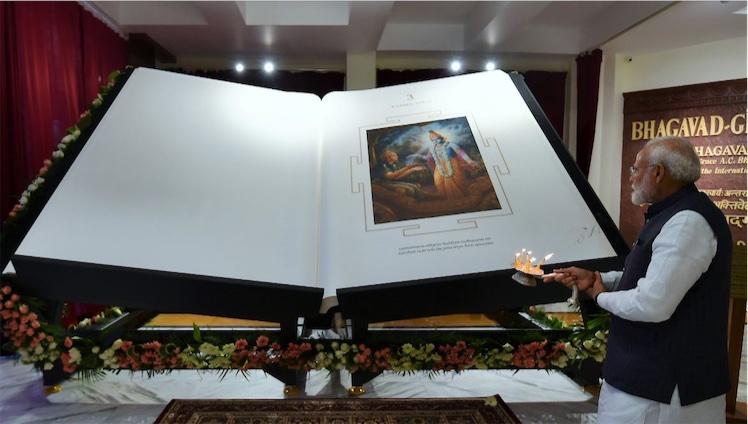 Indian Prime Minister Narendra Modi offers arati to the 800kg Bhagavad-gita As It Is
A series of speeches followed, beginning with Madhusevita Das of the Mediterranean BBT, who headed up the project and has long been printing large format books such as Darsana and Krishna Art.
Madhusevita explained that the Astounding Bhagavad-gita is by far their most ambitious project, more a worshipable deity than a book. At a cost of €220,000, it features eighteen exquisite BBT paintings, an innovative elegant layout, and is printed on YUPO synthetic paper, which is untearable and waterproof.
The book is bound with a process called Japanese binding, utilizing stainless-steel screws. Its cover is made of carbon fiber, a light yet extremely strong material used to build satellites. And the cover painting of Krishna and Arjuna is surrounded by intricate laser-engraved black and gold motifsmade with precious metal inserts. Printed and produced by experts in Milan Italy, it is a real useable book with turnable pages and is built to last for thousands of years with the proper care.
Madhusevita concluded his speech by expressing his joy that a devotee like Prime Minister Modi was unveiling the Gita, saying, "All the blood, sweat and tears of the last two years vanished as soon as I saw the Prime Minister."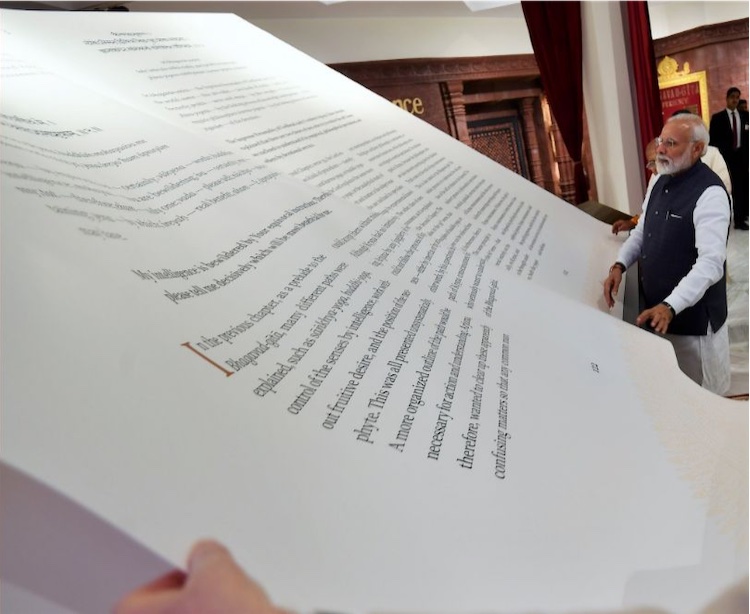 Modi ceremonially turns the first page
GBC Gopal Krishna Goswami spoke next, citing statistics on how many different languages Prabhupada's Bhagavad-gita had been translated into, and how many Gitas ISKCON devotees were distributing to people in many remote corners of the world. He also praised the Prime Minister's Swachh Bharat, or "Clean India" campaign, saying that ISKCON's distribution of the Bhagavad-gita was a complementary initiative as the Gita helps to clean one's heart.
At last Prime Minister Modi himself spoke. He thanked devotees for inviting him and said he appreciated the work being carried out by ISKCON in many different ways to spread the knowledge of Bhagavad-gita. He commented that Gandhi had dedicated himself to freeing India; while Srila Prabhupada had dedicated himself to sharing the knowledge of the Gita with the world.
He added that everyone – whether you're a student trying to control your mind, a statesman, managing a country, or a yogi – can gain from the Bhagavad-gita's wisdom.
The event attracted a lot of attention, with organizer Yudhistira Govinda Das commenting that it was a historical day in many ways.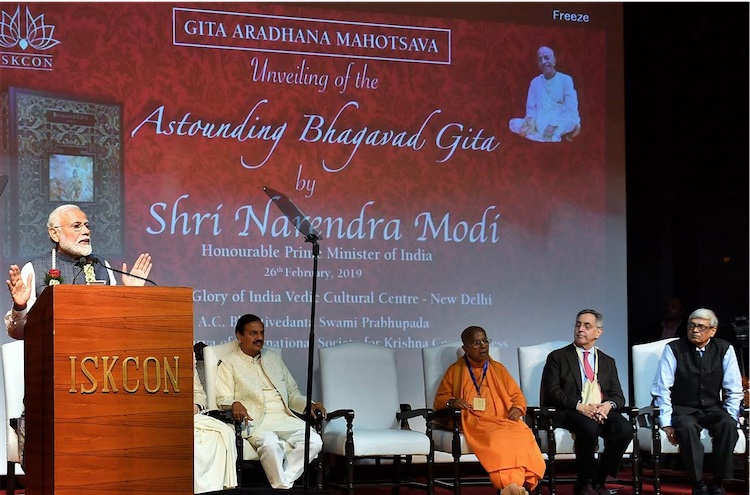 Prime Minister Modi speaks at the ISKCON event
"It had been almost twenty-one years since an Indian Prime Minister visited any ISKCON center," he says.
In addition, that very morning was the first time since 1971 that the Indian airforce entered into the Pakistani air space to strike a terrorist training camp.
"So the whole country was tuned into what the Prime Minister was doing," Yudhistira says. "Even other international governments were constantly monitoring where he was going, and what he was going to say. He had only two engagements that day – a political rally in Rajasthan, and our event. So we got unprecedented media coverage. Ten to fifteen channels were running us live, some just with visuals along with audio commentary on the India/Pakistan situation, but others were running our full program audio.
"Regardless," he concludes, "Everyone was tuned into ISKCON on that day."
[
bhagavad-gita
] [
delhi
] [
gita
] [
modi
] [
narendra-modi
]