for ISKCON News on July 15, 2016
During its ISKCON 50 festivities this month, Indonesia added some rich local culture to proceedings as its over 5,000 devotees focused on uniting together to serve Srila Prabhupada.
Celebrations included a brahmachari sankirtan party touring with a Prabhupada murti through the thirty-two ISKCON temples, centers and Namahattas on the island nation; and a youth camp bringing together youth from across the island of Bali.
The highlight, however, was the International Leadership Sanga (ILS) and the Bhakti Festival and Rathayatra from July 5th through 10th.
Both events were held in Denpasar, the provincial capital of Bali. As a predominantly Hindu Island – with its own regional brand of Hinduism – in an 86% Muslim country, Bali is the natural headquarters of ISKCON Indonesia.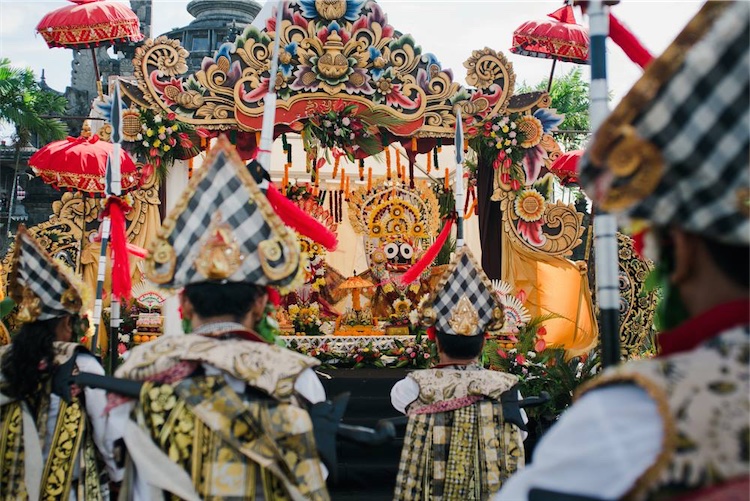 Guards in ceremonial Balinese attire protect Lord Jagannath
Around forty temple presidents, leaders and senior devotees attended the International Leadership Sanga from July 5th to 8th at a local Denpasar hotel, for the first ILS ever held outside of Mayapur, West Bengal (where the idea originated).
Leaders hailed from the Indonesian islands of Borneo, Sumatra, Java, Sulawesi, and even far away Papua, marking the first such gathering in the history of ISKCON Indonesia.
Each day of the ILS was packed with seminars from the morning program through to dinner, given by experts in their subjects.
Each spoke on multiple topics. Kaunteya Das from Mayapur, a key member of the GBC Strategic Planning Team, talked about organizational development and strategic planning; how to improve Sunday programs; and why the growth and stability of our movement depends on unity in diversity.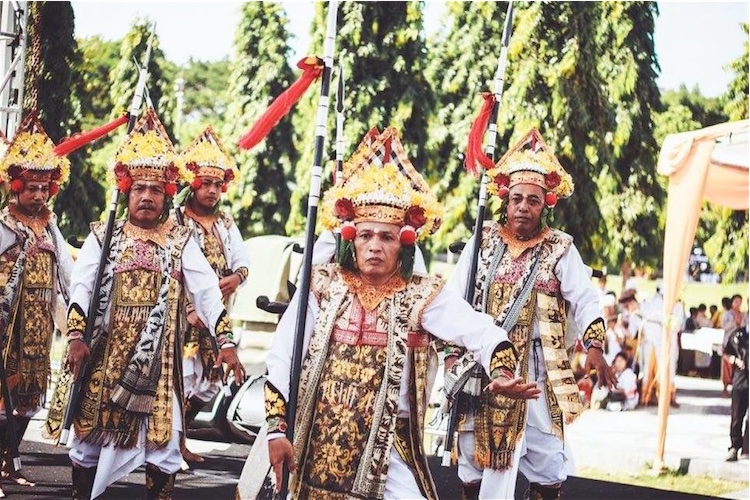 Lord Jagannath's ceremonial guards
Kaunteya's wife Sri Radha Govinda Dasi, Director of Bhakti Marriages online premarital courses, spoke about how to build relations among devotees through appreciation, listening and speaking skills.
Another husband-and-wife team, Bhakta Das and Bhakti Dasi of ISKCON Communications Australia, taught participants practical communications skills to deal with the media, VIPs and other external audiences.
Separately, Bhakti spoke about how to practically add Krishna to our daily lives; while Bhakta talked about how to make a better community by applying compassion in our personal dealings with devotees, and how to effectively communicate with people of different religions. He also gave Srila Prabhupada: The Greatest Communication, a seminar on how Prabhupada applied communication skills in his dealings with multiple key audiences.
Meanwhile Melbourne temple president Aniruddha Das explained what the ISKCON Disciple Course is all about, discussed what Srila Prabhupada wanted for ISKCON's management, and talked about how to raise money for temple programs through prasadam distribution – something he has lots of successful personal experience in.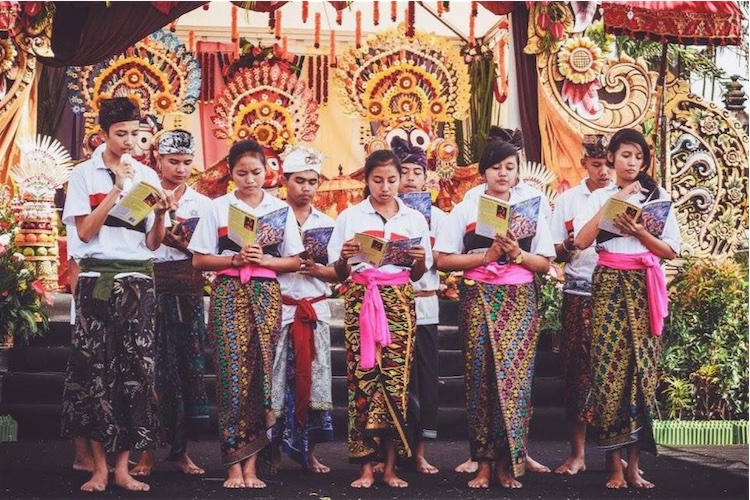 High school children recite Bhagavad-gita verses
The ILS was a very bonding experience, with devotees also taking three prasadam meals a day together, residing together in the hotel (half of which had been booked for the event), and doing kirtan together.
On July 8th, the leaders, along with GBCs Ramai Swami and Kavicandra Swami, also held the first ever Annual General Meeting of ISKCON Indonesia's National Council, just created in October 2015.
"With this event we really focused on building unity in diversity within our own community," says Indonesian communications director Ravinjay. "When you have devotees in the same country trying to achieve the same goal, but remaining disconnected from one another, it's pretty difficult. So we throught ISKCON's 50th was a perfect time to make sure that we go forward for the next fifty years as family, together, with the same mindset. It was the first time we had ever had all the Indonesian temples represented, talking about how we can actually work together as one unit to serve Srila Prabhupada."
Following the ILS on July 9th and 10th was the Bhakti Festival, which shared its theme, "Celebrating the Joy of Devotion," with ISKCON 50, and was the first attempt at opening up ISKCON Bali's Rathayatra to the general public.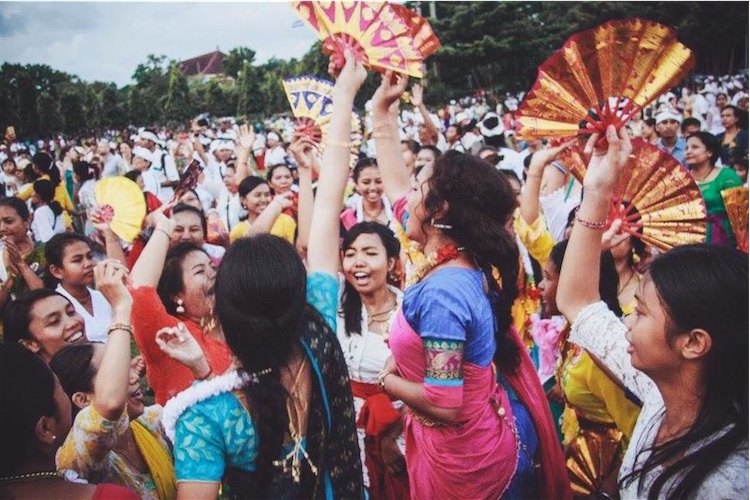 Kirtan, Indonesian style
Held at the Bajrasandhi Monument park in Denpasar, the festival drew about 3,000 devotees and 1,000 members of the public.
A gala prasadam dinner on the 9th welcomed representatives from the provincial government of Bali and the Indonesian Hindu Dharma Council, along with a representative who read a statement by the Director General of Hindu Dharma from the Indonesian Ministry of Religious Affairs.
"Seeing this movement of Bhakti, now presented as a festival, I would like to say how important this event is in accommodating the Hindu community to positively contribute [to the society]," the statement by Director General I Ketut Widnya read.
Widnya also said that the Bhakti Festival displayed "the harmony, unity and boundless fraternity of the ISKCON members in Indonesia."
After the dinner there was a showing of the 20-minute ISKCON 50 film "Fifty Years of Joy and Service," and several performances that showcased the wonderful devotional Balinese culture. The Gopi-Bhakti Dance mixed Bharatanatyam with Balinese dance, the Pancha Tattva Bhakti Dance saw devotees portraying Chaitanya Mahaprabhu and His associates but dressed in Balinese costumes, and the hour-long Ramayana musical utilized both full Balinese outfits and music.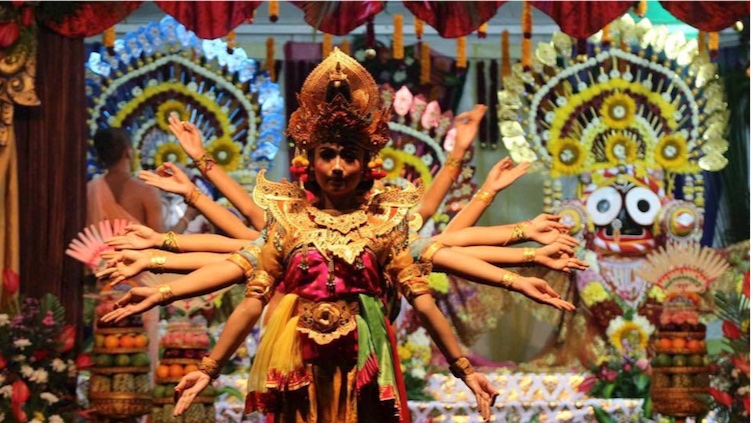 Performing another stunning Balinese musical for Lord Jagannath
"Ramayana and Mahabharata are very intrinsic to the entire Indonesian culture, especially in Java and in Bali, where still to the present day every single person, even if they're Muslim, knows the characters," says Ravinjay.
The next day, there was a morning program on site at the park, as well as yoga and a seminar on the glories of cow protection. These were followed by a reading of Bhagavad-gita verses by local high school children, and a Balinese-style kirtan utilizing traditional instruments such as the gamelan, an Indonesian xylophone.
Huge two-meter tall Jagannath Deities, carved in Indonesia, were then taken out on a five-kilometer Rathayatra parade past the governor's office, government buildings, and through the main streets of Denpasar.
Performances afterwards included a "mantra jazz" acoustic set of Jaya Radha Madhava, Nrsimha prayers and other chants, and a Balinese musical version with full traditional outfits of Krishna defeating Kamsa.
Meanwhile a full prasadam meal blending Indonesian, Balinese and Indian cuisines was served out to 4,000 people.
Next up for ISKCON 50, ISKCON of Indonesia is holding an appreciation night to thank devotees for services they've rendered.
"ISKCON 50 for us is definitely more about strengthening our community from the inside," says Ravinjay. "Historically, we've had a lot of splinter groups and miscommunication. And so ISKCON 50 is really an opportunity to bring the country back together, reunite all the devotees, and figure out how in the future we can make better and happier devotees."
For more photos, please visit: https://www.facebook.com/iskconid/photos/?tab=album&album_id=534902150051052
[
bali
] [
indonesia
]