for ISKCON News on July 2, 2017
On June 23rd, Indradyumna Swami, kirtan singer Bada Haridas, Sita Charana Dasi from Macedonia and Saci Sundari Dasi from Bulgaria appeared on two prime time television programs in Skopje, Macedonia.
One of the programs was in the morning, at breakfast time. The other, TV Macedonia 24, was at lunch time. Both were watched by over one million people. 
The devotees were appearing especially to publicize their outdoor "Festival of India," to be held the next day in central Skopje. So the interviews centered around the festival, and how the devotees would be sharing different aspects of spiritual culture.
On the first show, the host tried on a sari, while devotees demonstrated applying hena designs and talked about prasadam.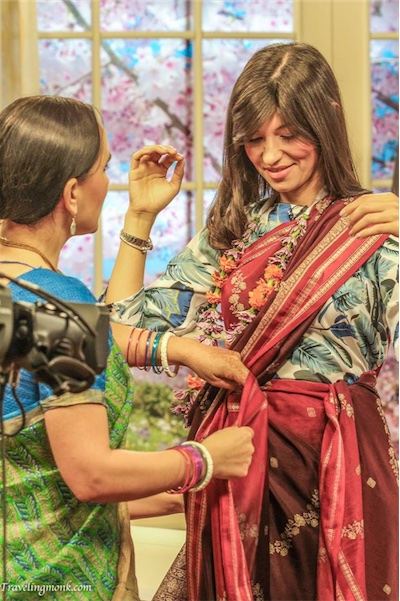 The host tries on a sari
On the second, Indradyumna Swami gave an eloquent introduction to Krishna consciousness philosophy.
"The basic philosophy is that I am not this body; the body is just a dress," he said. "I am the spark of life within the body, I am the spiritual force, the soul. And although we try to make this material world a nice place, ultimately, it's not so pleasant here – everybody has their story, their problems."
"But," he explained, "There exists a spiritual world, where we come from, where life's eternal, and full of knowledge and bliss. The goal of life is to try to go back home to the spiritual world to have an eternal life of knowledge and bliss with God, who is a person. There is one God, but he has many names. In India they call him Krishna, which means the most beautiful person. And it's a relationship with Him that will really satisfy our hearts." 
The hosts, draped in garlands offered to the Lord, listened intently.
The devotees, radiant in their dhotis and saris, ended both shows with kirtan.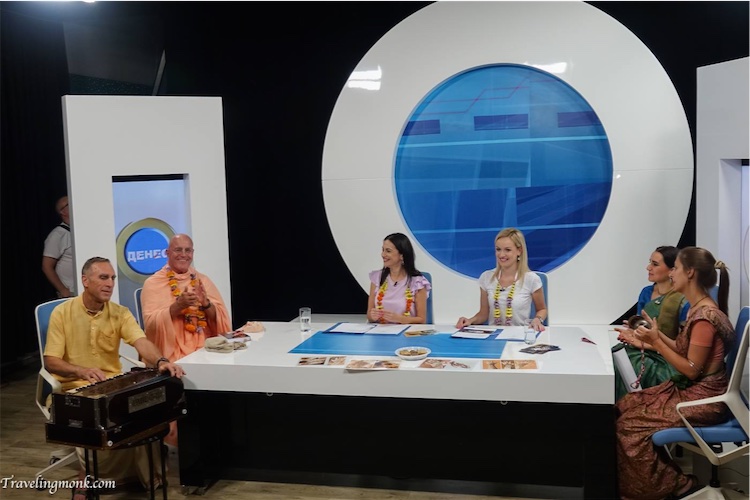 Badaharidas and Indradyumna Swami lead kirtan on TV Macedonia 24
"Both hosts were very friendly and favorable," says Bada Haridas. "We thought the shows came out well and would give new people a nice impression. Both show hosts encouraged us to chant, so a couple million people heard the Maha Mantra sung sweetly by His Holiness Indradyumna Swami and the devotees. Of course, we are very happy about that."
Indradyumna Swami hopes his beloved guru is pleased. "Srila Prabhupada, we offer the results to your lotus feet and pray that we may serve your samkirtan movement until all the 14 worlds are chanting the holy names!" he said.
You can view the appearance (dubbed over in Macedonian) here: https://www.youtube.com/watch?v=7HpRiYSb1eE
[
indradyumna-swami
] [
kirtan
] [
macedonia
]