for ISKCON News on Sept. 14, 2017
Coming to the U.S. for the first time, Indradyumna Swami's 'Discover India' tour began with a resounding success, performing to a receptive audience of over 500 people at the Newburgh Armory Unity Center in New York on September 10th.
"We sold many Bhagavad-gitas after the show – it was a perfect start to our American tour," Indradyumna Swami commented.
The epic show of dance, theater, martial arts and live music has been touring Poland for 28 years under the name Festival of India, putting on forty events every summer and drawing audiences of three to five thousand people each night.
It has traveled all over the world under different names, going to Australia as Le Carnaval Spirituel, Brazil as Magic India, and India as Krishna Fest. And now, with the kind sponsorship of Indradyumna Swami disciple Mayapur Chandra Das from Newburgh, it is in the U.S.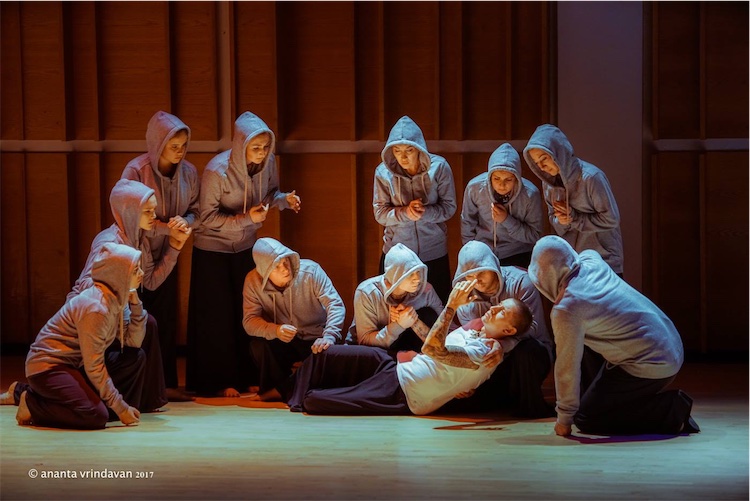 Minimalist performance in 'Light of the Bhagavatam'
The Discover India show will be touring the Northeast until September 29th, hitting public venues in New York, New Jersey, Massachusetts, Pennsylvania, Ohio, and West Virginia.
The cultural spectacular, according to organizer Nandini Dasi, is "universal, speaks to everybody, and gives people an experience of the roots of Indian culture."
The forty-person crew of dancers, actors, yoga performers, acrobats, musicians, and technicians hail from eleven different countries.
Together they put on three main shows. The first, Usha and Anirudha, is a dreamy love story featuring a cast of 30 including the Sankhya Dance group from Mumbai and Poland's Viva Kultura artists. Told with classical bharata natyam and kathak dance and colorful authentic folk costumes from India, it includes an aerial rope act and is full of the richness of expression in Indian culture.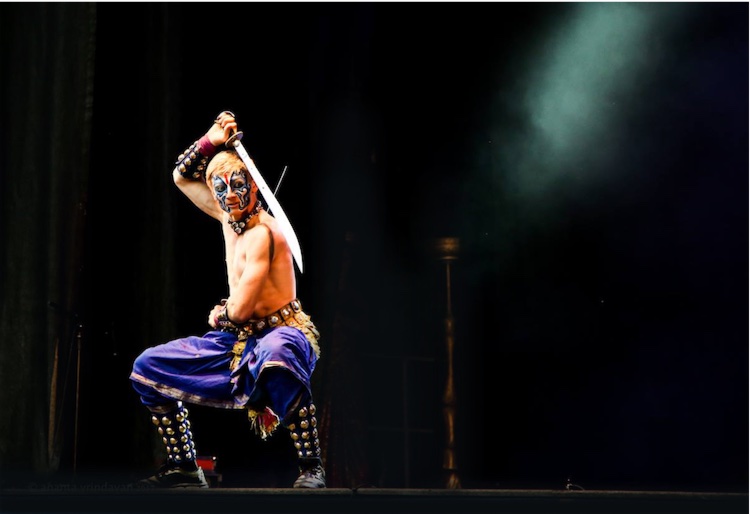 Padma Lochan performs ancient Indian martial arts
On the completely opposite end of the spectrum, the second show, Light of the Bhagavatam, is depicted through contemporary physical theater. It presents a Krishna conscious message through the story of King Pariksit, and the costume-free minimalist style, where the actors use their bodies as props, encourages both performers and audience to experience a deeper immersion into the depths of the Bhagavatam.
The third show, Sita Rama, tells the famous story of Sita Devi's capture by the demon Ravana and Lord Rama's battle to rescue her. The most dynamic show, it incorporates dance, martial arts, acrobatics, aerial ring acts and even live musical performances. Comic, adventurous, and thrilling, it's also deeply moving, showing that spirituality captures the emotions too.
On the bill along with these major shows is a martial arts presentation by Padma Lochana Das, featuring demonstrations of ancient Indian weapons such as chakra, sword, and staff. His technique is inspired by Kalaripayattu, originating in Kerala, South India and considered to be one of the oldest surviving fighting systems in the world.
Indradyumna Swami also speaks at each show in a section called "Wisdom of the Gita," in which he shares his experience as a traveling monk and practioner of Bhakti Yoga for over forty-five years, and talks about how this profound ancient knowledge can be applied in modern times.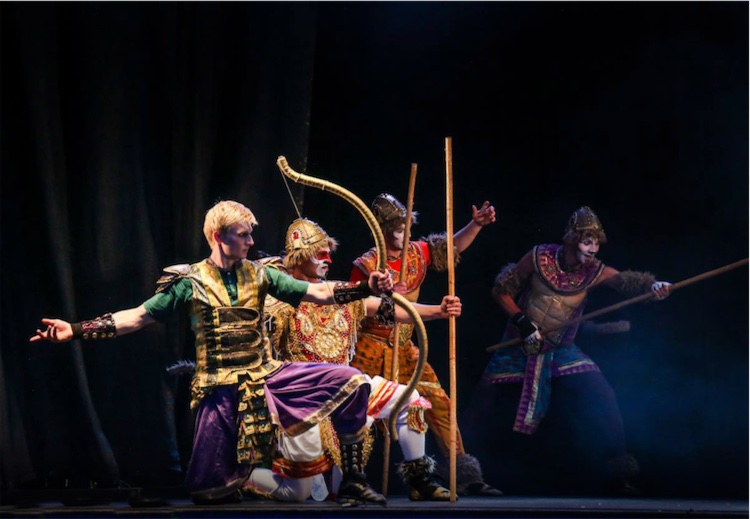 Rama fights alongside the vanaras in 'Sita Rama'
The evening ends with an incredible kirtan that incorporates violin, saxophone and trumpet along with the traditional instruments of mridanga, harmonium and kartals. The Sankhya Dance group perform their traditional dance, done as an offering to Lord Krishna, during the chanting, and audience members are invited to participate joyously.
"Our festival doesn't just go one way," says Nandini Dasi. "For us, what matters is the connection."
Discover India is aimed at local Westerners, and Nandini says she hopes the show takes Ameicans beyond their preconceived notions of India to a place of deep meaning.
This has already happened in Poland, where people love the show so much they base their summer vacations around it. For many, the cultural experience leaves them much more receptive to Prabhupada's books, as they have a frame of reference.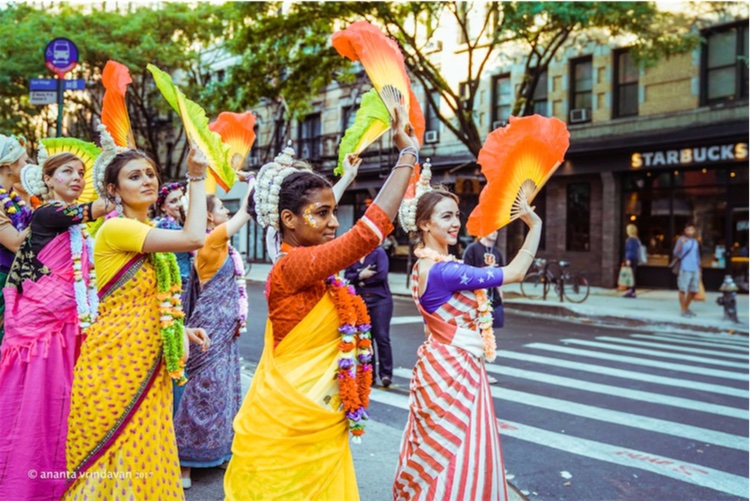 Colorful dancers lead a Harinama in Manhattan
At Woodstock festival, the biggest venue for the show with 1 million festivalgoers, the effects of seeing the show for decades are clearly evident. This year, devotees served out nearly 300,000 plates of prasadam. The kirtan tent was so crowded with members of the public chanting and dancing that there was no room for devotees, and many people came to see specific kirtaniyas they were familiar with like Madhava or Achyuta Gopi.
At the Rathayatra parade devotees put on at Woodstock, the public began decades ago by just watching, then smiling, then beginning to dance, then pulling the rope of Jagannath's chariot. This year, people were so familiar with the Hare Krishna maha-mantra that they were leading kirtan with the microphone. Some, understanding the concept of guru, bowed down to Indradyumna Swami.
"They feel so at ease with us," says Nandini. "And that is the relationship we hope to build with people in the U.S. too. Because Bhakti Yoga is the yoga of the heart – and for that, you need to have a relationship like Arjuna had with Krishna. Communication needs to go both ways – it's about building community. Not that you only talk at people and don't care about how they feel or understand you."
Ultimately, Nandini says, the success of the Discover India tour under all its names is down to the fact that devotees love and respect their audience, and value their presence.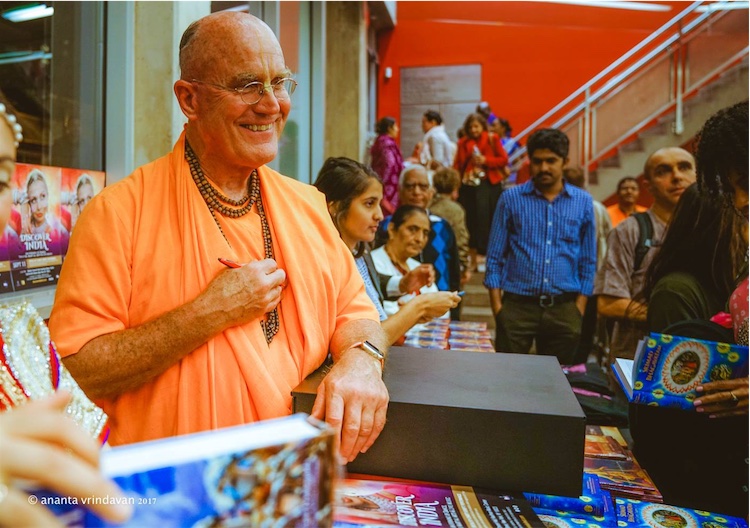 Indradyumna Swami distributes Srimad Bhagavatams after the first show in Newburgh
"That's why they keep coming back, asking more questions, and diving in more deeply," she says.
As well as the performances at various venues across the U.S., the Discover India tour members advertise their shows with Harinama Sankirtan. On September 11th, people received their public chanting down the streets of New York's famous East Village with delight.
"We'll see how successful the tour continues to be in the U.S.," says Nandini. "Depending on how we're received, hopefully this is just the beginning, and we'll be back every year!"
[
festival
] [
indradyumna
] [
new
] [
swami
] [
york
]