for ISKCON News on Sept. 26, 2019
On the occasion of World Holy Name Festival, on 23rd of September 2019, ISKCON Rohini (Delhi, India) organized an Interfaith dialogue focusing on the topic of "The Glories of Holy Names".
The program, which was conceived and initiated by Keshav Murari Das, Temple President ISKCON Rohini, saw participation of various spiritual leaders from different faiths and communities, who shared their views and realization on the Holy Name as per their practice and faith.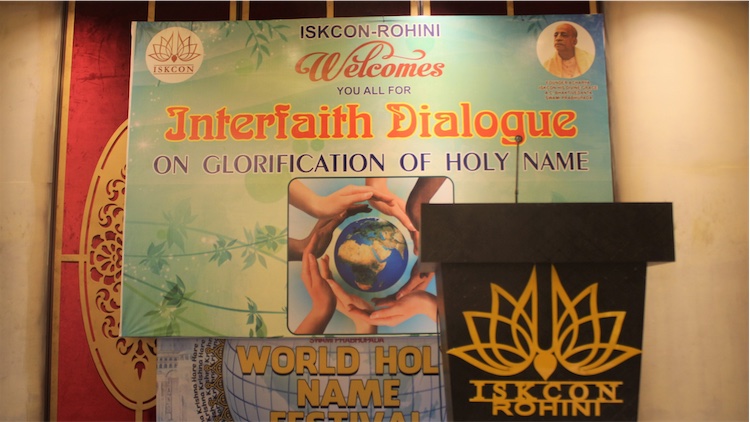 The program concluded with a dinner for all.
The event was held at beautiful ISKCON Rohini's seminar hall which was attended by the audience of more than 200, in addition to 17 spiritual leaders.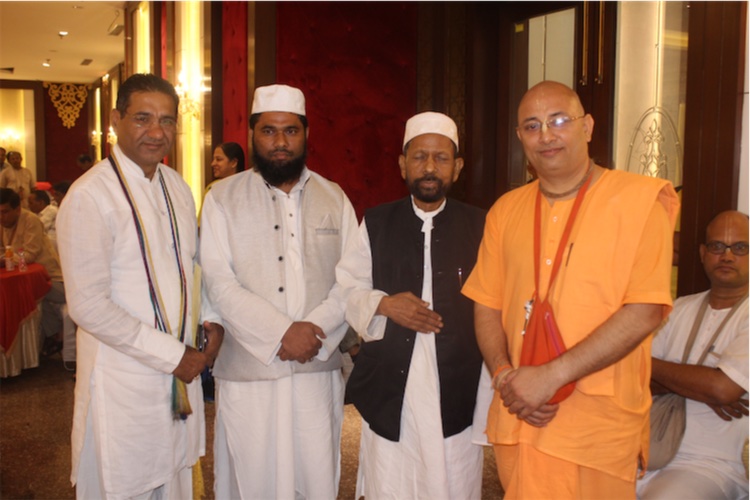 Many spiritual leaders expressed their heartfelt appreciation for this initiative by ISKCON, and requested for a continuation of such events as they felt it brought a platform to connect, appreciate and respect different faiths and cultures and promoted peace.
Following were some of the prominent guests and speakers: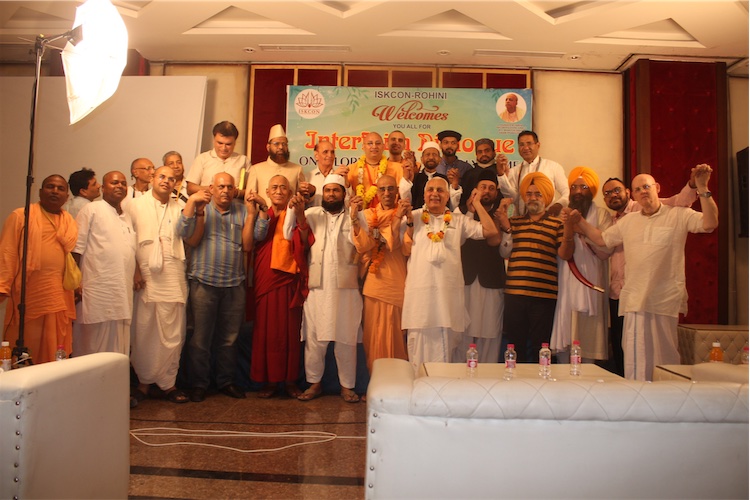 Dr. Mo. Hanif Khan Shastri, Padam Shree awardee 2019
Brahama Kumari Lata, Prajapita Ishwariya Viswavidyalaya
Mr. C.L.Gulati , Heading Sant Nirankari Charitable Foundation
Firoz Ahmad Naeem, President- Ahamadiya Muslim Jamat
Mo. Anwar Raza Khan
Dr. Rattan Jain from Jain Mahasabha, Faculty Delhi University
Sarvajit Singh Virk , Member of Delhi Sikh Gurudwara Committee
Dr. MO. Anwar Naeemi from Jamiya Hamdard University
Dr. Jyotindra Dave Director PhD in Sanskrit, Director BAPS, from Swami Akshardham Temple
Javed Iqbal Khan President from Ahsas peace Foundation
Lama Chespal Jyotspa - President Himalayan Boddha Cultural Committee.
Krishna Bhajan sang by Shekh fateuddin and Saiyyuddin Haamid
From ISKCON
Bhakti Madhurya Govinda Swami from Los Angeles (Srila Prabhupada Disciple)
Sarvadrik Das from America (Srila Prabhupada Disciple)
Rishi Kumara Das, Secretary to President of ISKCON Delhi, Trustee Annamrita foundation
Rukmini Krishna Das, Temple Co-President Punjabi Bagh.
[
dialogue
] [
haryana
] [
interfaith
] [
rohini
]