for ISKCON News on Sept. 7, 2018
Local devotees and guests from all over Ireland as well as the UK and beyond are expected to attend the first Govindadvipa Mellows kirtan mela on October 13thand 14th, in one of the most idlyllic settings imaginable.
Govindadvipa, originally called Inis Rath, is ISKCON's only temple on its own island. The 22-acre property on Upper Lough Erne, Northern Ireland, was once owned by an Earl.
Now, it's home to a community dedicated to worshipping Sri Sri Radha Govinda. A lush, emerald oasis of peace and contemplation, it's the perfect place to connect with the Holy Names, although regular major kirtan festivals haven't been held there for many years.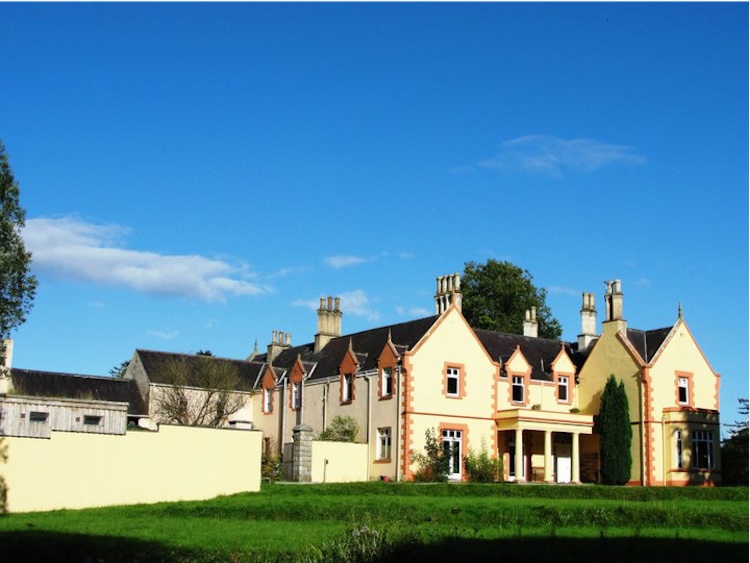 The kirtan mela will be held in the temple on Govindadvipa, a 19th-century Victorian mansion

Over a decade ago, Sivarama Swami began a Nama Yajna tradition on the island, bringing with him expert kirtaniyas such as Madhava Das. As the years passed, these festivals became more and more infrequent and eventually stopped. The only major kirtan event in recent years was a 24-Hour kirtan in 2016, organized with assistance from ISKCON Birmingham.
Just two hours' drive away, however, devotees in Ireland's capital city of Dublin have been holding regular 12-6 hour Kirtan Melas, drawing many from all over the small country. Inspired, Govindadvipa community member and second generation devotee Supriya Radha Dasi decided to put everything she had into bringing regular kirtan melas back to Govindadvipa too. And with help from her mother Ananda Maya Dasi, Irish kirtan veteran Manu Das, and many others, Govindadvipa Mellows is becoming a reality this year.
The chanting will start at 10:45am on Saturday October 13th, and continue until 9:00pm with a break for lunch prasadam and a light snack in the evening. On Sunday, it will begin at 10:00am and run until 7:00pm with a break for the Sunday Feast.
All eyes will be on Sri Sri Radha Govinda on Their ornate gold altar as devotees chant from their hearts and play a variety of instruments.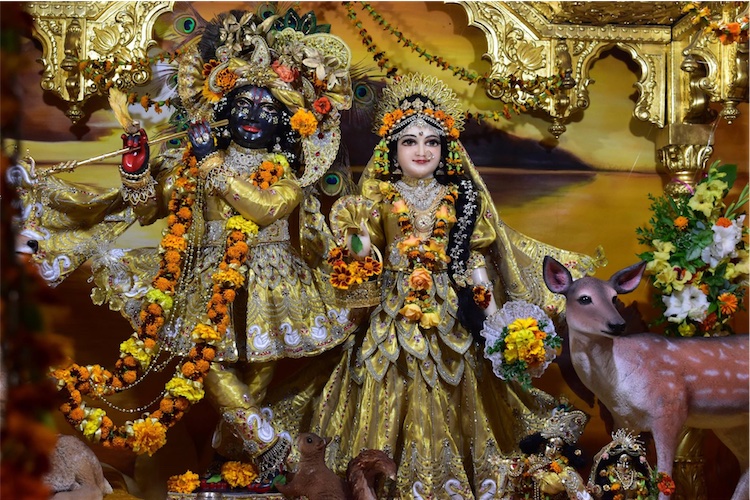 The Govindadvipa Mellows festival will be held for the pleasure of the beautiful Sri Sri Radha Govinda
"Ireland has a culture of music dating back centuries, so it's natural that devotees bring their own instruments," says Supriya Radha. "These often include flutes, accordions and guitars – as well as, of course, the traditional mridanga, kartals and harmonium."
While many skilled kirtaniyas from both Ireland and the UK will be leading the chanting, the list of their names will not be released until much closer to the event, to make sure that Sri Sri Radha Govinda and the Holy Names are the focus.
Supriya explains: "In a 1967 letter Srila Prabhupada wrote, 'I never thought about the audience. I was prepared to chant even if there were no men present to hear me. The principle of chanting is to glorify the Lord and not to attract a crowd. If Krishna hears nicely then he will ask some sincere devotee to gather in such place.'"
She adds: "So we have been careful not to release a list of lead chanters just yet, to encourage devotees and individuals to come for the pleasure of singing and seeing Sri Sri Radha Govinda."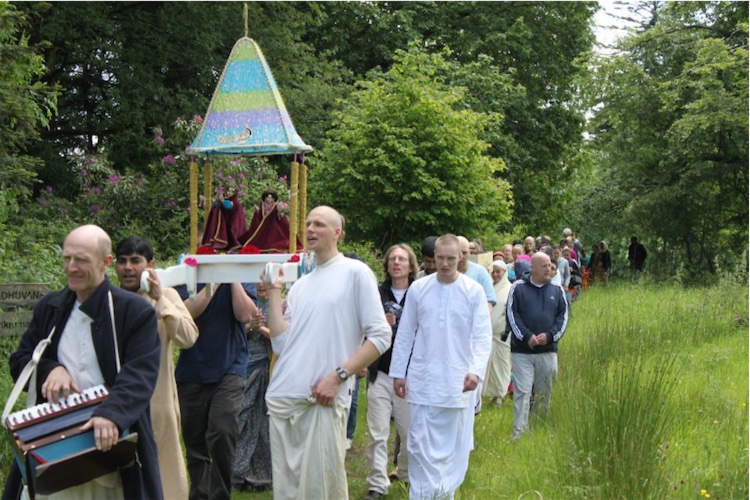 Devotees tour the island while chanting Harinama
The result of congregational chanting in such a mood, Supriya hopes, will see participants feeling spiritually enlivened and deeply in love with Sri Sri Radha Govinda.
"We are hosting this kirtan mela at Govindadvipa; all we ask is you come and host Sri Sri Radha Govinda and the kirtan in your heart," she says.
Supriya and the other organizers also hope that the festival will bring the community of Govindadvipa closer to not only each other, but also to the other temples in Ireland and the U.K. Most importantly, of course, she hopes it will bring pleasure to Their Lordships Sri Sri Radha Govinda.
The Govindadvipa Mellows will be 100% free for anyone who wishes to come, from setting foot on the ferry over to the island at the start, to leaving at the end. This was one of Supriya Radha's prerequisites for organizing, as she felt that seeing the Deities and participating in kirtan should be accessible to all.
"Any organiser of any event will tell you that the worst part is fundraising," she says. "But the festival is running on a donation basis. At present we have reached about a third of the running costs. So all donations are welcome to make this mela happen! All the donations will go directly to festival costs such as prasadam, water, electric, or cooking gas."
"However," she adds with a smile, "If you cannot or are not in the position to contribute, my only request is that you come and take part in what I hope will be the first of many many Govindadvipa Mellows kirtan melas."
Those wishing to donate for the pleasure of Sri Sri Radha Govinda can do so here: https://gogetfunding.com/govindadvipa-mellows/
More information and updates at
https://www.facebook.com/Govindadvipa-Mellows-Kirtan-Mela-1160643350741580
[
chanting
] [
ireland
] [
kirtan
]