for ISKCON News on Jan. 5, 2018
There's nowhere like Govindadvipa.
The 22-acre property, originally called Inis Rath, is ISKCON's only temple on its own island. Located on the waters of Upper Lough Erne, Northern Ireland, resplendent with emerald green foliage in the summer and often shrouded in mists during the winter, it's perfect for spiritual reflection and growth.
In the sixth century, several of the surrounding 154 islands on Lough Erne were the sites of early Christian monastic communities – who also thought it ideal for meditating on God.
Once, Govindadvipa itself was a "rath," or fortified homestead headed by a chieftain. In the mid-19th century, it was owned by the earl Lord Earne, and the temple where Sri-Sri Radha Govinda are now worshipped was a Victorian mansion, used as a summer house for local gentry.
ISKCON devotees purchased the island in 1984. Like many ISKCON centers, over the years they found it a challenge to maintain the temple building and the families serving there under the old financial model of traveling sankirtana. At one time, they considered selling.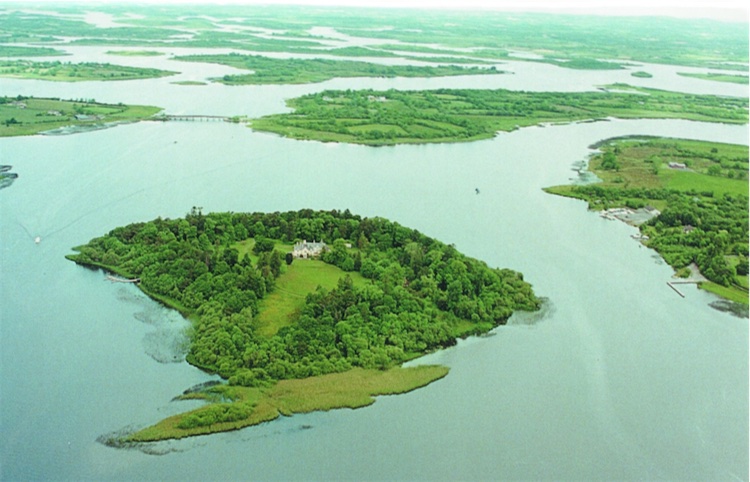 An aerial shot of the island
But now, devotees have embraced the island's uniqueness and embarked on an ambitious plan to turn it into a sought-after retreat spot. Govindadvipa will also be the spiritual core of ISKCON Ireland, which is undergoing a renaissance nationwide.
Manu Das, a senior Irish devotee who helped support Govindadvipa for decades, has launched the plan by forming a temple board with the assistance of GBC Praghosa Das. The board, consisting of other senior devotees and long-term community members, will guide the new effort.
"Historically it has been difficult for families to stay on Govindadvipa without proper accommodation or income," says Manu. "We aim to counteract these problems as well as to financially maintain the temple by relocating the already successful Lake Isle Retreats program, run by Bhakta Tim McEvitt, from the mainland onto the island."
This move will include a major two-phase development of facilities on Govindadvipa. The project will be overseen by Prahlad Bhakta Das, a Prabhupada disciple and professional quantity surveyor who was instrumental in the development of the New Govardhana community in Australia.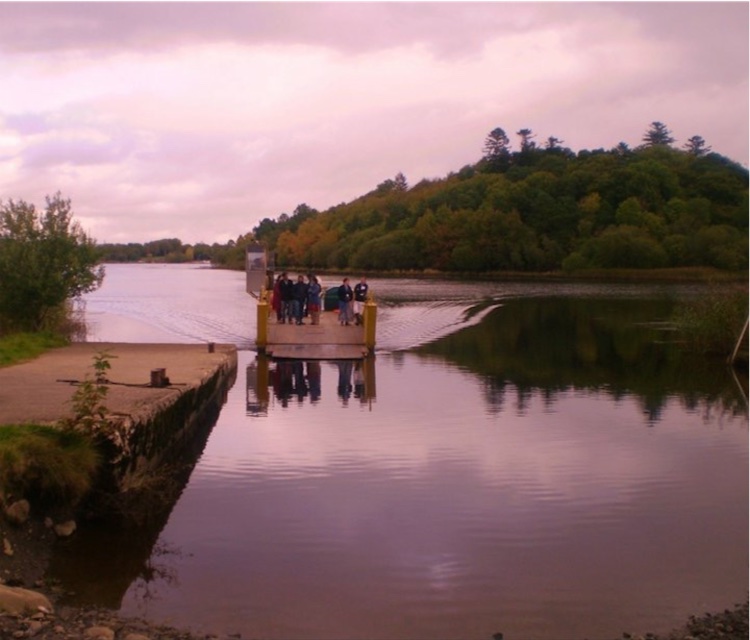 Devotees travel to the island by ferry
Phase 1 of the project will see the construction of five brand new apartments, two cottages and four guest bedrooms on the island, along with a new community hall and gurukula. This will comfortably accommodate Sri-Sri Radha-Govinda's pujaris, and will also attract families to live on Govindadvipa and get employment through the retreats program.
This first phase will cost £650,000. £125,000 has already been raised, with supporters across Ireland and the UK rallying to the cause. A major online fundraising campaign is set to start in earnest on March 1st, along with an Open Day on Govindadvipa in August, with the local District Mayor and other dignitaries on the guestlist. Because the temple is a historically listed building, government grants will also cover a small portion of the funds needed.
"We hope to reach £300,000 by the end of this year, raise the remaining funds throughout 2019, and begin construction on Phase 1 by spring 2020," says Manu. "Then the idea is to complete construction by autumn 2020."
After that, Phase 2 will see the existing ten-bedroom mansion that serves as the temple brought up to a hotel-quality standard, along with a brand new Deity kitchen and Deity outfit storage area. The heating, electricity, plumbing and roof will also all be upgraded.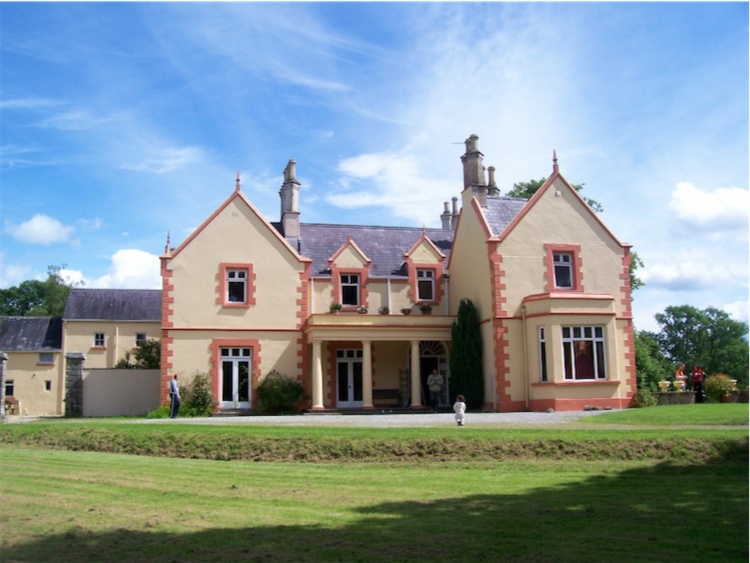 The temple, set to undergo a major renovation
Meanwhile Lake Isle Retreats will move from a house on the mainland to the new facilities on Govindadvipa. Since 2011, the previously independent retreat program has drawn many professionals from Dublin and Belfast who were new to Krishna consciousness, and acted as a first contact bridge program.
Its relaxing weekend getaways offer mantra meditation, yoga, vegetarian cooking classes, kirtan, presentations on Vedic philosophy, and optional participation in the temple morning program, all in stunningly beautiful natural surroundings. The retreats also offer massage and other holistic therapies, as well as guided hikes through local nature reserves and areas of interest.
Participants have said the program helped them "feel more at peace" and set them "on their journey of self-discovery." They have called the hospitality "superb," and said "The atmosphere in the temple was very special." The program has been so successful that facilitator Tim McEvitt has had to turn dozens of people away due to lack of accommodation – which makes the sky the limit with the new facilities.
"We plan to not just have the first contact program as before, but also provide a place where the devotee congregation from the cities can have transformative experiences in Krishna consciousness," says Manu. "For them we hope to offer weekend and week-long japa retreats, kirtan melas and more."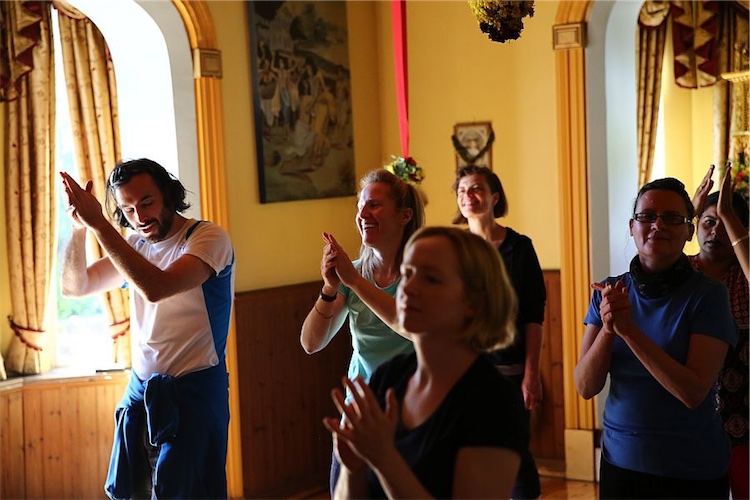 Retreat goers blissfully absorbed in a kirtan
All this ties into an exciting new preaching strategy and re-development for the whole of ISKCON Ireland. Recently, devotees purchased their very first preaching center and restaurant in the South of Ireland, where ISKCON previously only had rental properties. The center is in a prime location on Middle Abbey Street right in Dublin City Centre, and is home to beautiful bas-relief forms of the Pancha-Tattva.
ISKCON Belfast in Northern Ireland, which has struggled for years in its suburban location, is set to follow the same path very soon. The old temple property will be sold and a new preaching center purchased right in the center of Belfast City. The new strategy is to preach in the cities, and then bring people to Govindadvipa for a full intensive Krishna conscious experience.  
"As Govindadvipa is an equal distance from both Belfast and Dublin, it's the ideal place to bring the influx of new people we expect to arrive through the two new centers," says Manu.
Govindadvipa will also serve as a beautiful new retreat spot for devotees in the UK and internationally. Its appeal is boosted by an elaborate recreation of Vraja Mandala Parikrama along its vivid forest pathways, with signposts and dioramas marking Radha Kunda, Shyama Kunda, Govardhana Hill, Kaliya Ghat, the Yamuna River, and more. Renowned Vrindavan parikrama guide Deena Bandhu Das has visited on numerous occasions to lead the parikrama, and has given the project his blessings and praised it as a wonderful 'tirtha,' or holy place.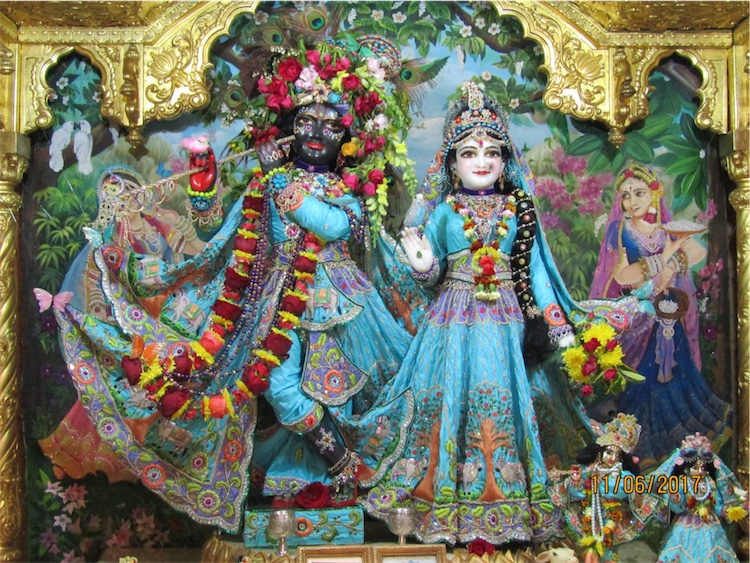 The beautiful Sri Sri Radha Govinda
Manu hopes that others share his excitement about the island and see the importance of supporting the new project to help Govindadvipa reach its full potential as the center of Krishna consciousness in Ireland.
"Govindadvipa is one of the most unique temples in ISKCON, and a beautiful retreat location," he says. "It's ideally situated between Ireland's two biggest cities, Dublin and Belfast. It's in a location where thousands come every year to see sacred heritage sites. And most importantly, it is now home to the only installed Radha Krishna Deities in Ireland. It's Govinda's island, and we're not going to give it away. We're reclaiming it for Krishna."
And all that will take, Manu reminds us, is the price of one semi-detached house in Dublin.
"There are hundreds of thousands of such houses in Dublin," he says. "For the price of just one, should we not be able to create a beautiful tirtha for Krishna?"
* * * 
To help, please donate here: https://mydonate.bt.com/events/krishnaisland/446806
For more information, visit http://www.krishnaisland.com/andhttp://lakeisleretreats.com/
[
inish
] [
ireland
] [
rath
] [
resort
] [
tourism
]