for ISKCON News on June 9, 2016
For years, devotees have been struggling to hold on to 26 2nd Avenue, the small storefront in New York City where ISKCON was born. And a steep rent increase this year threatened to take it away from them, just as they were celebrating ISKCON's 50th anniversary.
But on Sunday June 5th, supporters banded together for a special ISKCON 50 fundraiser, and the historic storefront is safe – for now.
26 2nd Avenue, of course, was the first Krishna temple in the West, first occupied by ISKCON from 1966 till 1968. It's the place where Prabhupada incorporated his society on July 13th, 1966, fifty years ago; wrote the Bhagavad-gita As It Is; and conducted the first initiations. And it's just a few blocks from Tompkins Square Park, where Srila Prabhupada led the first public chanting sessions in the West, marked today by "The Hare Krishna Tree." It's one of the most sacred places of pilgrimage in the world for ISKCON devotees.
Although the early devotees outgrew the storefront and left in 1968, ISKCON reclaimed it in 1991 with a fifteen-year lease, repainted its apt "Matchless Gifts" sign, and has been renting it ever since.
Over the years, however, the once derelict East Village neighborhood became one of New York's hippest locations, junkies and dirty apartments giving way to luxury high-rises. Something had to give, and this year when the old lease ran out and a new lease for only three years was signed, rent shot up thirty-four per cent. Not only that, but an additional five per cent increase will be added each year.
With only a handful of dedicated supporters keeping the center afloat, devotees had to do something to save this historical ISKCON landmark. So Brooklyn temple president Ramabhadra Das and GBC Romapada Swami came up with a plan for a special fundraiser.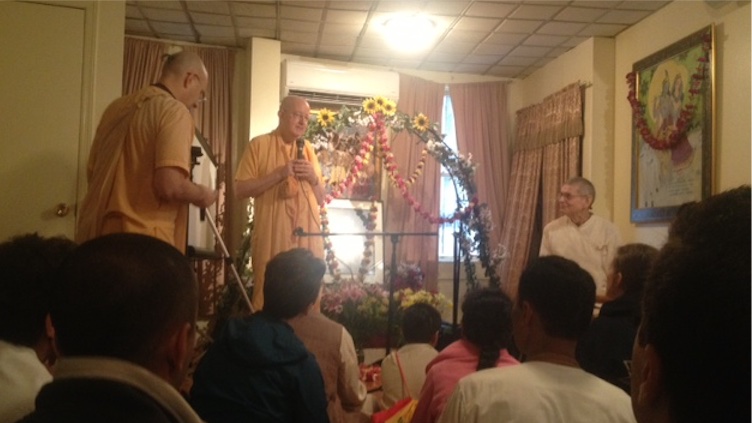 Held on Sunday June 5th, the event drew ISKCON devotees from Brooklyn, Manhattan's Bhakti Center, ISKCON of Towaco in New Jersey, Baltimore, and the Gita Nagari farm in Pennsylvania.
Kicking off at 10:30am at 26 2nd Avenue, the fundraiser featured seven different special guests each speaking on a different one of Srila Prabhupada's Seven Purposes of ISKCON – a perfect thing to meditate on for the 50th anniversary.
Academic and scholar Ravindra Svarupa Das talked about the first purpose: "To systematically propagate spiritual knowledge to society at large, and to educate all peoples in the techniques of spiritual life in order to check the imbalance of values in life, and to achieve real unity and peace in the world."
Romapada Swami discussed the second purpose – "To propagate a consciousness of Krishna as it is revealed in the Bhagavad-gita and Srimad Bhagavatam." He described how ISKCON is currently doing this through programs like Bhakti Sastri and Bhakti Vaibhava at the Vrindavan and Mayapur Institutes for Higher Education, as well as many of its other instutions and centers.
Malati Devi, who was initiated by Srila Prabhupada in 1967 as one of his earliest disciples, spoke on the purpose "To bring the members of the Society together with each other and nearer to Krishna, the prime entity, and thus to develop the idea, within the members, and humanity, at large, that each soul is part and parcel of the quality of Godhead (Krishna)."
She did this by sharing many photos of Srila Prabhupada's caring interactions with his female disciples around the world, as he talked to them or accepted service from them. She also showed photos of how caring and playful he was with their children, in particular her own daughter Sarasvati.
After a delicious prasadam lunch of Chinese cuisine at the Bhakti Center – located just one block from 26 2nd Avenue – devotees returned to the storefront for the fourth purpose: "To teach and encourage the Sankirtan movement of congregational chanting of the holy name of God, as revealed in the teachings of Lord Sri Chaitanya Mahaprabhu."
Second generation Ananta Govinda Das delivered an experience rather than a speech, leading an ecstatic kirtan that deeply moved everyone. "I saw tears in many devotees' eyes," Romapada Swami comments.
The fifth pupose is "To erect for the members, and for society at large, a holy place of transcendental pastimes, dedicated to the personality of Krishna." On this subject Madana Gopala Das, one of the leaders of ISKCON Towaco, spoke about ISKCON's many temples all over the world, their importance, and his own commmunity's plans to build a new one.
Dhruva Maharaja and his wife Parijata Dasi, who run ISKCON's Gita Nagari farm community, were the perfect fit for the sixth purpose: "To bring the members closer together for the purpose of teaching a simpler and more natural way of life." They explained how the principles of Krishna consciousness and simple living, high thinking can be more easily performed by living close to nature.
This was followed by a talk by ISKCON Baltimore leaders Lokadhyaksa Das and his wife Vidarbha-Suta on the seventh and final purpose: "With a view towards achieving the aforementioned purposes, to publish and distribute periodicals, magazines, books and other writings."
The two outlined the importance of book distribution by telling stories from personal experience about how reading or even just seeing Prabhupada's books has transformed people's lives. They also inspired their audience by saying that anyone can distribute books, and describing their 50/50 program in which devotees have a whole year to distribute fifty books.
The event concluded with evening prasadam at Brooklyn's Radha Govinda Mandir, and a drama by the Bhaktivedanta Players from London on Srila Prabhupada's life.
Over 170 people donated or made pledges for the fundraiser, which will cover the shortfall throughout the period of the current three-year lease.
However the campaign continues, so that ISKCON can keep 26 2nd Avenue after the lease is up.
"We'll also have a booth at New York Rathayatra on Saturday June 11th, selling 50th anniversary "Seven Purposes" sweatshirts, and a USB stick of rare archival photo and video clips of Srila Prabhupada," says treasurer Yadunath Das. "There's also an hour-long video of Satsvarupa Das Goswami reflecting on his time with Prabhupada at 26 2nd Avenue and how ISKCON took off from this small storefront."
Currently, 26 2nd Avenue is home to a weekly Saturday Bhagavad-gita class, but is closed during the week. In the future, Yadunath hopes he can also secure funding to restore it to exactly how it was when Prabhupada was there, and to turn it into a museum with regular business hours so that it's open for all devotee pilgrims coming through New York City.
"I know that devotees have their own temples to give to, their own individual grounds," he says. "But this is one of the only temples in the world that everyone has a stake in – it's a global concern. And so giving to it is a really wonderful way to show that we are a family, and that we can band together to take care of our common ground. It's a direct service to this historic place, and to Srila Prabhupada, to hold on to it."
# # #
To give and keep 26 2nd Avenue open, please visit http://krishnanyc.com/giving
[
26-2nd-avenue
] [
manhattan
] [
new-york
]