for ISKCON News on Sept. 5, 2016
The evening Friday, 2nd September saw Durban come out to celebrate ISKCON 50 in grand style through a VIP gala dinner. The event was organised as a special joint effort between the two Durban temples, Sri Sri Radha Radhanath Temple of Understanding in Chatsworth and New Jagannath Puri Temple in Phoenix. The guest list comprised of close to five hundred of Durban's elite - professionals, businessmen, academics, government members, media and artists– all especially invited to the evening to join Bhakti Charu Swami in reliving and celebrating the journey of Srila Prabhupada and his ISKCON over the last five decades.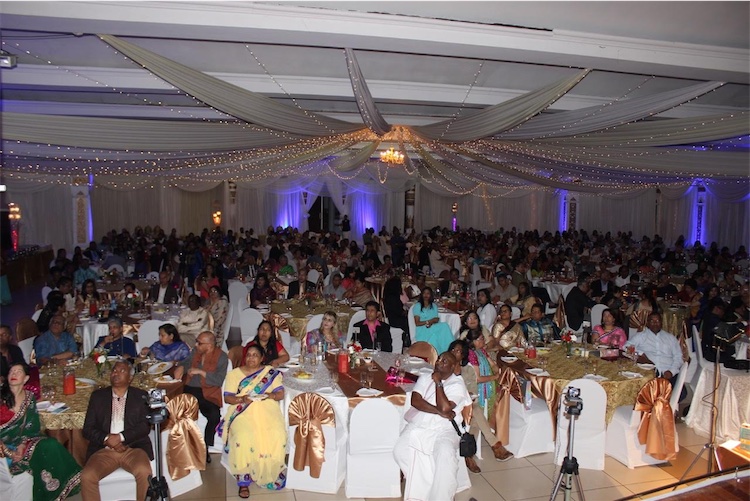 The program began with a musical rendition of Srila Prabhupada's poem, "Markine Bhagavat Dharma", which he wrote aboard the Jaladuta on arrival in Boston Harbor. The bhajan was sung by ISKCON Durban youth, and the English translation, together with poignant images of Srila Prabhupada was projected on two large screens on either side of the stage.
Bhakti Charu Swami then moved the crowd with the story of ISKCON, touching on Prabhupada' s early days, his authentic roots, his challenges, his deep faith and his incredible successes. Maharaja's presentation was followed by a screening of the "Joy of Devotion" short film.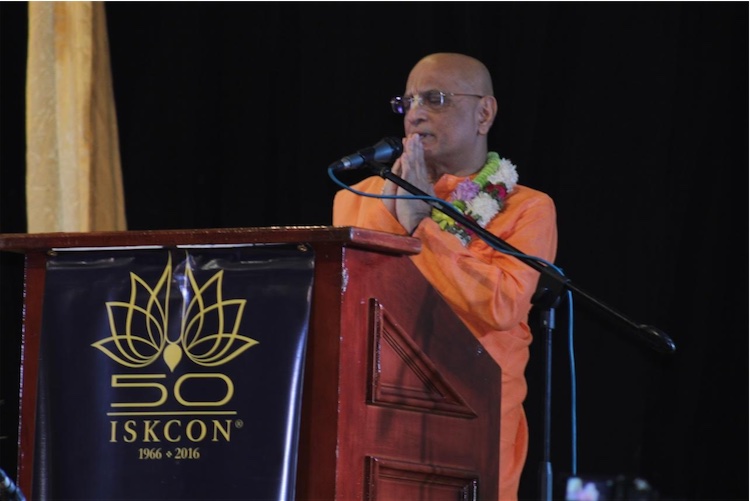 Special guest Mr Thembinkosi Ngcobo, head of the city's Parks, Recreation and Culture department, then spoke, expressing great appreciation for ISKCON's non-sectarian philosophy, practices and philanthropic contribution, and calling the society "an indispensable part of the city". Mr Ngcobo also appreciated Indradyumna Swami's social cohesion efforts in South Africa.
A highlight of the evening was Mr Thembinkosi Ngcobo's special announcement of a new festival of Unity that ISKCON would host in partnership with the city in 2017, during the country's heritage month. This came as an initiative to commemorate ISKCON's Golden Jubilee. ISKCON will also assist the city in all its programs to foster peace and unity between different race groups, in a country still at work with the challenges of a racist past.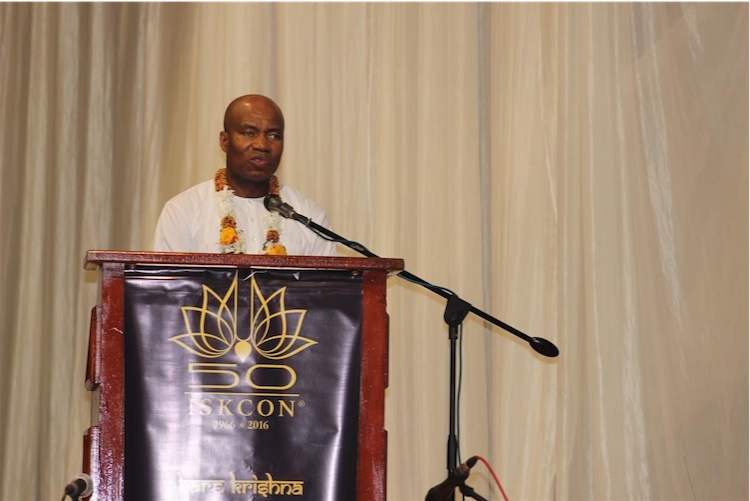 The programme concluded with four dignitaries joining Bhakti Charu Swami, Bhakti Narasimha Swami and Bhakti Prema Swami on stage to cut a gorgeous ISKCON 50 cake. Guests were then treated to a feast of fifteen different preparations.
It was a memorable event that left the guest feeling informed and enlivened, with increased appreciation for Srila Prabhupada and ISKCON.
[
durban
] [
south-africa
]