for ISKCON News on Nov. 7, 2016
On the sacred day of Govardhan Puja, Bhaktivedanta Manor hosted a gathering at London's House of Lords at the Palace of Westminster to acknowledge the 50th anniversary of the incorporation of ISKCON.
The House of Lords is the upper house of the UK Parliament and was built to advise the Crown Imperial since 1295. With the kind permission of the Lord Speaker, the event was hosted in the Principal State Room for an incredible yet intimate gathering of profiled guests renowned in their own disciplines.
The peer sponsor, Lord Dholakia welcomed the gathering by recollecting on the challenging yet exciting journey of ISKCON in UK through Bhaktivedanta Manor.
Temple president, Srutidharma dasa, described the significance of the 50th anniversary of the incorporation of ISKCON and how it is being celebrated in the UK. The president announced the start of a new chapter in its history as this year saw the ground-breaking ceremony for the long awaited Shri Krishna Haveli building which was led by (now former) UK Prime Minister David Cameron.
Managing Director, Gauri das, presented the journey in finally receiving planning permission to build the Shri Krishna Haveli and played a video to illustrate the new project.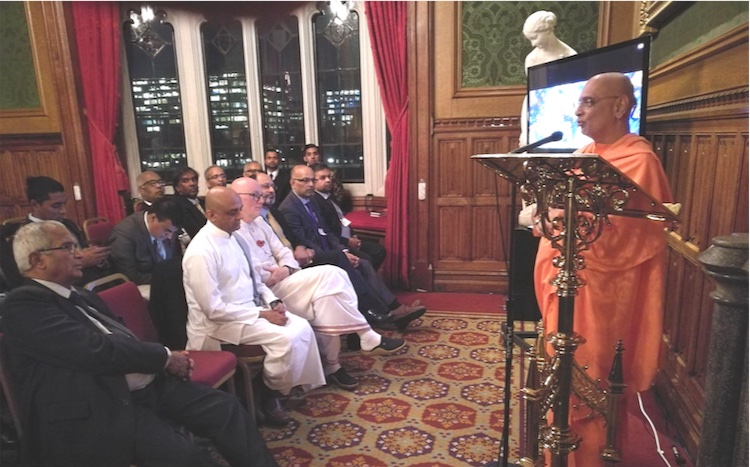 Bhakti Charu Swami travelled in from India to present the keynote speech and reflect on the objective behind ISKCON and the many sacrifices made by Srila Prabhupada in its establishment. Member of Parliament, Shailesh Vara, closed the evening by describing the unique contribution that ISKCON brings to society and the importance of its message.
[
bhakti-charu-swami
] [
govardhana-puja
] [
london
] [
uk
]