for ISKCON News on May 13, 2019
Kamlesh Krishna Das, the International Director of the ISKCON Child Protection Office, has been appointed as a Justice of the Peace Magistrate in the British judiciary system.
He will be serving within the Magistrate Court, which handles 95% of all legal cases in the UK. He was officially appointed and sworn in on Srila Prabhupada's Bhagavad-gita As It Is on April 1st, and will be based primarily in Hertfordshire.
Kamlesh Krishna previously worked with the Ministry of Defense, held senior posts in the banking and financial services industry, and has been involved in child protection in ISKCON in the UK for the past decade. In June 2016, he succeeded Champakalata Dasi as the ISKCON CPO Director.
His new magistrate's appointment came as a result of his experience in child protection in ISKCON; as well as the fact that he and his wife Gandharvika Dasi – the CPO Global Assistant – are nearing the completion of a Master's Degree in advanced child protection at the University of Kent.
Kamlesh Krishna will begin his new position with eighteen months of on-the-job training under a senior magistrate, as well as formal academic classroom training. He will then go on to a specialist court, where he will adjudicate cases that specifically deal with child protection issues.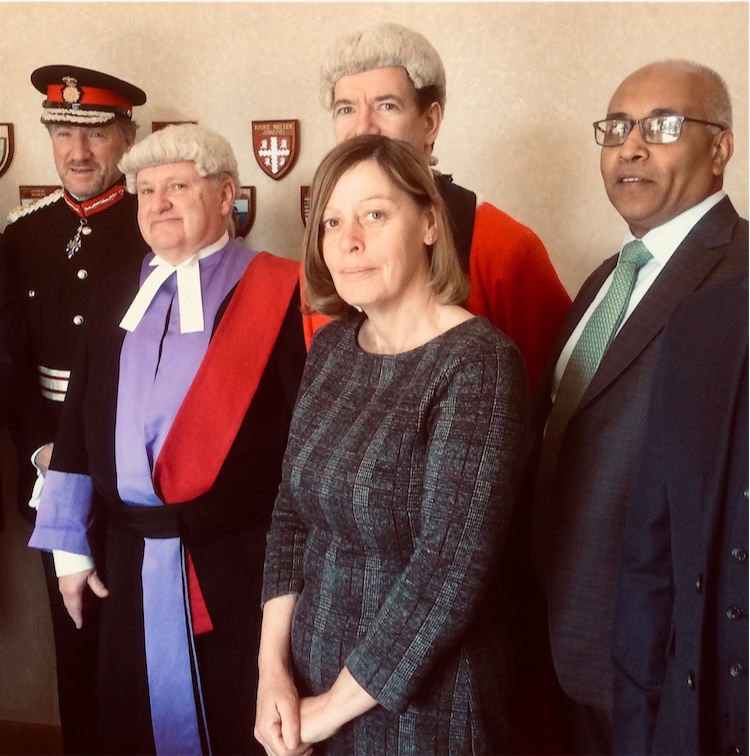 Kamlesh Krishna Das (far right), just after his swearing-in ceremony at St Alban's Crown Court (with High Court Judges in wigs and the Lord Lietenant of Hertfordshire in front)
At one end, the wide range of cases will include deciding on care plans for children, from assigning social workers and recommending parental counseling, to putting children in foster care or with an adoptive family, depending on the gravity of the situation.
At the other end, Kamlesh Krishna will deal with criminal cases wherein a person may be charged with abuse of a child.
"From this new role as magistrate I hope to gain experience and training, as well as a perspective from the secular world, which I can bring back and apply to ISKCON," he says, "To help us be more effective and protect our children in a better way."
Kamlesh Krishna also hopes that, amidst so many secular news stories about how various religions are not taking child protection as seriously as they should, his appointment will raise a positive profile for ISKCON.
"It will show that we do have a robust system; and we do take it seriously, to the point that we even have our International Child Protection Director sitting as a judge in the British judiciary, specializing in child protection," he says.
Of course, ISKCON has also been criticized in the past for its handling of child protection cases, and concerns continue to be raised.
Kamlesh Krishna says he is aware of these concerns and is taking them on board, with two main responses underway.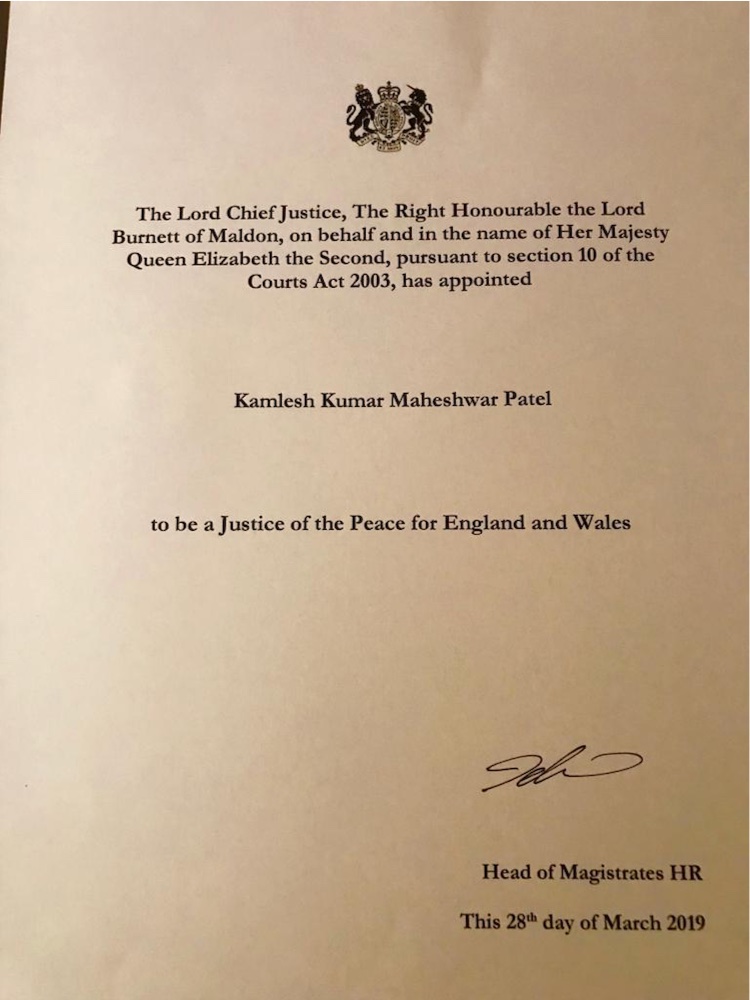 Kamlesh Krishna Das' official appointment, signed by the Head of Magistrates
The first is to acknowledge the devotees that have been abused, build a bridge between them and ISKCON, validate what they have been through, and try to alleviate their hurt.
"They want validation that they were abused," he explains. "Not that it's denied or minimized; but that we actually acknowledge yes, you were abused, the organization is truly sorry for what happened to you, and we will try to put some sort of rectification and healing in place."
The second is to minimize further incidents.
"We're never going to eradicate child abuse or the risks of child abuse – that is part of the horrible world we live in," Kamlesh Krishna says. "But what we can do is minimize or deter these incidents from occurring in ISKCON."
Kamlesh says that he has not changed the CPO policies that have already been in place. But he is working to make devotees – especially ISKCON management – more aware of the policies, and also to make sure that they adhere by them. He feels that this will be the biggest deterrent.
"We have our established policies and procedures in place which are robust and effective," he says. "It is vital that we increase awareness and application of these via more devotees taking up child protection as a service."
[
child
] [
child-protection
] [
children
] [
uk
]