for ISKCON News on Nov. 18, 2016
New website iskconconnection.org hopes to get an accurate count of all ISKCON members for the first time ever, and to help them feel part of an international family by connecting them to all the inspirational activities in ISKCON around the world.
The website is the face of ISKCON Connection, ISKCON's global membership program, developed by the GBC and based at ISKCON's headquarters in Mayapur, West Bengal.
"We're inviting all devotees, well-wishers and friends of Krishna to stand up and be counted as part of our spiritual family," says team-leader Praharana Dasi. "This is important because we have no idea how many of us there are in the world – we just have guesses."
By making this call to action, Praharana explains, ISKCON Connection is expecting to generate a database with millions of members around the world.
"This will give us more credibility with governments, legal entities and in marketing and promoting events," she says. "Each ISKCON center will also regularly receive updates on membership statistics for their local area and country, which will help their local efforts."
"All other religions have databases that give them an idea of their numbers in various countries," Praharana adds. "We've never done this before, so this will be bringing us into modern times."
To do this, in a new Youtube video ISKCON GBC members and gurus including Lokanath Swami, Gopal Krishna Goswami, and Radhanath Swami request those who identify with ISKCON to register as a member at iskconconnection.org.
ISKCON's Governing Body Commission defines a member of ISKCON as someone who accepts the teachings of Lord Krishna as presented by Founder-Acharya Srila Prabhupada, wishes to be counted as part of the spiritual family of ISKCON, and agrees to practically support its mission.
Praharana explains that this membership affirmation is completely different from, and does not replace any current life member or patron programs in ISKCON. It is also very broad and general, and does not require any formality or payment from members. The words "practically support," she says, denote more of an emotional commitment than a requirement to some specific action.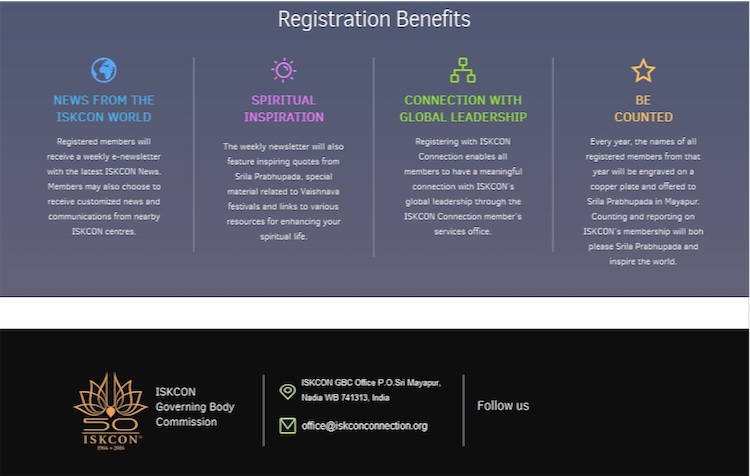 Registration benefits
The membership does build on the GBC's efforts to clarify the definition of general ISKCON members, and make it easy for everyone to join ISKCON.
Inspired by Srila Prabhupada's desire, ISKCON Connection will also bring all ISKCON's members together and keep them connected to their international spiritual family through regular newsletters.
These email newsletters will keep members updated on inspiring and spiritually enlivening news from all over the ISKCON world, provided by ISKCON News. These will include regular updates about different events, kirtan melas, seminars, retreats, news, spiritual inspirations, educational initiatives and so on.
"This will let the worldwide family of devotees be kept informed about ISKCON's activities," says Gopal Krishna Goswami. "ISKCON is a rapidly expanding spiritual movement, and I'd like to see everyone enroll in this program and get regularly updated on ISKCON's preaching activities around the world."
"It's a matter of great pride to be associated with this movement," Lokanath Swami adds. "So get connected, and all the enlivening and enlightening news will reach your inbox – with no cost!"
ISKCON Connection is being championed by all ISKCON's GBCs and gurus, and promotional toolkits are being sent to all temple presidents that include a poster, bookmarks and more. The effort is also being promoted on Youtube, Twitter, Instagram, LinkedIn, Facebook, and of course its own website.
While member registration will take several years of promotion to complete, Praharana expects it to eventually be in the millions.
Further down the road, there's a plan to send a census form out to these millions of members, so that ISKCON leaders can better understand their membership and learn how many families, children, and elderly are amongst them, what professions they have, and other statistics.
"This will help us understand how to better care for devotees in our future plans for ISKCON," says Praharana. "For instance, where do we need schools? Where do we need more marriage and family outreach and resources? Where are there more brahmacharis, and how do we care for them?"
The census could also help to engage devotees who would like to be engaged according to their skills and interests.
"There are so many talented people out there who are dying to contribute and be involved," says Praharana. "So we want to make sure that everyone's connected to and can play valuable roles in the bigger ISKCON. And that no one feels left out!"
* * *
To stand up and get counted as a member of ISKCON's international family, please visit https://www.iskconconnection.org
In the future, ISKCON Connection will be expanding its communications to many languages. The team is currently looking for qualified and enthusiastic interpreters. For more information contact: office@iskconconnection.org
[
iskcon-connection
]