on Jan. 22, 2021
A December 26th New York Times article, entitled "Brazil Is Famous for Its Meat. But Vegetarianism Is Soaring." details how Brazil, the world's largest exporter of beef, has seen a major move toward vegan or vegetarian diets in recent years. There has also been a boom in business for plant-based alternatives to meat.
A survey by IBOPE, conducted in April 2018, showed that 30 million people in Brazil, or 14% of the population, call themselves vegetarian. This is an increase of 75% since 2012, when 8% of Brazilians defined themselves as vegetarians. According to the New York Times, this change is largely due to health and environmental concerns.
Interestingly, the New York Times article features a photo of cooks at the Hare Krishna temple in Rio de Janeiro, while Lalita Gopi Dasi (Luiza de Marilac Tavares), a Hare Krishna devotee who runs her own food delivery business, is interviewed and quoted as saying, "There is a shift of consciousness underway."
Distributing Vegetarian Food When it was Taboo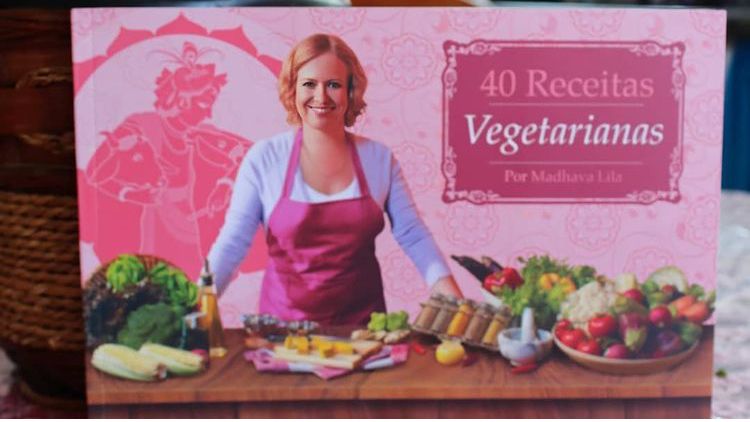 ISKCON devotees, of course, have distributed prasadam – sanctified vegetarian food offered to God – with a view to shifting consciousness for the past 46 years in Brazil. While Hare Krishna leaders say they could do more to be part of the current vegetarian/vegan movement in Brazil, their contribution now and over the years is clear.
ISKCON, established in 1974 in Brazil, was one of the first groups to practice vegetarianism in the country, and, according to ISKCON Brazil national council member Sri Krsna Murti Das, "the first group that preached about vegetarianism."
"The main staple of Brazilian cuisine is meat," says Sri Krsna Murti, who is of Brazilian nationality. "Vegetarianism was a big taboo in Brazil in the seventies. Nobody had any information about it."
From the very beginning, ISKCON began to change that by serving out delicious prasadam Sunday Feasts. Food For Life, a charity that distributes free food to the needy, launched in major cities in Brazil in the 1980s. The first Hare Krishna restaurant, Prema, was established by Ambujaksa Das in São Paulo. Devotees such as Madhava Lila Dasi, Sri Nathaji Dasi, and Shyamala Dasi wrote and published close to ten vegetarian cookbooks, "during times when nobody else was writing about vegetarianism," according to Sri Krsna Murti.
Today's Many Successful Hare Krishna Restaurants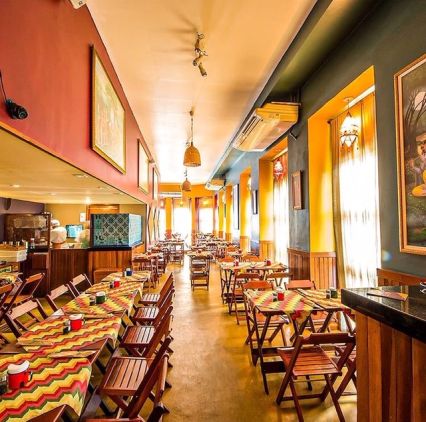 Today, there are a number of successful restaurants run by Hare Krishna devotees across Brazil, offering both vegetarian and vegan options, including Indian and international cuisine as well as vegetarian versions of traditional Brazilian dishes.
Perhaps the most successful of these are Gopala Madhava and Gulab Hari in São Paulo, the most populous city in the Americas. Located close to each other on the same street downtown, Gopala was established by Madhava Lila Dasi in 1995 and Gulab later by Nrihari Dasi.
"They are landmarks in São Paulo – everyone in the city knows them," Sri Krsna Murti says, explaining that pre-pandemic customers would have to arrive early to the restaurants to beat the long lunch lines out the door.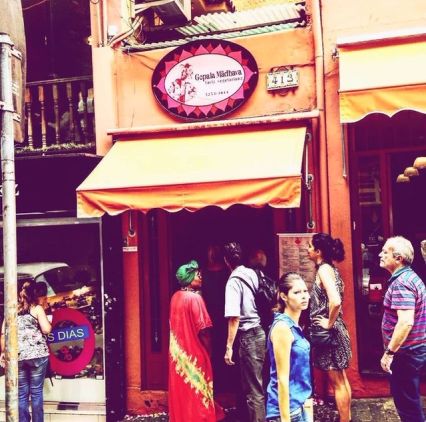 Elsewhere in the state of São Paulo in Pindamonhangaba is rural Nova Gokula, the largest ISKCON community in Brazil, which is home to not one or two but four restaurants. There's Restaurante Confraria Vegana, which offers vegan cuisine; Lanchonete Jagannatha, which has its front façade painted with a giant smiling image of Lord Jagannatha; Kiosk Govindaji; and Kiosk Gopalaji. Pre-pandemic, the community would receive thousands of people every weekend, who flocked to these restaurants.
In the middle of the country, meanwhile, there is the Gouri restaurant in Belo Horizonte, where Sri Krsna Murti lives; and the highly popular Govinda and Govardhana Hari in downtown Rio de Janeiro. In Natal, the capital of the state of Rio Grande do Norte in Northeastern Brazil, Radha Gopali Dasi runs Samosaria Hare. And in Porto Alegre in the South, there are three restaurants: Govinda, Suprem and Mantra Gastronomia e Arte.
Award-Winning Vegetarian Spins on Traditional Brazilian Dishes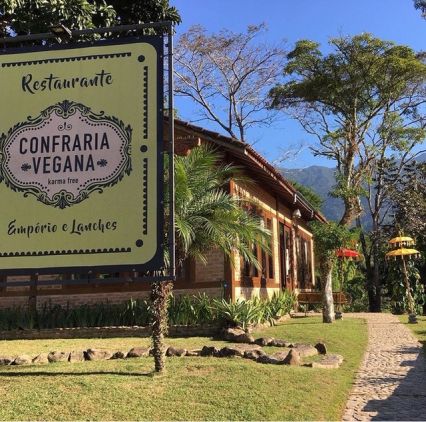 There are also Govinda's restaurants in both the cities of Caruaru and Belem. The Belem Govinda's is famous for winning "Brazil's Best Executive Plate," a national contest, twice – in 2013 and 2014. Their first win was with a vegetarian spin on a traditional Brazilian dish of indigenous origin from the Amazon region, called Maniçoba, which is made with boiled leaves of the Manioc plant.
Other Hare Krishna restaurants have also created vegetarian versions of classic Brazilian dishes such as feijoada, a black bean stew they make with soy or vegetables instead of the typical pork. In Nova Gokula, devotee chefs Eka Murti Dasi and Yasodamayi Dasi created a vegan recipe for Coxinha, a popular Brazilian street food snack usually made with a chicken drumstick covered in pasta, then battered and fried. Using jackfruit instead of chicken, the devotees' recipe was featured in a TV broadcast reporting on Nova Gokula, and became a popular vegan dish across the nation.
At this point in the pandemic, the restaurants are now open, however with restrictions including limited seating. Pre-pandemic, some of the most successful Hare Krishna-run restaurants in Brazil would serve several hundred plates a day – which amounts to, well, a lot of prasadam over the years. Clientele-wise, they draw not only vegans and vegetarians, but also meat-eaters who just love the food.
Feeding the Needy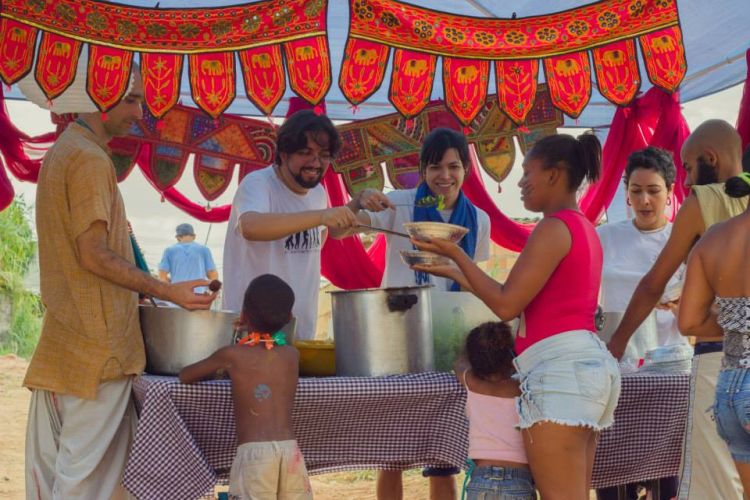 Then, of course, there's Food For Life. The charity has operations in São Paulo, where Mahesvara Chaitanya Das heads up the distribution of 400 plates per week; Rio de Janeiro; Campina Grande in the Northeast, which has run for the past 35 years; Vrajadhama, a farm community near Caruaru; and Belo Horizonte.
These projects continue to run during the COVID-19 pandemic while following local precautions and restrictions. In Belo Horizonte, for instance, devotees cannot distribute food on the streets, so instead they supply dry goods such as rice and beans to organizations who can share them with the people.
Probably the largest Food For Life operation, however, is in the capitals of three Southern Brazilian states – Curitiba in Paraná, Florianópolis in Santa Catarina, and Porto Alegre in Rio Grande do Sul. Run by Hara Kantha Das and a team of brahmacharis, the program distributes 1,700 plates per week to the homeless and others in need.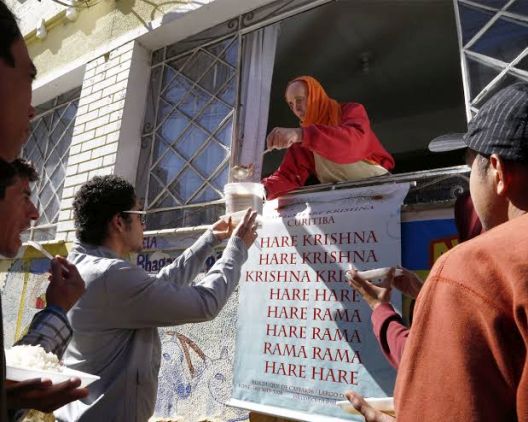 Other devotees distribute prasadam on their own initiative, such as Lila Prasad Das, who ran Food For Life in São Paulo for many years, and is now doing major food distribution to those in need during the pandemic with support from NGOs. Many devotees, such as Lalita Gopi Dasi, who runs Delicias de Lalita and was featured in the New York Times article, run vegetarian or vegan catering or delivery businesses.
"Hare Krishnas [pre-pandemic] would get invited to do big festivals, parties, graduations and weddings," Sri Krsna Murti says. "We are famous for making nice, rich food with lots of flavors." Devotees, he explains, have gained this reputation from decades of experience in cooking large quantities of vegetarian food, many years before professional vegan chefs came along, or anyone "even knew that you could make a cake without an egg."
"We Are Not on the Wrong Side Anymore"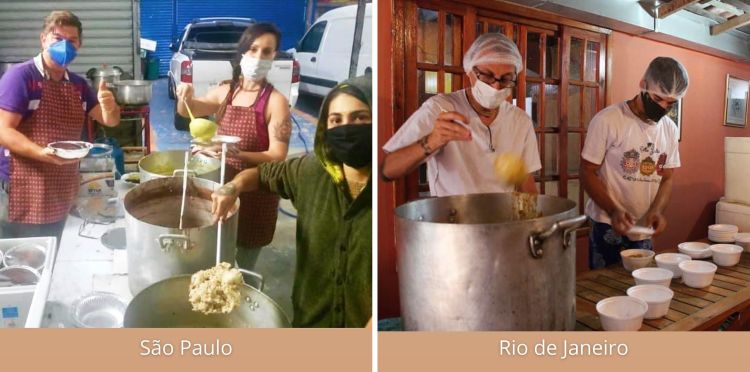 Today, being a vegetarian in Brazil is a very different experience than it was nearly fifty years ago when ISKCON first began distributing prasadam, and ISKCON devotees are perceived differently.
"I remember when saying you were a vegetarian was seen as such a radical thing," Sri Krsna Murti recalls. "People thought we were crazy. They'd say, 'You can't live without meat – what about protein, what about B12?' We suffered a lot of bullying about that. But nowadays, a vegan or vegetarian diet is not seen as an exotic thing, or something taboo. It's cool and fashionable. We are not on the wrong side anymore; people see us as like, 'Oh, you were always on the right side. We're now trying to figure out what you were talking about 30 or 40 years ago.' It has changed a lot of society's perception about us."
When devotees explain that they are not vegetarian only for health reasons, but also for spiritual reasons – that they consider cooking, eating and serving food to be yoga, and that they are trying to be merciful and compassionate – people react even more positively.
"Many times university students visiting the temple have said, 'Oh, I'm in the right place – a temple where the people are vegetarian and preach about that," Sri Krsna Murti says. He adds that many people are also drawn to help Food For Life. Prasadam, he points out, is the most effective way of reaching people – "As Srila Prabhupada used to say, we are the kitchen religion."
Doing More to Be Part of the Change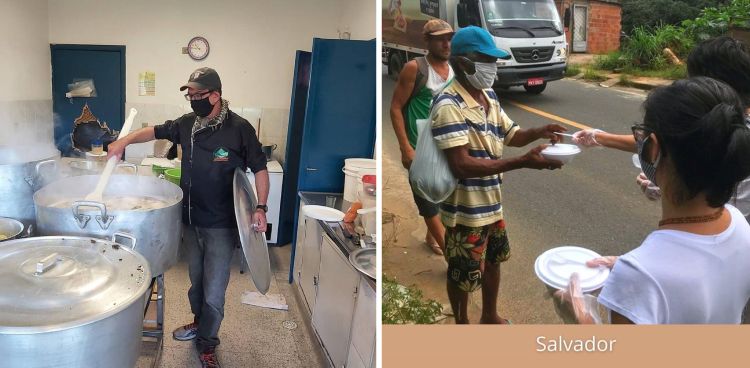 Despite all this, when the vegan movement spread all over Brazil in recent years, "ISKCON was not part of it," Sri Krsna Murti says. He explains that this was partially because ISKCON did not realize what an important role it has played in the promotion of vegetarianism in Brazil, and partially because ISKCON in the past has actively downplayed vegetarianism and stated it is about prasadam instead. From Sri Krsna Murti's perspective, however, the two can co-exist – ISKCON can promote both prasadam and vegetarian and vegan diets.
Individual devotees are already doing this with their restaurants and other efforts, of course. But rather than being left on the outside of a scene it helped create, or being seen as out of date by not catering to vegan diets, Sri Krsna Murti – a member of ISKCON Brazil's national council – says ISKCON the institution could also do more to officially recognize its role in the new shift.
"We can officialize things, we can promote vegan festivals," he points out. "We can provide vegan prasadam at the Sunday festival to help people who are trying to connect with Krishna, and trying to connect with this principle of ahimsa. We can help them, and be part of them."
[
brazil
] [
food-for-life
] [
vegan
] [
vegetarianism
]