for ISKCON News on May 11, 2018
On April 25th, twenty officials and staff from the Israeli Embassy, including a representative from its Community Relations office, visited ISKCON of Washington D.C.
"Part of their community relations involves interacting with and learning about different religious communities," says Amrita Hari of ISKCON Communications, which is based in D.C.
"When they wanted to visit a Hindu temple, they approached the Hindu American Foundation (HAF), an advocacy group that has had a good relationship with us for many years – and they recommended the ISKCON temple."
Upon arrival, temple president Ananda Vrindavana Dasi welcomed the group, many of whom had never been to a Hindu temple before.
HAF Director of Government Relations Jay Kansara then gave a broad overview of Hinduism. He first spoke about its history, including how it got its name from the Indus Valley. He also discussed the four branches of Hinduism – Vaishnavaism, Shaivism, Shaktism and Smartism, as well as basic beliefs like Dharma and the different paths to liberation.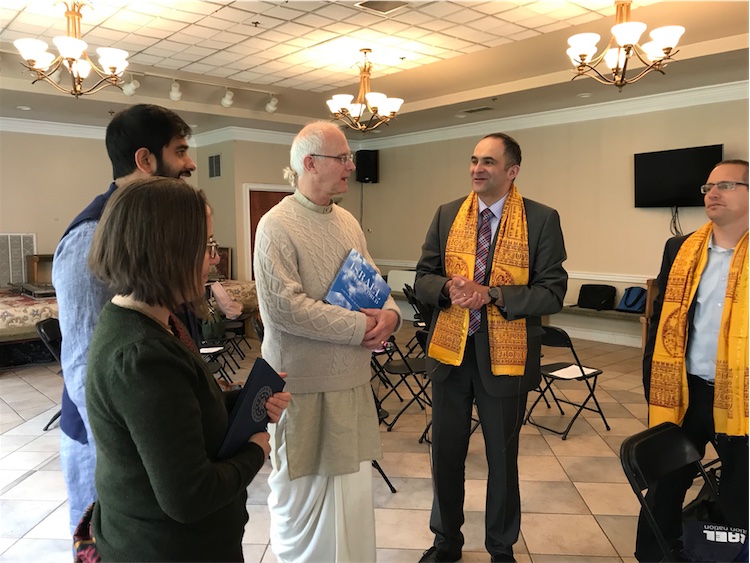 A representative from the Community Relations Department of the Israeli Embassy presents Anuttama Dasa, Ananda Vrindavan Dasi, and Jay Kansara with gifts.
ISKCON Communications Director Anuttama Das spoke to the group next, explaining that ISKCON devotees followed a very specific branch of Hinduism called Gaudiya Vaishnavism. Gaudiya Vaishnavas, he said, believe in a personal representation of God, and practice loving service unto Him, called Bhakti-yoga.
Anuttama also shared the history of how Srila Prabhupada came to the Western world and founded ISKCON in 1966 in New York City, from where it spread to now 650 temples around the world.
During the Q&A that followed, some members of the Israeli Embassy group asked about daily practice. Explaining that most ISKCON followers today are householders, Anuttama described how they worship and chant japa at home during the week, and come together for congregational chanting on Sundays.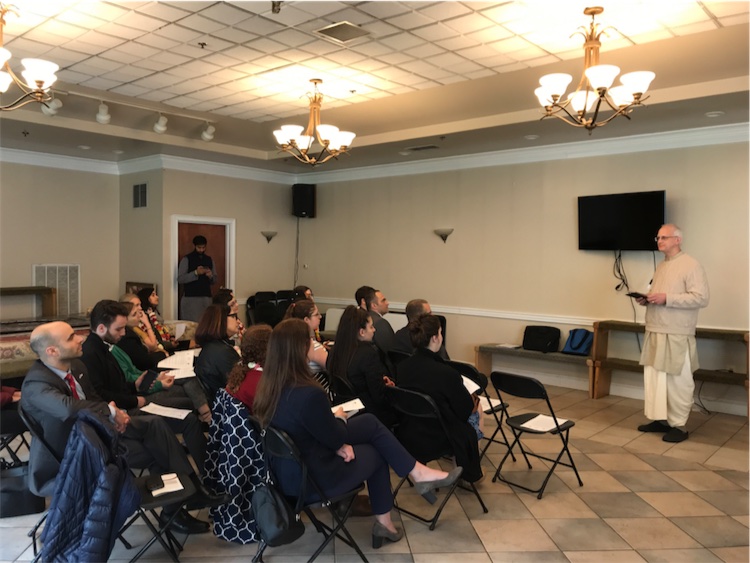 Anuttama Dasa speaks about Srila Prabhupada's contributions to Indian culture and philosophy during the Israeli Embassy visit.
After the presentations, the group visited the cows at the goshala, attended arati in the temple room, and asked many more questions.
"They were very curious about everything, asking who each Deity was, why there was a murti of Srila Prabhupada, and what different pastimes the paintings depicted," says Amrita.
After their visit, representatives of the Embassy invited Anuttama Das to attend their Israel Independence Celebration at the Embassy on May 14th, while he invited them to ISKCON of D.C.'s Holi celebration. Thus a lasting relationship has begun.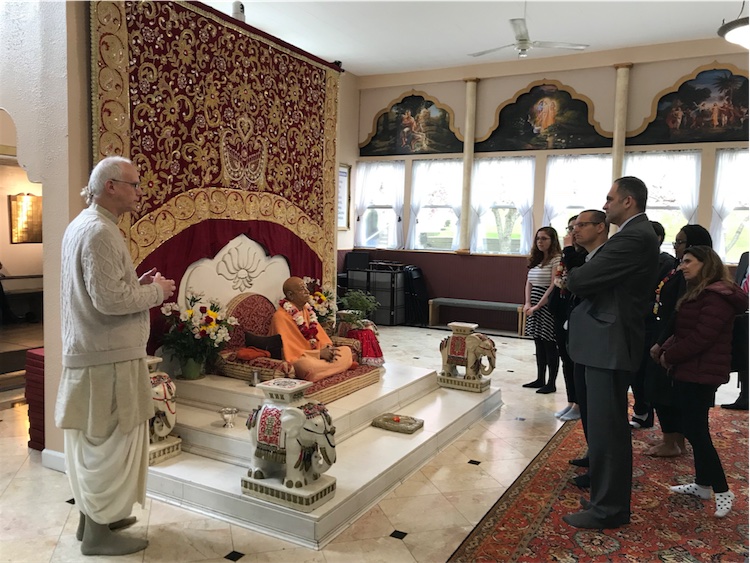 Embassy officials learn about Srila Prabhupada in the temple room
"Everyone from the Embassy had a really positive experience," says Amrita. "They loved the prasadam, and were very appreciative of Krishna consciousness, and what ISKCON is trying to promote. They thought the property was beautiful too. I think it left a really positive impression in their mind of what Hindus believe, how they practice, and what they contribute to the world."
"Srila Prabhupada instructed that his temple in Washington, DC should be so beautiful that it attracts Senators and their wives who come to stroll through the gardens," said Ananda Vrindavana, Community President.
"In a similar mood, we envision our temple as an Embassy of Krishna Consciousness, representing ISKCON to the American government and the international embassies based in Washington. Hosting the Israeli delegation was an honor for us, and a step towards fulfilling the mission given by Prabhupada."
[
communications
] [
israel
] [
washington-dc
]