for ISKCON News on Sept. 29, 2017
The ISKCON Farm Conference celebrated its 10th anniversary during a major event at New Vrajadhama in Hungary this year, with conference and pre-conference activities running from September 11th to 17th.
The event showed how far ISKCON farms have come in networking and working together particularly over the last decade, with conferences now regularly organized in four continents by the GBC Ministry of Agriculture and Cow Protection.
Because the ISKCON Farm Conference began in Europe in 2008, however, the 10th anniversary event focused on European farms.
Participating were 30 representatives from both the Bhaktivedanta Manor and Ahimsa Dairy Foundation in England; Karuna Bhavan, Scotland; New Vraja Mandala, Spain; Almviksgard, Sweden; and Villa Vrindavana and Chintamani Dhama in Italy.
There were also representatives from New Ekacakra, Slovakia; New Nandagram and Krisnuv Dvur in the Czech Republic; Radhadesh, Belgium; and Drustvo za Duso, Slovenia.
"While there were not a huge number of delegates, each was very essential to the farm they came from," says Kalakantha Das, the GBC Agriculture and Cow Protection Minister. "So it created an environment for very deep discussions."
From September 11th to 14th, participants arriving early trained in farming, ox work and organic gardening with the expert New Vrajadhama devotees.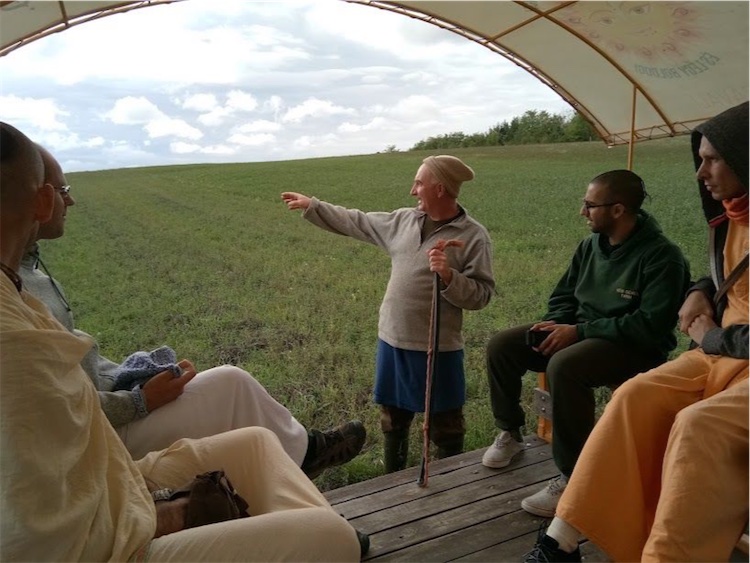 A New Vrajadhama farmer shows conference participants the lay of the land
From September 12th to 14th, a three-day pre-conference discussion panel was held with a forum of senior Vaishnavas on "The Ahimsa Dairy Equation," or how to set up a sustainable Ahimsa dairy and cow protection effort. Each day focused on a different element of the equation.
The first was "Why do Vaishnavas Protect Cows? The Position of the Cow and Cow Protection in the Vaishnava Sidhanta." Kalakantha Das and Krishna Ksetra Swami, who is currently working on a book about cow care in Hinduism, led the discussion on how cow protection is intrinsically connected to Vaishnava philosophy.
Next, Shyamasundara Das of the New Gokula farm at Bhaktivedanta Manor and Sitarama Das of the UK's Ahimsa Dairy Foundation led a discussion on "What is the price to be paid for milk by protected cows?" During it they went into detail on how many staff would be required for a goshala of eight cows, the different facilities that would be required, and how much it would all practically cost in the end.
Finally New Vrajadhama's head of agriculture Radhakanta Das and ox trainer Antardhi Das guided a talk on "Integrating agriculture into cow protection and engaging the oxen."
Properly engaging oxen is often neglected in ISKCON, resulting in extra expenditure to maintain them, rather than the oxen contributing to the economy of the farm.
Radhakanta and Antardhi spoke about how to use oxen for plowing and transportation, and presented their plans for developing an ox mill to run many types of equipment, as recommended by Srila Prabhupada. They also presented research on an ox-powered lawnmower.
In addition, the pre-conference included thematic Bhagavatam classes in the mornings. Smita Krishna Swami, the European Cow Protection and Agriculture Minister, spoke on "Krishna's lifestyle as a cowherd." Krishna Ksetra Swami gave two classes on the position of the cow in Srimad-Bhagavatam. New Vrajadhama's spiritual leader Sivarama Swami spoke on how "The Basis of Economy Comes From the Land and the Cows." And Kalakantha talked about cow protection in the Bhagavatam.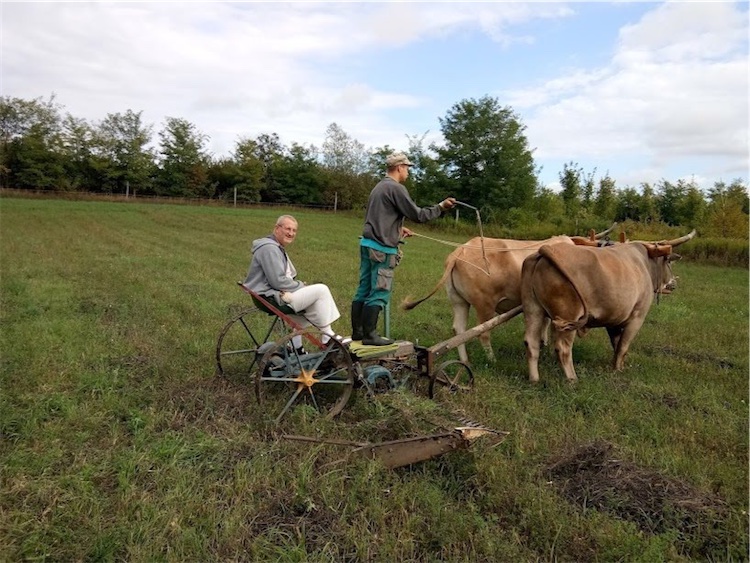 Riding on the ox plow
The evening of the 14th featured a photographic exhibition on the ISKCON Farm Conference over the past decade, and New Vraja Dhama over the past 25 years.
"It was very touching to see what had been accomplished over the years," says Kalakantha.
The conference proper, also centered around the Ahimsa Dairy Equation, began on September 15th. Sivarama Swami spoke first, on how "Cow Protection and Varnashram are Inseparable." For example, if you start with a cowherd couple, he explained, they need shoes, a house, a school for their children and more. This shows that cow protection is inextricably connected to people, people to community -- and the community must have a system to govern it.
Krishna Ksetra Swami then made a presentation on how the different philosophies of animal ethics present in the West today evolved, such as veganism; how the vedas discuss animal ethics; and how those following both schools of thought can relate to each other.
And Kalakantha spoke on where the Ahimsa Equation leads us -- how it's centered around Krishna's love for cows, and how we can use all the benefits from the cow in Krishna's service. He also explained how each part of the Equation has a role, and how if one ignores even one of them -- ox engagement, devotee care, fertile soil, etc -- the Equation becomes imbalanced.
The day concluded with Radha Kantha and Antardhi leading everyone in practical fieldwork mini workshops, including working with machinery for oxen, milking and herd management, and training oxen.
"That was very enlivening for everyone," says Kalakantha.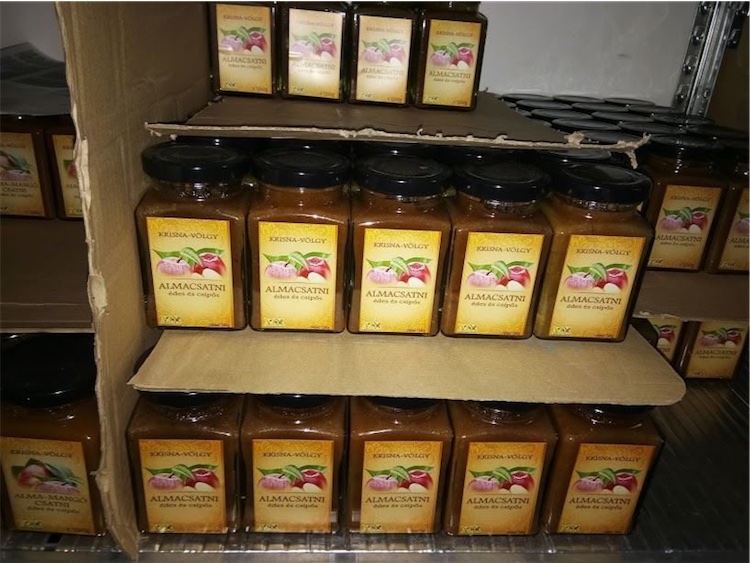 Some of New Vrajadhama's farm-made products
On the 16th, there was a look at New Vrajadhama as a model for a farm community. Co-GBC for Hungary Radha Krishna Das, who helped develop the vision for the farm, presented a blueprint for an eco-village.
Sivarama Swami outlined thirty qualities from the Bhagavatam that he said form the basis for social sustainability, including truthfulness, mercy, austerity, tolerance, simplicity, satisfaction, self-control, trying to render service, and many more.
There were then presentations on different aspects of practical application. Bala-modaka Das, head of New Vrajadhama's garden department, spoke about seed banking; Partha Das about forestry; and visiting resercher János Bors about stone pitching, the science of using different kinds of rock for fertilizing.
Prema Datta Das of ISKCON's farm in the Czech Republic, Krisnuv Dvur, also spoke about their efforts using a government-recognized system of no-till farming. Using this system, Krisnuv Dvur devotees produce several tons of grain per year, which they process with their own mill and transform them into prasadam snacks. These snacks are then sold in a successful business.
"It was inspirational to see how they could make so much economy depending on their grains," says Kalakantha. "And the Czech Ministry of Agriculture are referencing their farm as a model."
The 16th rounded off with more field work. There were workshops on organic farming, grain and vegetable production and storage; forestry, waste water management and more.
On the final day of the conference, Baladeva Das from Slovenia explained how devotees could access grants from the European Union, which gives out 2 billion Euros in grants every year. Grants are available in skills training, youth programs and more.
The conference concluded with a group discussion and questions and answers.
The very successful 10th anniversary event resulted in plans for many joint projects, including a teaching network amongst European ISKCON farms, and a network to help devotees market their farm products.
[
agriculture
] [
cow
] [
cow-protection
] [
dhama
] [
environment
] [
farm
] [
hungary
] [
krishna-valley
] [
new
] [
vraja
]