for ISKCON News on July 7, 2019
Since 2016, the ISKCON Ministry for Cow Protection and Agriculture (IMCPA) has been organizing multiple farm conferences every year in four continents. The result has been ISKCON farm staff in each region coming closer together, networking and sharing best practices, and making increased progress towards Srila Prabhupada's simple living and high thinking vision.
2019 marks the 50t hanniversary of cow protection in ISKCON, so it's an excellent time to look at and celebrate that progress. And this year's North American Farm Conference will take place where it all started – New Vrindaban, West Virginia.
New Vrindaban was ISKCON's first farm community, and its cow protection program started in Spring 1969, just one month before Srila Prabhupada's initial visit. Prabhupada named ISKCON's first cow, a black Jersey called "Kaliya," himself, and when he drank her milk he praised it, saying, "I haven't tasted milk like this in fifty years."
This year's Farm Conference in New Vrindaban will be co-organized by ISKCON New Vrindaban, ECO-Vrindaban and the IMCPA.
It will run from Friday October 4thto Sunday the 6th, and is expected to draw participants from all over the USA and Canada. The group will include active farmers, city devotees who are interested in sustainable living, and ISKCON leaders.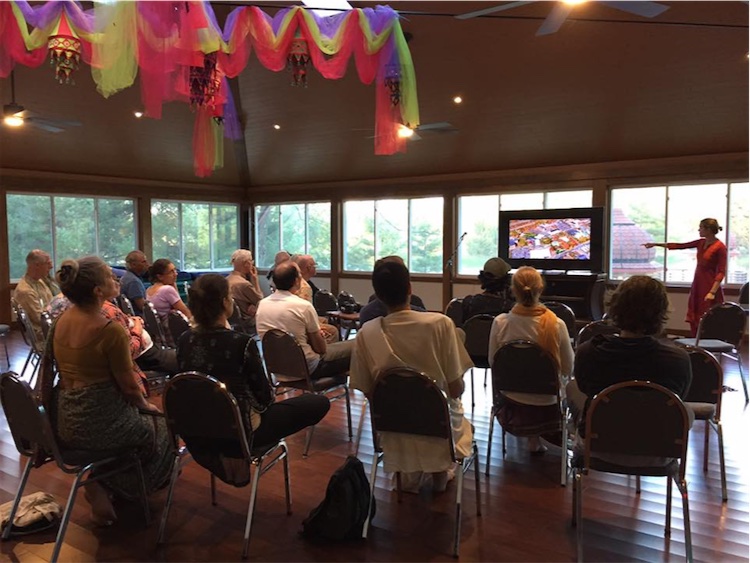 A presentation at the New Vrindaban Farm Conference in 2017
The first day of the conference will be dedicated to fifty years of cow protection. Opening proceedings, Chandramauli Swami, who was a New Vrindaban cowherd in the 1970s, will share some of his memories from the early days there, and speak about fifty years of cow protection in the West.
Next, Krishna Kshetra Swami will speak about how to keep cows in the center both now and in the future of ISKCON,drawing from his new book for prestigious publisher Palgrave MacMillan, "Cow Care in Hindu Animal Ethics."
In "Dharma and Ecology," IMCPA Director Kalakantha Das will speak about how cows and bulls are the Earth's biological engine, and how their contribution is connected to spirituality.
Dhruva Dasi and Parijata Dasi from Gita Nagari, home to a USDA-certified dairy, will present "A Study Case in Ahimsa Dairy Protection," detailing their operations, challenges and successes.
Finally, an ox training demonstration will take place on site at New Vrindaban's ox barn. The day will end at Srila Prabhupada's Palace with kirtan and recollections from New Vrindaban's early cowherds.
Saturday, meanwhile, will focus on "Economy, Food Production and Community Dynamics." It will start with a practical session on how to grow produce using high tunnels, by Kacey Gantz of the West Virginia University Extension, who has helped many farms in the area including New Vrindaban.
Next, Astotarastata, the son of well-known simple living advocate Hare Krsna Dasi, will talk about his experience producing food in a Congo war zone, where he helped 10,000 families go from no food production to abundance.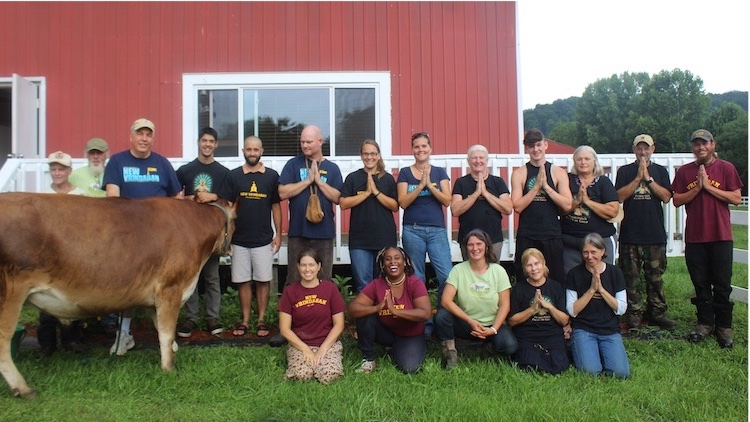 The conference will include a tour of ECO-Vrindaban projects -- pictured here are the ECO-V team with Nanda the ox outside their valley barn
All the way from New Govardhana, Australia, temple president Ajita Das and manager Damodar Das will explain how their Krishna Village program works. The highly successful effort provides accommodation, recreational facilities and courses for volunteer workers, who in turn grow the produce needed for the Deities and community.
Lastly, an international group of senior devotees will report on their two-day training with the Amish in Pennsyvlania, discussing what we can learn from their lifestyle, community dynamics and the successful economic activities they do to make a living.
Sunday, the final day of the conference, will focus on ECO-V, New Vrindaban's cow protection and agriculture organization. It will kick off with a workshop by ECO-V board member Chaitanya Mangala Das about how to run a non-profit. There will also be workshops on beekeeping and dairy production, as well as a tour of New Vrindaban's vegetable growing and cow care operations.
Since the last North American Farm Conference in 2017, channels have been opened and ISKCON farm projects have grown closer to each other.
Some of the larger projects, like New Vrindaban and Gita Nagari, have seen significant expansion. New Vrindaban has amped up its production of both flowers and beans, and is considering also increasing its dairy production. Gita Nagari is looking to expand its successful dairy, and is building a connection with ISKCON New York, for which Srila Prabhupada originally intended it to be a satellite farm.
"We're hoping that these bigger projects will inspire the smaller farms to also start taking steps," says Kalakantha.
The Farm Conferences are also influencing ISKCON leaders' decisions. At their AGM this year, the GBC body issued a guideline asking all ISKCON centers to make a plan to offer only slaughter-free dairy to their Deities. They ask that the plan be made by Janmastami 2022.
It is important to note that it is only the planthat will be made by 2022 – actually implementing it will take longer, because ISKCON farms will have to figure out how to increase their dairy production enough to meet the demands of the temples in their area.
However, the GBC guideline has already inspired greater communication between city temples and farms – such as Gita Nagari and ISKCON New York – as they work together to find a solution.
Kalakantha Das hopes that this year's conference will inspire even more growth in farm-related projects.
"For instance, we hope to find North American representatives for the ISKCON Ministry for Cow Protection and Agriculture," he says. "The representatives will be responsible for providing education and consultancy on farming, as well as creating awareness."
* * *
The North American Farm Conference is open to the public. To register, please contact: palacelodge108@gmail.com.
ISKCON New Vrindaban offers 9 meals, 6 snacks & 3 nights accommodation for $108 per participant. Space is limited. Register today!
For questions to the IMCPA about the conference, email: imcpaconferences@gmail.com
For more info, visit the IMCPA Facebook page: https://www.facebook.com/imcpa/
Or the IMCPA website: https://mcpa.iskcon.org/
[
agriculture
] [
conference
] [
cow-protection
] [
farm
] [
new
] [
vrindaban
] [
west-virginia
]