for ISKCON News on Sept. 9, 2016
In the hopes of launching a support network for ISKCON farms around the world, the GBC Ministry for Cow Protection and Agriculture is holding conferences on simple living in four continents this year.
The first two, in South America and North America, were held last month with encouraging results.
The South American conference, running from August 5th to 7th, took place at the Goura-Vrindavan farm in Paraty, Brazil, three-and-a-half hours' drive from Rio de Janeiro. Covering 1,600 acres, it is located in the middle of the Atlantic Rainforest, a large forest reserve that is richer in plant life than the Amazon.
Around 60 people attended the conference, including leaders and residents from ISKCON farm communities, as well as sympathetic professionals in relevant fields such as ecologists and agroforestry lawyers.
"The first day was an internal meeting for representatives from different ISKCON projects to identify our needs, and to discuss the benefits of networking and what we could achieve together," says conference coordinator Kalakantha Das, a Brazilian agriculturist.
Leaders from three Brazilian ISKCON farm communities – Goura-Vrindavana, Nova Gokula in Pindamonhangaba, and Ecovila Vrajadhama in Caruaru – participated in this session. Joining them were representatives from two city temples – in Curitiba and Belo Horizonte – who came for guidance in starting new satellite farms.
"Everybody was extremely in favor of building a new networking platform," says Kalakantha. "So that was a great outcome."
That evening, there was an official opening for all participants, with Kalakantha Das filling everyone in on the history of the GBC Ministry for Cow Protection and Agriculture, and Goura-Vrindavana leader Purushatraya Swami presenting the history of the farm.
When it was established 30 years ago, he explained, he began by researching how the land could be profitable for devotees and came upon two varieities of bamboo – Guadua and Giant Bamboo. Bamboo, he discovered, had extremely multifarious uses, such as eco-building, flooring, furniture, food, and more. Ten thousand companies in China alone deal with bamboo, and whole villages depend on it. Bamboo also crops up in Vaishnava culture and history a lot – Lord Krishna's flute, for instance, is made of bamboo, and sannyasis use bamboo in their dandas.
All this came into play during the next two days of the conference. On Saturday August 6th, Nanda-Suno Das, who has a PhD in mechanical engineering specializing in bamboo, led a theoretical session on the plant with self-taught bamboo craftsman Flavio Amorin. And on Sunday the 7th, conference participants got to see some of the things Goura-Vrindavana is doing with bamboo, such as their greenhouse built with a Giant Bamboo frame.
"In North America, something like this would cost between $14,000 and $100,000 to build, depending on the quality and features," Kalakantha says. "But this greenhouse, which is simple but aesthetic, cost just $400! Everyone was amazed to see such an example of eco-building."
Another fascinating practical workshop at the conference was one on wild edible herbs, led by Jorge Ferreira, who was self-taught growing up in the rainforest and has given many lectures worldwide.
"He taught us about many trees and herbs and their medicinal and nutritional uses, on the Goura-Vrindavana land," Kalakantha says. "We would be walking on a place we thought was full of weeds, and he would show how there were so many edible plants everywhere. He explained that just in one meter, you could find more than a hundred edible species. And then he described how you could cook them in different ways, from making subjis and salads to frying them, to incorporating them as dried powder in breads and cakes. Everyone, from children to sannyasis, was completely mesmerized. My daughter even said, 'Dad, I never knew that botanics was so exciting! I want to be a botanist!"
Other topics at the conference included organic food production and the goshala system, including how cow dung could be used for fertilizing and worm composting.
Finally, a team was put together to organize the next South American conference, which will be held in Nova Gokula next year.
The second continental farm conference held this year was the North American one in Gita Nagari, Pennsylvania from August 15th to 17th.
Although it was attended by a smaller group of representatives from farms like Prabhupada Village in North Carolina, Eco-Vrindaban in New Vrindaban, West Virginia, Alachua in Florida, and Gita Nagari itself, it was very well-organized and productive.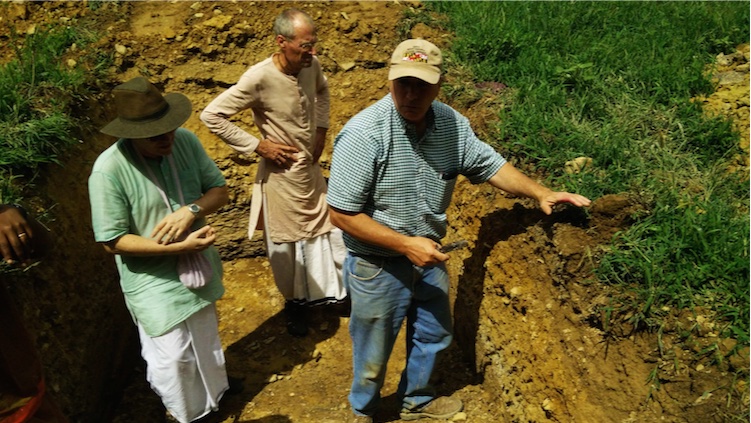 Taking a class on soil in Gita Nagari
On the first day, there was a discussion on how attract more people from all stages of life and all backgrounds including devotees, tourists and pilgrims to ISKCON farms by identifying their needs and meeting them.
There were presentations on City Temple Needs and Expectations, People Dynamics in Farm Communities, and How to Start and Work a Farm.
There were also discussions about how to set up a network that would bond the different farms and supply them with resources such as information and contacts.
On the second day, Visvadhika Dasi from Canada gave a presentation on homeopathy for cows, bulls and oxen, and made herself available as a resource in the future for the farm representatives present.
Franklin Egan, a young leader from the Pennsylvania Association for Sustainable Agriculture, spoke about their work with young farmers, and about how their network was holding conferences.
"That was a really good confirmation that we're on the right track with our efforts right now," Kalakantha says.
Later in the day, there was a tour of the Gita Nagari farm, an explanation of the tight relationship bond established amongst its team, and a close look at its hugely successful dairy production effort.
There was also a tour of a local Amish farm, which left devotees very appreciative and confirmed to them how such a simple lifestyle is a very favorable platform on which to place transcendental knowledge.
On the third and final day, Mukunda Das and Sri Tulasi Manjari Dasi from ECO-V in New Vrindaban presented their efforts towards simple living.
Members of the USDA Natural Resources Conservation, professionals who have been working with Gita Nagari for years and appreciate its efforts, also gave several presentations.
Coordinator Melissa Eardman spoke about how to run an organic dairy operation; State Soil Scientist Joe Kraft spoke about what impacts soil health, and another member spoke about organic forage.
The North American conference yielded many practical results. A team was formed to set up networking in the continent and make a connection with the North American GBC. Kesihanta Das organized a follow-up seminar in Alachua after the conference. And there are plans underway to set up an online resource center, develop training materials, and produce a North American farm directory.
The next North American Farm Conference was set for October 2017 in New Vrindaban, West Virginia. It will be hosted by ECO-V, which also provided organizational and financial support for the four continental conferences.
After these two successful conferences in South and North America, there will be a third one in Villa Vrindavana in Italy, Europe from September 20th to 22nd; and a fourth in Govardhana Eco Village in Maharashtra, India for Asia from October 5th to 7th.
Following these, there will be a global conference in Mayapur in 2018.
"There is an acceptance of the relevance of such an event, and we have started to make preparations for it as a milestone in the paradigm of bringing members to a more natural way of living," says Kalakantha.
[
farm
] [
simple-living-high-thinking
]