for ISKCON News on June 30, 2019
On June 5th– World Environment Day – ISKCON India partnered with the United Nations Environment Programme (UNEP) for the first time, for a nationwide effort.
"The Indian office of the UNEP realized the potential of engaging spiritual organizations, and reached out to us," says ISKCON India Communications Director Yudhistira Govinda Das.
At least forty-two different ISKCON centers stepped forward to help. To support the theme of this year's World Environment Day – beating air pollution – ISKCON organized tree plantation drives across the country.
Brahmachari monks, congregational members, and other volunteers planted a total of 4,800 trees across forty-two cities and towns of India.
"Some temples did it in their own complex," says Yudhistira Govinda. "If they didn't have space, they planted trees on the streets, in nearby gardens, or even along the highways."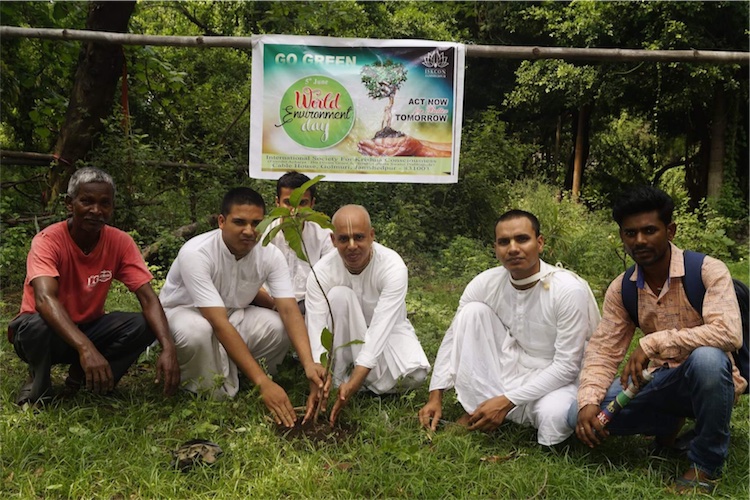 Devotees planted a total of 4,800 trees around the country
Interestingly, many of the trees devotees planted were sacred trees mentioned in the Vedic scriptures, with different merits attached to planting them. These included Peepul, Banyan, Ashoka, and the Ashvattha, or Banyan. "Of all trees, I am the Ashvattha," Lord Krishna says in Bhagavad-gita.
Another effort was "Make Yamuna Clean Again." In the national capital of New Delhi, ISKCON joined hands with doctors from the All India Institute for Medical Sciences (AIIMS) and Swach Yamuna Abhiyan at an event to increase awareness amongst residents for a cleaner Yamuna.
Former Chief Minister of Uttar Pradesh, Shri Jagadambika Pal, joined the thirty-five doctors and forty devotees from ISKCON Delhi's Dwarka, Punjabi Bagh, and East of Kailash temples.
Along with local residents and several policy makers, they cleaned the Yamuna river bank at Chat Ghat, planted trees, and performed kirtan.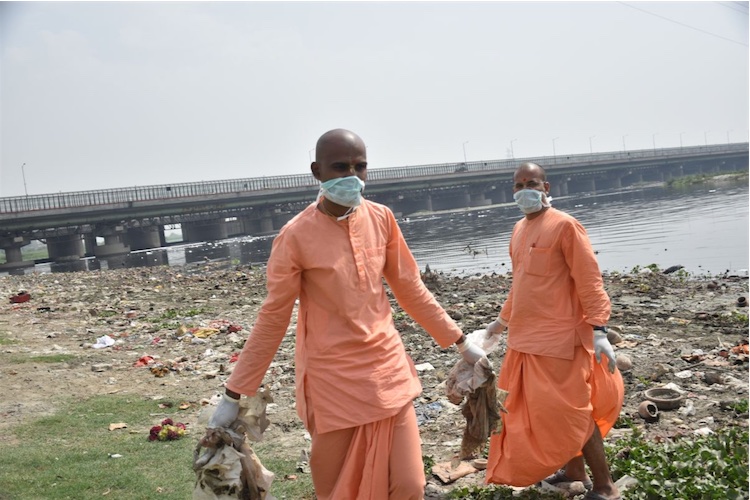 Devotees clean the banks of the Yamuna river in New Delhi
Meanwhile in Gujarat, nearly fifty members of ISKCON Ahmedabad participated in the "Swachh Sabarmati Abhiyan" effort to clean the Sabarmati River, organized by the government and led by the city Mayor.
Different dignitaries, including the Chief Minister of Gujarat Shri Vijay Rupani, participated in the cleaning drive. Later on during the day, ISKCON devotees planted 1,000 trees to beat air pollution.
"Ten to twelve newspapers covered our efforts in different parts of the country," says Yudhistira. "The national television channel Doordarshan came and covered our Yamuna cleanup, and I gave a short interview to them. And the Sabarmati cleanup was also covered by a couple of television channels. It was an interesting sight for them to see devotees in dhotis and kurtas doing this environmental work!"
In addition, the UN sent a letter thanking ISKCON for its support. And several government agencies responsible for cleaning rivers shared photos of devotees' efforts on their Facebook and Twitter accounts.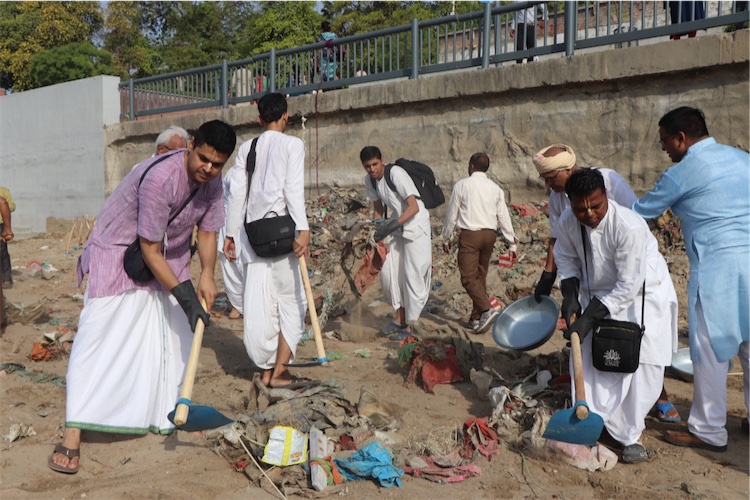 Devotees clean the banks of the Sabarmati river in Ahmedabad
Devotees also took to social media themselves, with several ISKCON pages and individual accounts participating in World Environment Day by posting messages about the environment, or sharing photos of various events along with the hashtag #BeatAirPollution.
Internal analaytics show that the messages reached more than two lakh people (two hundred thousand) across India and beyond.
There are several reasons why ISKCON found it important to participate in World Environment Day. One is purely theological. The Sri Isopanisad teaches, "Isavasyam idam sarvam," meaning, "This entire universe is to be looked upon as the energy of the Lord." And the Srimad Bhagavatam (11.2.41) reads: "Ether, air, fire, water, earth, planets, all creatures, directions, trees and plants, rivers and seas, they are all organs of God's body. Remembering this a devotee respects all species."
More recently, ISKCON Founder-Acharya Srila Prabhupada emphasized the idea of simple living and high thinking, and encouraged devotees to show people a natural alternative to modern city life.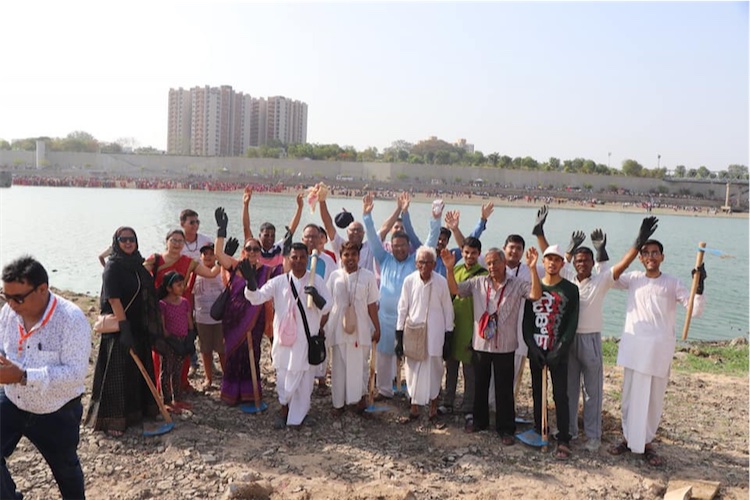 Devotees gather on the banks of the Sabarmati
"Also, today there is a lot of disturbance created by greenhouse gases and global warming," says Yudhistira. "And whether we accept it or not, ISKCON, being a part of the larger eco-system, is also in one way or another contributing to our global carbon footprint. So these efforts are the bare minimum that as an institution we could do, to reduce our own individual footprint."
This year, ISKCON India were only notified by the U.N. two weeks before World Environment Day. In the future, given more time to plan ahead, devotees hope to bring more creative and innovative ideas, and larger participation to the event.
"We also would like this to be the first stepping stone towards looking at more areas where we can really reduce the pollution levels for our institution," Yudhistira Govinda says.
[
delhi
] [
environment
] [
trees
]