ISKCON Latin America and the Caribbean would like to invite you to join them in a first-ever online kirtan event: "Nama Sankirtan." The online event will take place all day on May 22nd.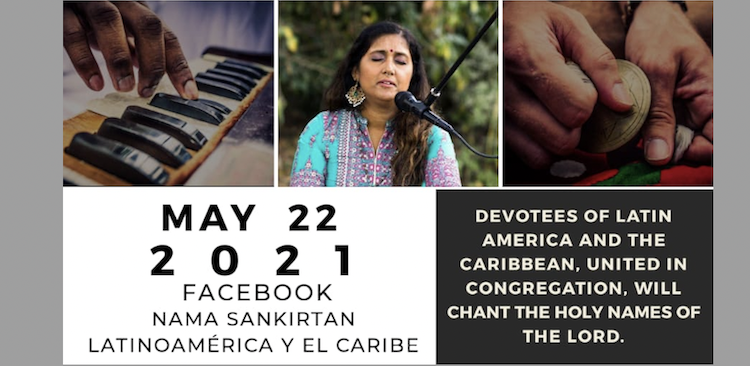 In a dynamic effort to join together to glorify Srila Prabhupada and Lord Chaitanya Mahaprabhu, the devotees from Colombia, Peru, Panama, Mexico, Guyana, and many other countries will come together to chant the holy names. Nama Sankirtan Latin America and the Caribbean is an effort to create stronger relationships between all the Yatras and to unite in glorifying the Holy name of the Lord. We are all connected by the mercy of Srila Prabhupada and Chaitanya Mahaprabhu and by performing Nama Sankirtan conjointly we aspire to please them.
Srila Prabhupada's movement is alive and vibrant here but many times it is not so known so our hope is to bring awareness. Although there are many challenges, the devotees stand strong. We look forward to the participation of many devotees across the globe!
Join the kirtan: https://www.facebook.com/namasank
[
12-hour-kirtan
] [
caribbean
] [
latin-america
]