for ISKCON News on Oct. 25, 2018
Gopal Krishna Goswami, ISKCON's Governing Body Commissioner and Chairman of the India Bureau, along with Yudhistir Govinda Das, Head of ISKCON Communications in India, called on the Prime Minister of India Mr. Narendra Modi at his official residence in New Delhi earlier today.
Gopal Krishna Goswami updated the Prime Minister with the various programs and activities being carried out by ISKCON – in India and internationally. He invited the Prime Minister to unveil the world's largest Bhagavad Gita which was designed and printed in Italy by a dedicated team of devotees led by Madhu Sevita Das.
"This Astounding Bhagavad Gita is truly a masterpiece. There is only one copy in the world of this book which weighs 800 kg and measures 3.8 x 2.8 meters. This copy of the Gita will surely generate a lot of awareness and interest around the world about the teachings of this sacred text" said Yudhistir Govinda Das.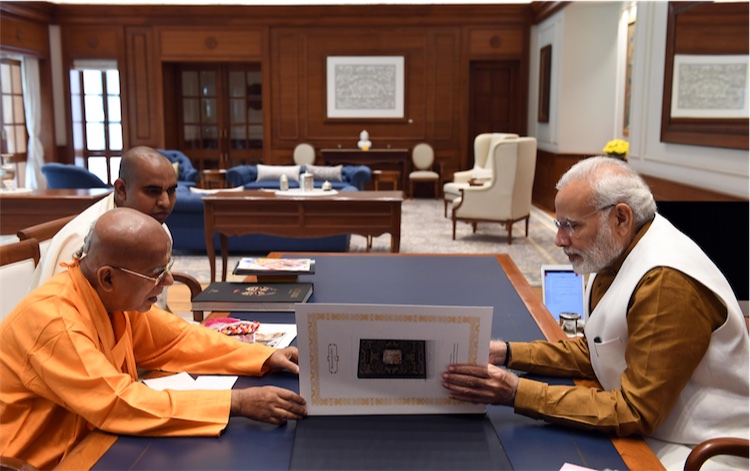 Prime Minister Modi was delighted to learn of this edition and remarked that is must be a "monumental work". He expressed his desire to join the book launch festival later this year in New Delhi, the details of which are now being worked on.
The ISKCON leaders also briefed the Prime Minister on construction of the Temple of Vedic Planetarium in Mayapur and ISKCON's Tribal Care Initiative in North-East India both of which he was happy to know about and offered suggestions to further develop them.
"Overall the meeting was very cordial and the Prime Minister encouraged ISKCON members to continue and expand its services for the benefit of all." Said Yudhistir Govinda Das
[
bhagavad-gita
] [
delhi
] [
gita
] [
modi
]