for ISKCON News on May 24, 2019
The Radha-Krishna Temple in London is celebrating its 50thanniversary, and the 50th anniversary of the installation of Sri Sri Radha-Londonisvara, with several exciting events this year.
"The Hare Krishna movement was built on a pioneering spirit," comments Natasha Menon, a member of the Events Team. "Srila Prabhupada was the original pioneer who then empowered three couples with a dream to start a center in London and meet the biggest band in the world, the Beatles, to help spread Krishna Consciousness. The opening of the Radha-Krishna Temple was a historic occasion for the bhakti-yoga tradition – a long-standing order of the previous spiritual teachers had been fulfilled."
This year, she explains, marks the momentous 50th Anniversary year of that tremendous achievement.
"As part of our vision to 'invest in the future now,' we want to not only celebrate fifty years, but also build on them," she says. "This is an opportunity to present what has been achieved and what we have to offer together, to amplify the wider community's achievements, connect with new audiences and present what is relevant to people's lives."
The first major 50th anniversary event will be Omfest on July 14th, a family-friendly outreach festival bringing together yoga, conscious food (prasadam), mantra music (kirtan) and timeless wisdom.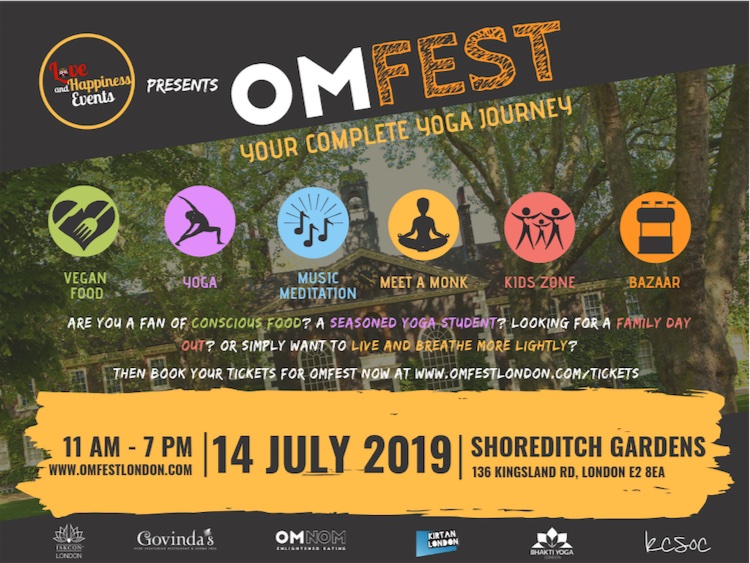 As the event is specifically for those new to bhakti, ISKCON devotees are requested to bring along friends, family members and colleagues who are interested in being uplifted and recharging their minds, bodies and souls.
Held at the picturesque outdoor venue Shoreditch Gardens, Omfest will feature yoga sessions in its main tent led by popular local yoga teachers, with background chanting by devotee kirtaniyas from Kirtan London.
For instance, world-renowned Jivamukti yoga teacher Emma Henry will teach yoga with kirtan by Sandipani Muni aka Kal Key, a singer-songwriter whose first musical offering, 'Lifetimes,' charted in the top 10 of the iTunes UK singer-songwriter chart.
In addition, Jivamukti teacher Charlie Kelly, who focuses on bhakti, enlightenment and inclusion of music in yoga practice, will be backed by Radhika Ranjana Das, a leading outreach kirtan artist and core manager of Kirtan London.
At the end of each session, the physical yoga practice will transition into kirtan meditation. A full kirtan program will take place in the evening, led by world-renowned kirtan artist Sri Prahlad Das among others.
Meanwhile in the wisdom tent, run by Bhakti Yoga London – ISKCON-London's newcomer-friendly introductory program – talks will be given on relevant topics such as mindfulness, mental health, meditation, and ecology. Speakers will include Bhuta Bhavana Das, who has taught leadership in the corporate world, Citi Shakti Dasi, a consultant psychiatrist who has appeared on TV and radio, and preacher Kripamoya Das. Sri Prahlad will run a mantra meditation session.
A kids' area will feature a morning yoga session for kids and parents, as well as dancing yoga, arts and crafts, storytelling and face-painting throughout the day.
Finally Govinda's, which turned forty this year, as well as soon-to-open devotee restaurant OmNom, will serve delicious vegan food to festivalgoers. To emphasize the event's key values of compassion and kindness, both will feed someone in need for every meal served.
The second major London 50 event – a joyful 'Krishna Spectacular" – will take place closer to the end of the year, on November 24th, bringing a historical moment full circle.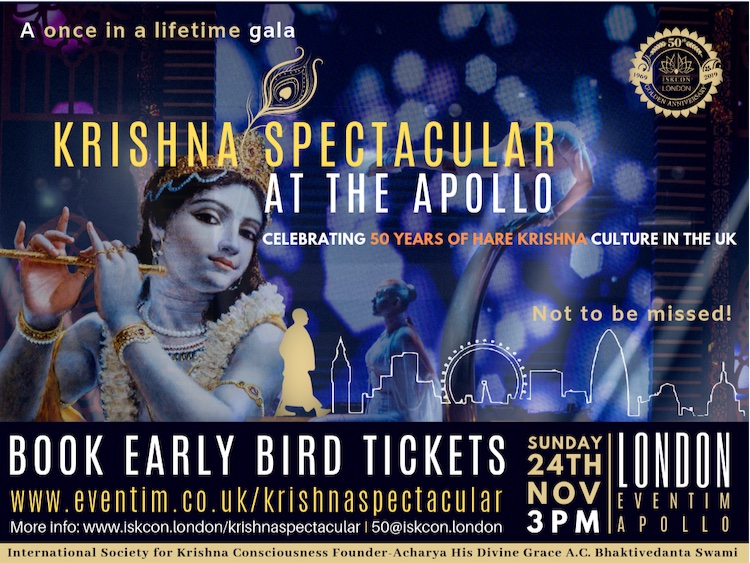 "In 1969, the Hare Krishnas performed to a thousand rock fans at Hammersmith town hall, eight days before the opening of the Radha-Krishna Temple," the blurb reads. "Fifty years later, in 2019, the UK Hare Krishnas will celebrate with over three thousand people at Hammersmith Eventim Apollo, exactly eight days before the 50th anniversary of the opening of the Radha-Krishna Temple."
The gala event will welcome everyone from devotees, to seekers, to curious friends for a massive West End meets Cirque du Soleil-style theatrical show. Performed by the Natya Nectar Dance Company and an international cast, it will depict Srila Prabhupada's epic journey, the Hare Krishnas' London story and the glory of the Bhagavad Gita.
After the gala show, there will be a week-long celebration for devotees at the Radha Krishna Temple until December 2nd, the official 50thanniversary of Sri Sri Radha-Londonisvara's installation.
"We are following Srila Prabhupada's instructions in 1969 that Radha-Londonisvara's anniversary should be celebrated as a week-long festival," says Natasha Menon. "There will be different darshans, kirtans, and classes by pioneers such as Shyamasundar and Malati Prabhus."
Reflecting on fifty years, Radha-Krishna Temple president Jai Nitai Das says, "Much has changed since the hippie days of the '60s. The Hare Krishna community now attracts a diverse and inclusive population. You will find both families and urban monks working as corporate, educational, healthcare, and creative professionals. Many of them are game changers, talented artists, deep thinkers and thought provokers who share mantra meditation, sacred wisdom and a karma-free lifestyle across the globe with modern relevance."
Natasha adds, "It is a great blessing and privilege to be able to serve Srila Prabhupada in this way by making this special offering to His most beloved Deities on the occasion of Their 50th installation Anniversary."
* * *
For more information about OmFest, visit www.omfestlondon.com.
Buy tickets at: www.omfestlondon.com/tickets
Email: info@loveandhappinessevents.com
For more information about the Krishna Spectacular, visit www.iskcon.london/krishnaspectacular
Buy tickets at: www.eventim.co.uk/krishnaspectacular
Email: 50@iskcon.london
[
50th-anniversary
] [
britain
] [
great
] [
london
] [
uk
]