for ISKCON News on Nov. 23, 2017
After successful organization of the Bhagavad Gita contest for school children in 2014-15, wherein more than 3,000 students participated, Shikshashtakam Das (Chief, ISKCON Nashik, Maharastra, India), immediately had a thought to do it for the teachers next time.
This year, a team of devotees made a booklet based on the Bhagavad Gita As It Is in just two months, in order to facilitate teachers in their study. It consisted of selected topics from all the eighteen chapters of Bhagavad Gita, important verses and about 10 essays on how to acquire soft skills like time management, leadership, communication skills, positive attitude etc. based on the knowledge from Bhagavad Gita.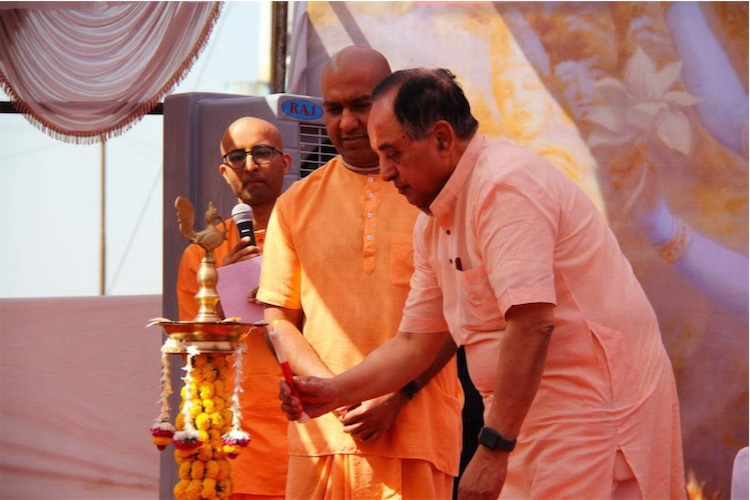 (From left to right) Narsimhakripa das, Shikshashtakam das and Mr Subrmanian Swamy inaugurating the event of Prize distribution ceremony.
The contest was announced in June 2017. Volunteers went school to school to meet organization heads & principals.
On Sunday November 5th, 2017, ISKCON Nashik held the Bhagavad Gita contest (Gita Pradgya Shod Pariksha 2017) for teaching & non-teaching staff of Nashik district. About 1,700 teachers from more than 100 schools from all over the Nashik city & few adjacent towns in Nashik district registered for the contest.
The award ceremony was held on November 12th, 2017 at a ISKCON Nashik. Mr. Subramanian Swamy (member of parliament, rajyasabha) and the former Minister of Commerce and Law of India, was present as chief guests of the event.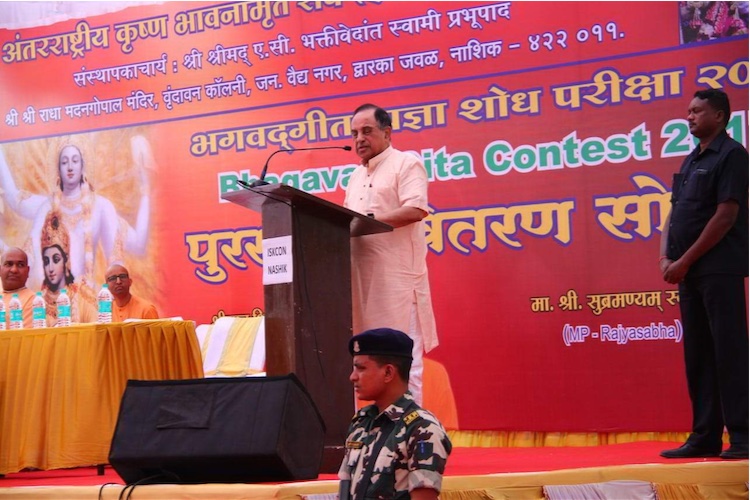 Mr. Subrmanian Swamy giving his talk
Top three winners received cash prizes & trophies. Apart from that, various other prizes to school principals were also given. Surprisingly, the first winner, Mr Kashinath Mahajan, is blind and has read Bhagvad Gita with the help of his wife and friend. He was provided with a writer to write the exam.
The winners expressed their appreciation and joy for having access to this universal knowledge, which helps them improve their lives as well as society.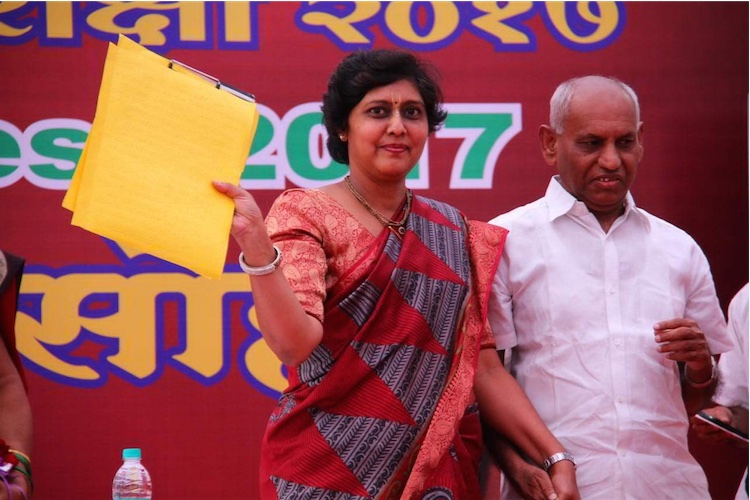 First winner of the contest, Mr. Mahajan, who is blind, assisted by a volunteer, Mrs. Dhumal, who is holding his thanksgiving speech written in Braille
Added to this, seeing positive change amongst the teachers after reading Bhagvad Gita As It Is, many school principals requested the organizers to hold another exam for the teachers & staff, who didn't register for the contest or who registered but could not make it for the contest.
The audience for the event of prize distribution ceremony included more than 1,000 guests, government officials, teachers, school principals, teaching organization heads, senior ISKCON leaders and members of ISKCON.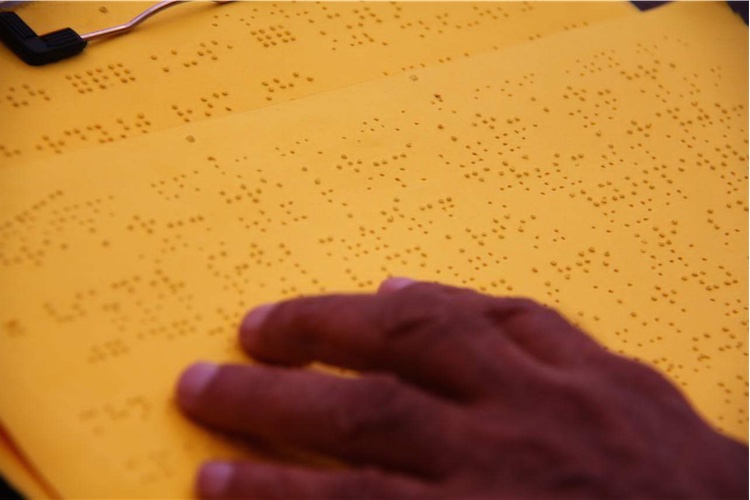 The speech of the winner written in Braille
The highlight of the event was the talk given by Mr. Subramanian Swamy, who himself is a daily reader of the Bhagavad Gita. He said that "the Bhagavad-Gita can provide a roadmap to everyone to lead a successful life." He also remarked that Srila Prabhupada & his ISKCON has been tremendously successful in applying India's philosophy of Vasudhaiva Kutumbakam, or world family, in its true sense. He also appreciated ISKCON prasadam distribution.
"The most inspiring aspect of the event was to see the cooperation of the devotee volunteers, leaving their differences aside and uniting in a common purpose", said Narsimhakripa Das, the overall coordinator of the event.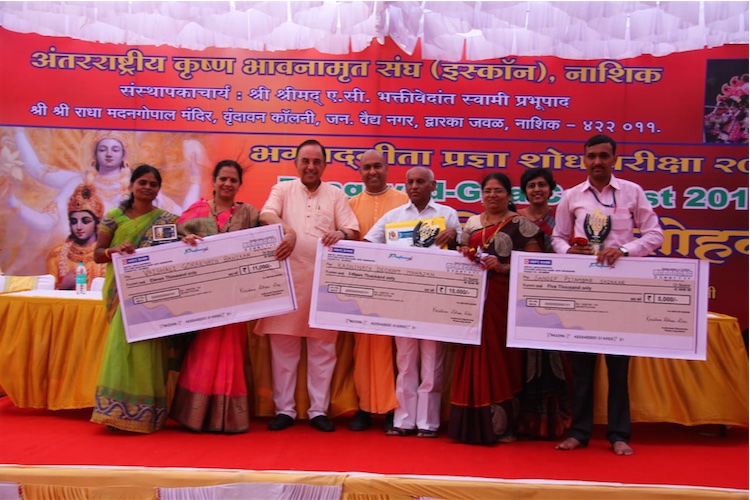 (From left to right) Second prize winner Mrs. Vaishali Bahikar, Mrs. Devyani Farande, MLA (member of Maharashtra Legislative Assembly) of Nashik, Honorable Mr. Subramanian Swamy, HG Shikshashtakam das, the first prize winner Mr. Kashinath Mahajan , his wife & assistant volunteer and third prize winner Mr. Sandip Shinkar
ISKCON Nashik temple president, Krishnadhan Das attributed the events' success to the more than 100 volunteers who had worked hard for seven months.
[
bhagavad-gita
] [
contest
] [
gita
] [
nashik
] [
teachers
]