on Aug. 28, 2021
ISKCON of Washington D.C. held a three-day Bhumi Puja (ground-breaking) event from August 20th to 22nd, preceding a new 22,000 square-foot temple for Sri Sri Radha Madan Mohan, Sita Rama Lakshman Hanuman, and Gaura Nitai.
The event took place at the current D.C. temple property, which is situated on eleven acres of rolling wooded terrain with a creek running through it. The same property will also be home to the new temple, while the old building will be converted for other purposes.
Priests performing the Bhumi Puja ceremonies included head priest Govinda Bhakta Das from Salt Lake City, Manorama Krishna Das from Washington D.C., Gokula Madhava Das from nearby ISKCON Baltimore, and Chaitanya Bhagavan Das, who coordinated all the rituals.
The groundbreaking began on Friday with the digging of the ceremonial pit, and a large inaugural Agnihotra fire ceremony. On Saturday morning, devotees carried small Utsaha (festival) forms of ISKCON of D.C.'s presiding deities on palanquins around the temple property three times, accompanied by kirtan.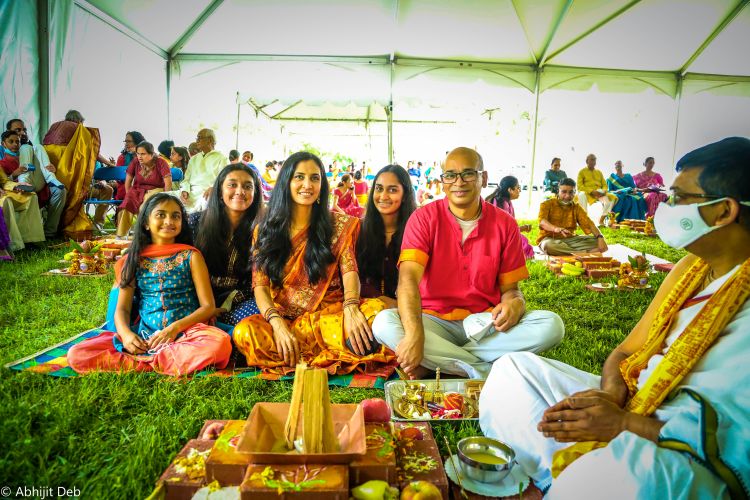 Later that day at noon was one of the biggest highlights of the event, with fire yajnas conducted simultaneously in 51 different Havan Kunds under a huge tent on the front lawn of the temple. As head priest Govinda Bhakta lead everyone in chanting mantras, priests and families sponsoring the new temple offered grains and ghee into their individual fires.
On Sunday, during a Maha Kalash Abhisek (bathing) ceremony on an outdoor stage, over 350 families performed abhishek for the festival deities. Continuous kirtan went on throughout, led mostly by teenagers and children of the congregation. Finally, the Bhumi Puja ceremony itself was held, sanctifying the earth, placing Ananta Sesa into the four-foot deep ceremonial pit to hold up the new temple and bring all auspiciousness, and showering Him with flowers.
Between 2,500 and 3,000 congregational members attended over the three days. The temple was open for Darshan throughout the weekend (masks were required indoors as per Covid requirements for the State of Maryland), and breakfast, lunch, and dinner prasadam was served on all three days.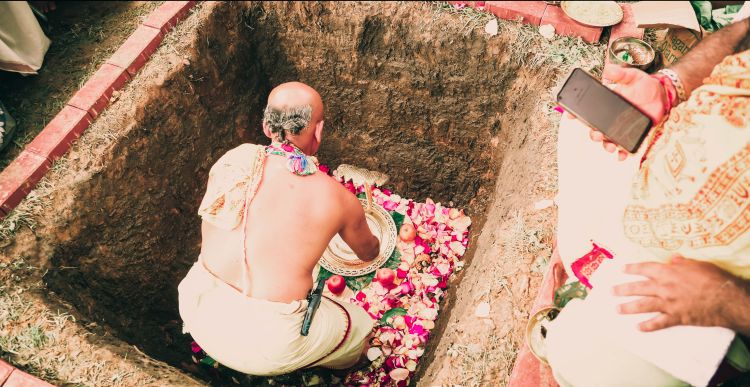 "Perhaps what I found most inspiring about this event was the enthusiasm of the congregational members who participated," says Anuttama Das, GBC for Maryland including Washington D.C. "Everywhere I looked, there were dozens of people in different small teams, cooking, cutting vegetables, serving prasadam, cleaning, directing traffic, setting up and breaking down tents, and arranging for the Havans and various ceremonies."
According to Development Director Chaitanya Nitai Das (Laksuman Bhandari), the new temple is a $10 million project, for which $7.2 million in pledges has already been raised. The 22,000 square-foot temple will include a 4,000 square-foot temple room, as well as classrooms, a commercial kitchen, a deity kitchen, and a large cultural hall.
"We're hoping construction will begin within a month, and we expect it to take approximately two years to complete," Chaitanya Nitai says.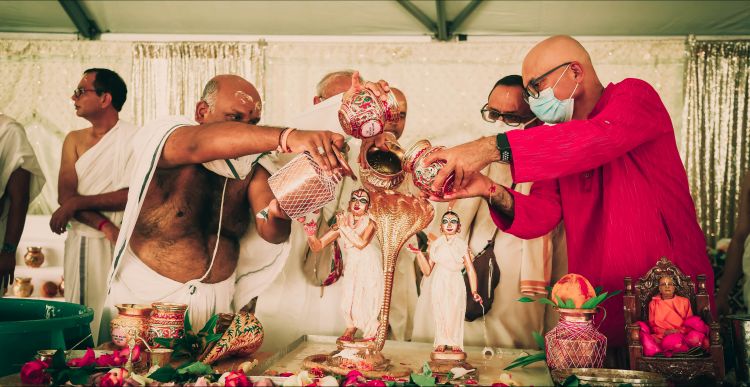 Giving credit where it's due, Anuttama adds, "Without the leadership of Chaitanya Nitai and our temple president Ananda Vrindavan Dasi, we would not be where we are today. I also want to thank Mr. Chaman Puri, whose leadership in working with the architect and acquiring the permits from the county has been essential for this project."
It's an exciting new step for ISKCON of D.C. The current temple building first opened in 1975, after ISKCON moved from downtown Washington D.C. to suburban Potomac. It was visited by Srila Prabhupada himself in 1976, and was the first temple in the D.C. area. Since then, many new temples have sprung up around it. Now, ISKCON of D.C. devotees feel it's their turn to build a beautiful new expanded temple.
"The community has aspired for many years to have a larger temple," Anuttama explains. "Over the last few years, the sense of community and working together, along with the need for a place where people can come to cultivate their Krishna consciousness has really grown. And I think Sri Sri Radha Madan Mohan decided that now is the time to expand our temple, because it's coming together in very wonderful ways."
[
bhumi puja
] [
groundbreaking
] [
iskcon-of-dc
] [
new temple
] [
washington-dc
]