for ISKCON News on Dec. 31, 2015
ISKCONoutreach.com, a new website that aggregates articles, toolkits and videos related to ISKCON's outreach efforts in one place, launched on December 29th, Srila Bhaktisiddhanta Sarasvati's Disappearance Day.
An initiative of the GBC strategic planning network committee for outreach, the site was put together by the ISKCON Desire Tree team at ISKCON of Mira Road, Mumbai.
"The idea is to provide resources that can help guide and inspire devotees in their outreach activities," says committee chair Pancharatna Das.
The website's launch also coincides with the eve of ISKCON's 50th anniversary, as a way to help support the outreach efforts connected to the golden jubilee celebrations.
ISKCONoutreach.com includes news articles on outreach activities drawn from ISKCON websites around the world; resources such as recorded seminars and special presentations; and book suggestions, Power Point presentations and more to help devotees develop expertise in different fields of outreach.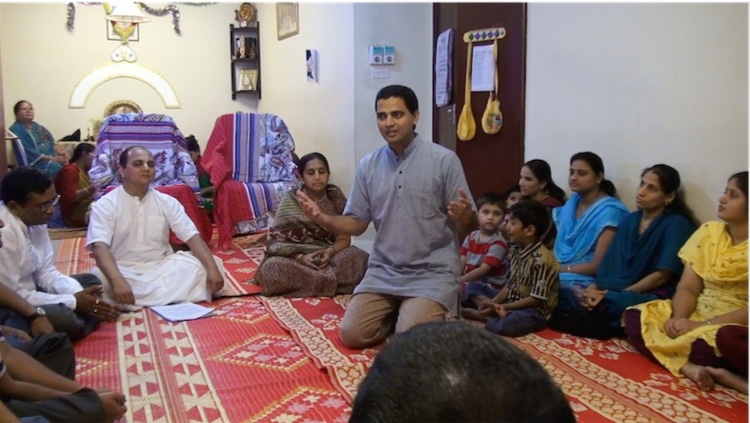 A Bhakti Vriksha congregational meeting in the Persian Gulf
​ "At present, we are posting content primarily from existing sources like ISKCON News and Dandavats," says Pancharatna. "But after launching the site publicly we hope that devotees will submit their own content, especially toolkits that describe best practices in outreach."
Besides all this there will be a photo gallery of outreach in action and a directory listing different websites and ISKCON ministries involved in outreach.
"We are also producing our own series of video interviews where we talk to devotees about their outreach activities, and ask them to offer their advice and guidance for others," says Pancharatna. "We plan to publish these on the website as well as on our Facebook page."
In the future, the site will have a subscription feature enabling people to subscribe to regular updates and get a focused news feed of outreach-related activity.​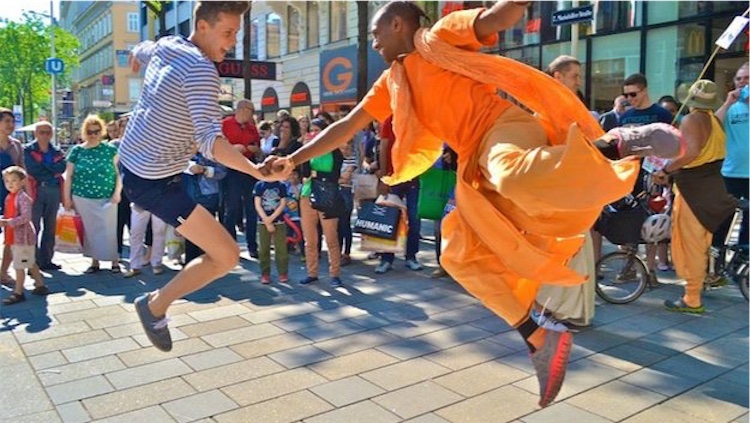 A devotee dances exhuberantly with a brand new fan of the Hare Krishna maha-mantra
A section will also be created for devotees to submit outreach materials that can be repurposed for other centers or situations.
"For example, we want to start a section on Hare Krishna 'mantra cards'​ with designs collected from around the world," Pancharatna says. "We will also have posters, invitations, and more that may inspire others."
ISKCONoutreach.com also connects to a separate website, howicame.com, created by the same team, which features videos of different devotees telling their stories of how they came to Krishna consciousness.
"We are also inviting devotees to fill out the survey on that site, which we at the ISKCON Outreach Committee created," says Pancharatna. "It is designed to help us understand how people become attracted to Krishna consciousness, and then to use that information to refine our outreach strategies, and better serve the needs of persons who are just beginning to learn about Krishna consciousness."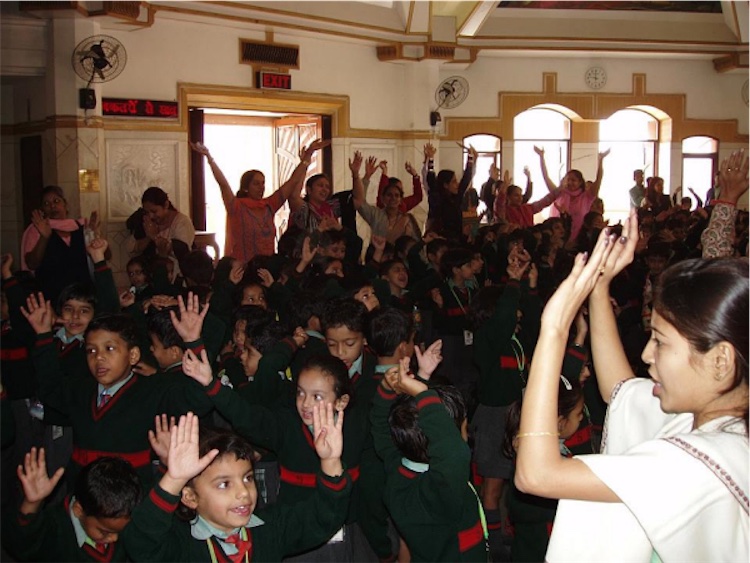 London police officers receive Prabhupada's books
"Part of the core mission of the GBC strategic planning outreach committee​," Pancharatna concludes, "Is to ensure that outreach remains a core element of what it means to be a member of ISKCON. These websites will help to inspire all ISKCON members with the spirit of Lord Chaitanya's sankirtan mission."
* * *
To visit ISKCONoutreach.com and browse its resources, click here: http://www.iskconoutreach.com/
To watch videos at howicame.com and fill out the survey, visit: http://howicame.com/
[
iskcon-50th-anniversary
] [
outreach
]