for ISKCON News on April 29, 2016
Devotees in Stockholm, Sweden, are campaigning to save their Hare Krishna Center, which has served the public for 34 years and is the oldest Hindu temple in the city.
Every three years so far, the Center has renewed its lease with its landlord, Familjebostader (Family Residences), a property company that is owned by the Municipality of Stockholm and builds properties for public benefit.
But in December 2014, the company cancelled ISKCON's rental contract, effective September 2015, with plans to use the building for another purpose.
While this is a legal practice, the law also requires the the company to provide compensation for its renters, so that they can smoothly set up elsewhere. However so far it has agreed to provide only the absolute minimum compensation.
"That would mean we would not be able to relocate and would be forced to close down our activities," says Tapas Das, who has been temple president since 1999.
The Hare Krishna Center's first response was to bring the case to the public negotiations office. Because Family Residence's contractor failed to start work on the set date, the office was able to make them postpone the eviction until September 30th this year.
In the meantime, devotees attempted to come to a settlement with Family Residences for more appropriate compensation, following the company's own requirements.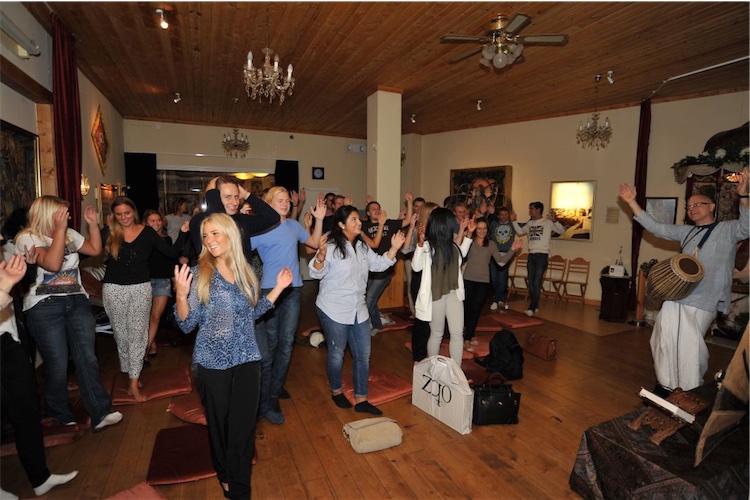 University students chant and dance during a visit to learn about Krishna consciousness
"We put together a very comprehensive document including our history, details on what services we offer to society, and testimonies, and presented it to them in December 2015," says Tapas. "But so far, their lawyer hasn't responded. Biding time is their tactic."
The document shows how the Hare Krishna Center is a cultural treasure for the city of Stockholm, bringing diversity and benefit to the public. It is reasonable to claim, devotees say, that a municipal property company has a special responsibility to take this public service into consideration.
Established in 1982, the Hare Krishna Center is located in Fridhemsplan, a busy and very accessible central area of Stockholm. It actually includes two separate buildings: the Center – with a holistic spiritual gift shop – and Govinda's, the oldest vegetarian restaurant in the city.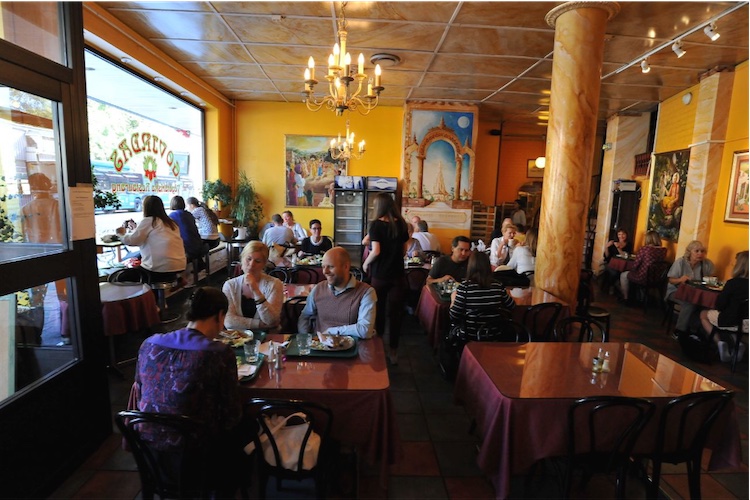 Patrons enjoy a vegetarian dinner at Govinda's
"Govinda's has been a pioneer for vegetarianism not only in the capital but throughout Sweden, introducing it at a time when it was not accepted like it is now," Tapas says. "Today, our Govinda's is a popular destination even for people from abroad."
Meanwhile the Hare Krishna Center itself is visited by around 100,000 people annually through a wide demographic: worshippers, spiritual seekers, teachers and students, vegetarians and vegans, and local and international members of the Hindu community.
It offers cooking classes, Ayurvedic health advice, yoga classes, mantra meditation, weekly courses on spiritual texts, and conduction of religious rituals like marriage ceremonies and spiritual initiation. The Center also facilitates monthly meetings of international interfaith group HWPL, with some members attending at the Center, and others online via Skype.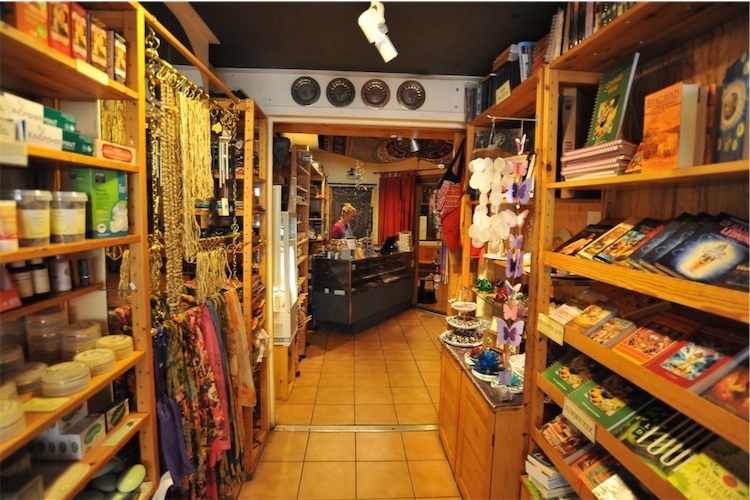 The gift shop, an oasis for many longtime customers
Every week, five to ten groups of high school and university students come to the Center to learn about the philosophy and culture of Hinduism, as part of their religious tolerance curriculum. While there, they listen to a lecture on reincarnation, karma, and the soul, ask questions, chant and try out the Swami step, and eat at Govinda's restaurant.
"It's very popular – teachers come again and again, some from far away, and many have sent us letters of appreciation," says Tapas.
The Hare Krishna Center also serves its congregation with weekly Saturday Harinamas and Sunday Feasts, Prabhupada evenings with films and memories about the ISKCON founder, and a variety of unique festivals for the congregation and presiding Deities Sri Sri Nitai Gaurasundara.
"We have a Pancha Tattva festival, a Panihati festival, a Vaishnava appreciation festival, and a Deity festival where everybody brings their home Deities and we worship Them all on a big altar," Tapas says.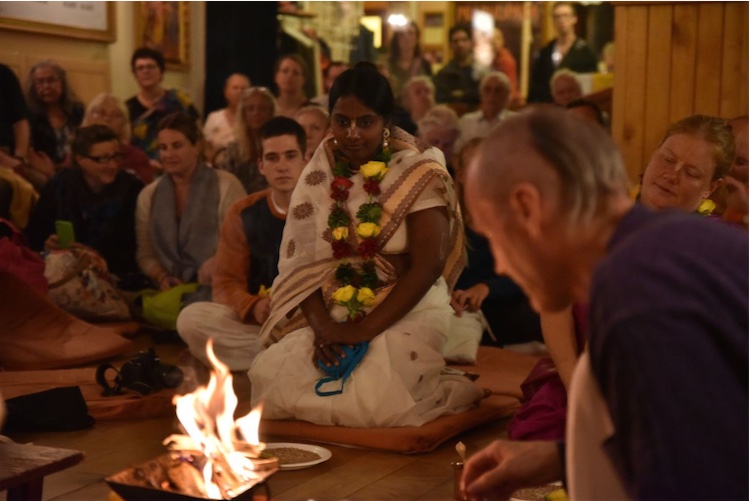 An initiation performed at the Hare Krishna Center
For many local Swedish people, he adds, the Govinda's restaurant and gift shop are a soothing oasis. "They like the atmosphere, the feeling of peace they get there, and the company. Some like to just go and chat with the shopkeeper about life and spirituality. For some, it's been part of their lives for 30 years, although they are not ISKCON devotees."
Because they are not receiving a response from their property company landlord, Hare Krishna Center devotees recently launched a campaign with GBC Pragosh Das to save all these public services. This includes going to the media, asking supporters around the world to spread awareness, connecting with other Hindu groups, and approaching the board of politicians that oversees Family Residences.
Already, the story has been covered by Swedish Television's Channel 2 during prime time. And Helene Egnell, assistant to the bishop of the Swedish Church of Stockholm – which runs an interreligious conference that devotees participate in – wrote a strongly worded letter from the conference to the political board.
"That was very good, because all the religions that participate in the conference – Buddhists, Muslims, Jews, different Christian groups – were behind the letter, supporting us," says Tapas.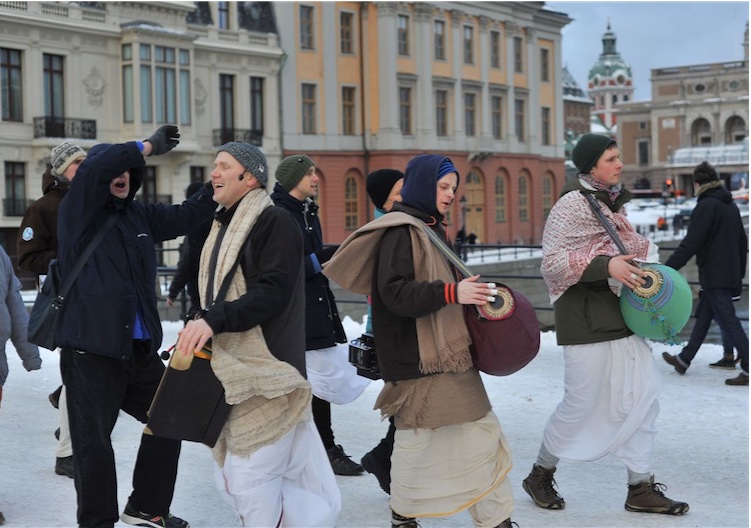 Devotees on Harinama in Stockholm
The Hare Krishna Center has also set up an online petition in English, Swedish, Russian and Italian asking everyone to sign their names and write why the Center is important to them. Devotees will then present these petitions, along with statements from teachers, students and other guests to the politicians who are ultimately in charge of the property company.
"If we go to the politicians, they might be more sensitive to this issue," says Tapas. "Because they have to think about the public benefit, and I would say that the majority of people who use the center are not inner core ISKCON devotees, but different demographics in the public."
Tapas hopes that through the campaign, devotees will either get permission to remain in the building they have developed into a cultural institution over 34 years, or receive enough compensation to move everything they've built to a different location.
"This is one of ISKCON's few city preaching centers left in Europe," Tapas says. "And it was Srila Prabhupada's and Bhaktisiddhanta Sarasvati's strategy to have centers in cities, so that a lot of people can be benefitted. That's why we dedicate ourselves to the challenge of running this Center, and why we are so determined to save it."
* * *
To add your name and testimonial to the petition, click here: http://bit.ly/1S9ocxH
Readers can also help by spreading awareness through social media, and sharing the petition link everywhere they can.
[
stockholm
] [
sweden
]