Teachers at ISKCON's schools work very hard, often with little support – so the chance to connect and collaborate with fellow educators from all over North America at the fifth annual ISKCON Education Conference was a blessing.
Running from Thursday June 21st to Sunday June 24th, the event took place at the Bhaktivedanta Academy Montessori school in Alachua, Florida. It was organized by Bhaktivedanta Academy principal Visvambhara Das, with help from Hanumatpresaka Swami and Dallas' TKG Academy vice principal Gopi Gita Dasi.
Twenty-three educators participated in person, from ISKCON schools in Dallas, Houston, Alachua, and North Carolina. A handful more from Sunday Schools in Baltimore, New Jersey, Detroit and ISKCON Silicon Valley participated online through Google Hangouts.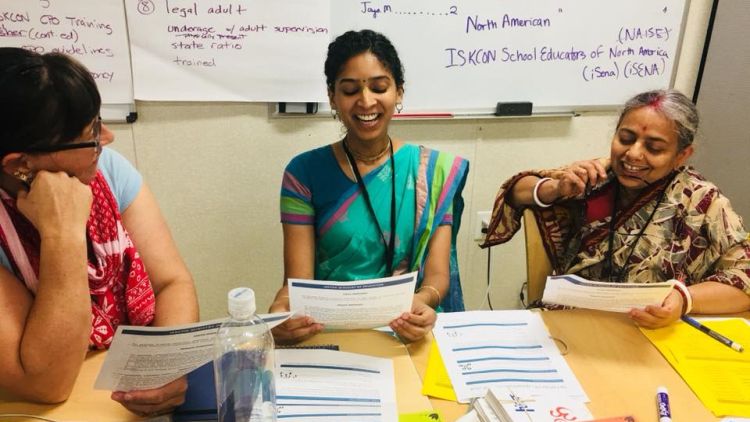 Sharing ideas
The main goal of the conference was to finish and revise a set of standards for all ISKCON schools and Sunday schools in North America to adhere to.
This would get them endorsed by the ISKCON Ministry of Education as official ISKCON-affiliated schools, which would eventually see the Ministry providing teacher training, child protection resources and even financial assistance.
Educators successfully completed the basic Level 1 endorsement standards at the conference, a major accomplishment three years in the making. This will give schools the minimum requirements to receive an official ISKCON stamp. Work on the more in-depth Level 2 continues.
Within this main topic, educators spent several hours discussing child protection and how to bring schools acros ISKCON North America up to the appropriate standards.
They also talked about what it means to be aligned with Srila Prabhupada; what different challenges they faced in the course of their service; and what resources are available for them to solve those challenges.
"The conference was very collaborative," says Gopi Gita. "In one session we shared areas where we needed support, and areas where we could give support. Immediately we could see that even just with everyone in the room right then, we had the resources available to help fix the problems we were facing."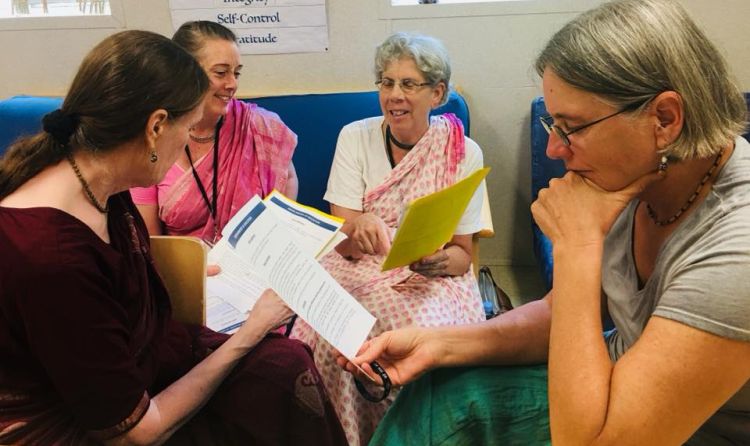 Another powerful part of the conference was Radhika Ramana Dasa's presentation. In it, he spoke about how ISKCON educators could ensure that our children don't feel isolated and different from the rest of the world, while staying strong in their own beliefs. We can, he pointed out, bridge the gap between Western culture and our own Krishna conscious practices.
A final achievement of the conference was the creation of I-SENA (ISKCON School Educators of North America), a closed online group on Facebook and Google Drive where educators can share resources, challenges and successes.
Looking to the future, Gopi Gita hopes that the Conference can help ISKCON eudcators feel that they are supported and their service is valued – something she says has sadly been missing.
"I hope our next step will be to connect with temple presidents and remind them that caring for our children through these educational initiatives should be at the top of their priorities list," she says. "And that giving teachers a voice and a place to turn to when they're experiencing challenges will strengthen them, which will in turn help our children feel a lot more comfortable and protected."
Next year, Gopi Gita exepcts double the number of participants at the Conference.
"This was the most empowering and exciting conference that I've been to out of all five so far," Gopi Gita says. "To work with fellow educators across ISKCON; to complete endorsement standards in collaborative settings; to identify resources and struggles in many areas; to learn so much and feel so connected with dear friends; to be able to help put it together; was a total dream come true. So if you're an ISKCON educator, please come to our next Education Conference in 2019 to feel completely rejuvenated!"
[
bhaktivedanta-academy
] [
education
] [
teachers
]