for ISKCON News on Sept. 21, 2018
About thirty high school students and college freshmen, along with their parents, attended a College and Career Conference at the ISKCON Towaco temple in New Jersey on September 8th.
Some forty devotee volunteers – all working professionals or early college grads – were there to network with the students, as well as to speak to them in panel discussions and workshops.
Organizers Gopika and Aksh Sharma from Towaco, and Yash Gupta from ISKCON of Central New Jersey, have worked with ISKCON youth for many years and developed the conference after carefully listening to the congregation's needs.
The event began with two presentations being offered twice, for parents and students to attend separately.
The first was a workshop by Radhika Ramana Das, Charles Redd Chair of Religious Studies at Utah State University, entitled "Find Your Path."
"Radhika Ramana Prabhu explained how choosing a vocation is in line with finding your dharma, and how the principles of the Bhagavad-gita can help one select a career path that is both satisfying and practical," says Gopika.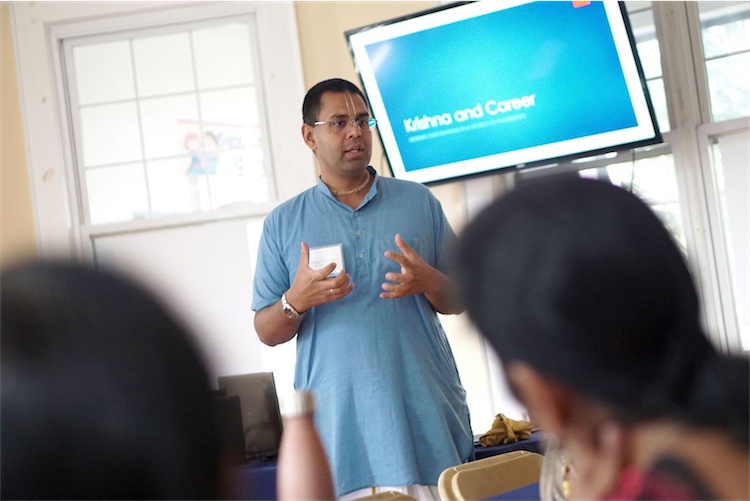 Radhika Raman Das speaking on Krishna and Career
The other consisted of a panel of professionals talking about their different career journeys, and sharing their mistakes, best decisions, wisdom and experience.
The group included Rasanath Das and Hariprasad Das, founders of the Upbuild coaching business in NYC; Rasa Krida Dasi, a Montessori teacher; Anuj Sharma, a leadership consultant at Bank of America; Vrindavan Vinodini, an independent coach; and architect Chaitanyananda Das, who has helped design a number of ISKCON temples on the East Coast.
The panelists also discussed the variety of ways they have chosen to integrate Krishna consciousness into their careers.
"One of our goals was to show our youth that there's no one way to go about it," Gopika says. "Sometimes there's an impression that you go to college, get a job, and then go to the temple on Sundays. But you could also create a business that directly supports the temple. You could use your talents in your job to help serve the ISKCON community, like designing temples if you're an architect. Or you could just have a job that provides for yourself and your family, and allows you to do something that inspires you in your free time, like Deity worship at the temple."
In the afternoon, networking expert Radha Bhakti Dasi gave a Networking 101 presentation to the students, including tips on how to build a value proposition for yourself. She also explained how to authentically live by one's spiritual values in a professional environment.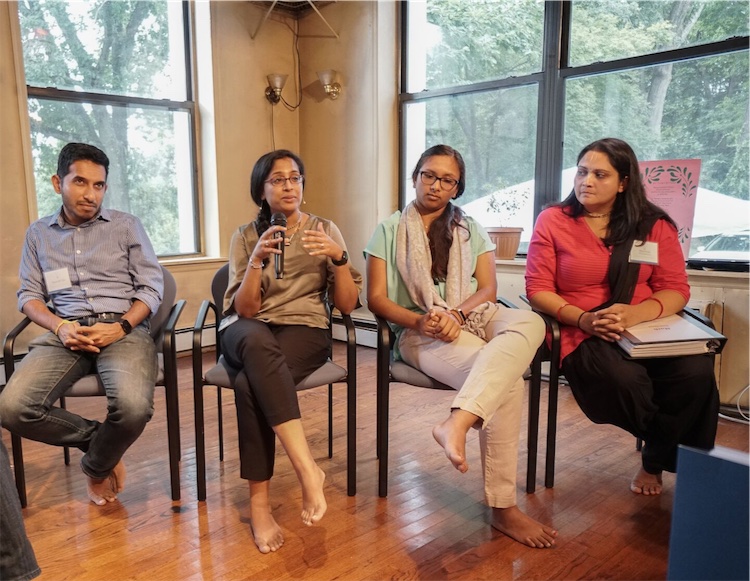 A panel discussion
For example, she examined the tension between promoting oneself in the workplace and Vaishnava teachings such as being humble and considering oneself lower than the straw in the street.
Radha Bhakti's workshop also included an opportunity for students to "speed-network" with all the volunteers.
Meanwhile parents took Radhika Ramana's interactive workshop "It Takes A Village," in which they were shown case studies of students facing particular challenges, and openly discussed what solutions they would use with their own children. The goal of the session was to create a sense of community and camaraderie amongst parents, encouraging them to support one another rather than be competitive.
Finally there was a career fair, with the volunteer professionals and college grads displaying something that represented their work – teachers, for instance, brought lesson plans, while computer science graduates brought video games they coded. Students and parents then visited each volunteer to get an idea of the wide variety of career options available and a sense of what they might be interested in.
In his closing words at the end of the conference, Radhika Ramana Das championed the notion that ISKCON temples should not only be places of worship but educational centers too. This, he felt, would give communities much more potential to grow.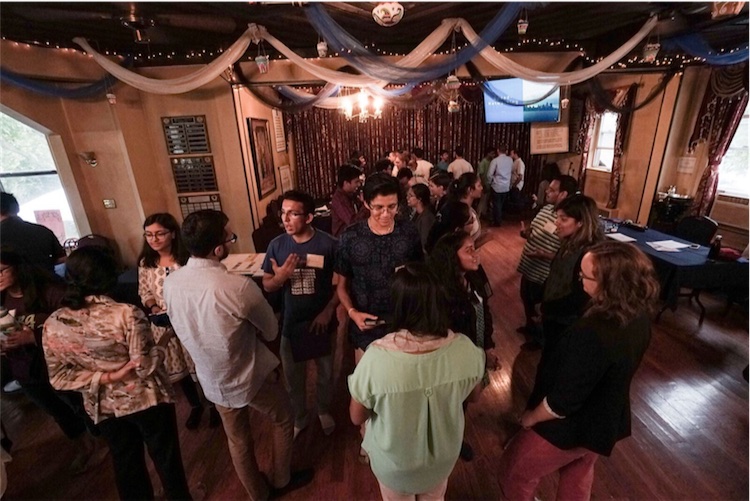 A networking session
Students left the conference with many new contacts they could reach out to should they want to explore a particular career further; as well as increased confidence in what they had to offer, new friends in their community, and a feeling of support and encouragement.
Volunteers felt a sense of satisfaction and joy in giving back and sharing their talents.
And many parents had a paradigm shift – from feeling that they had to guide their child towards the majors that made the most money, to realizing that it was also important to consider the child's nature, dharma, and spiritual goals.
Besides these successes, the conference helped youth growing up in Krishna consciousness see that ISKCON is more than just a ritualistic place of worship; rather, Srila Prabhupada's contribution can be directly relevant to their day-to-day lives.
Looking to the future, organizers hope to make the conference annual, as well as to introduce smaller workshops for students throughout the year that both teach them professional skills and help them integrate spiritual principles.
"I wish so badly that I had had something like this as a teenager," says volunteer Prema Bhakti Dasi. "I hope that many temples hear about it and start putting on events of their own like it."
[
youth
]