for ISKCON News on May 13, 2016
Devotees are set to open their first ever temple in Georgetown, the capital of Guyana, this July as an offering to Srila Prabhupada for the 50th anniversary of his ISKCON.
The temple, located in an extremely sought-after area, will receive its grand opening during a five-day festival beginning on July 13th, the day Prabhupada incorporated his society.
It's set to be a pinnacle for ISKCON Guyana, which is already one of the most active ISKCON congregations in the world per capita.
"The country has a population of only 750,000 people, but we now have five temples and six annual Rathayatras," says temple board chairman Prabhupada Deva Das.
Plans for the new temple began in 2005, when Prabhupada Deva and others began looking to establish a center in the most densely populated part of the country. They began by renting, then later purchased land, and in 2011 began construction on a custom building.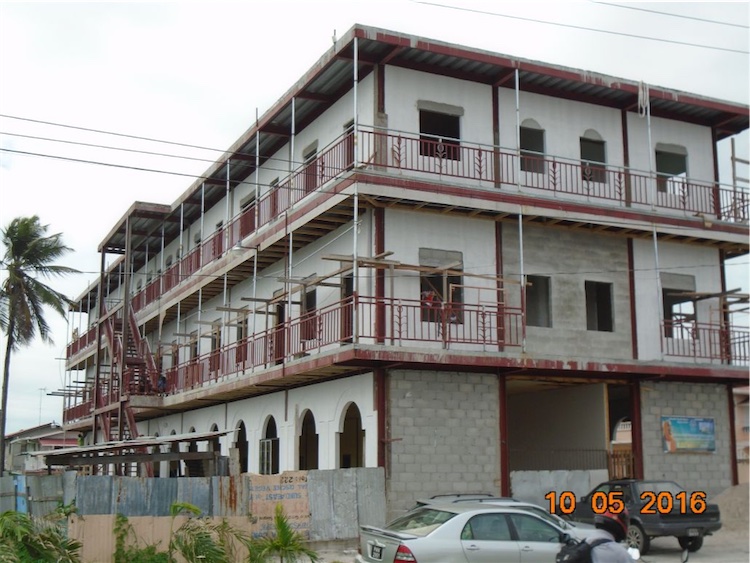 The new temple in Georgetown, under construction
The new temple could not be in a more prime spot, just three minutes' walk from the University of Guyana campus, with Srila Prabhupada's emphasis on university outreach a major inspiration.
It's also close to the Guyana International Conference Center, the headquarters of the Carribean Community Secretariat, the Ogle International Airport, and the site of Guyana's upcoming first hospital for specialized operations. The surrounding area, meanwhile, is an upmarket one, home to many dignitaries, ambassadors, and businesspeople.
The temple itself – still under construction, with external details to be made after the opening – is being built in a modern style, avoiding the typical Indian motifs so as to make the country's African populace feel welcome too. It will include a temple room for the community's Sri Sri Nitai Gaurachandra Deities, a Govinda's restaurant, dormitories, and a computer research and learning center to facilitate students.
The grand opening festival will run from July 13th to 17th, and is expected to draw between ten and twelve thousand people. Among them, organizers have invited such luminaries as Guyana's President, Brigadier David Arthur Granger; its Prime Minister, Moses Nagamootoo; and its Indian High Commissioner H. E. Mr. V. Mahalingam.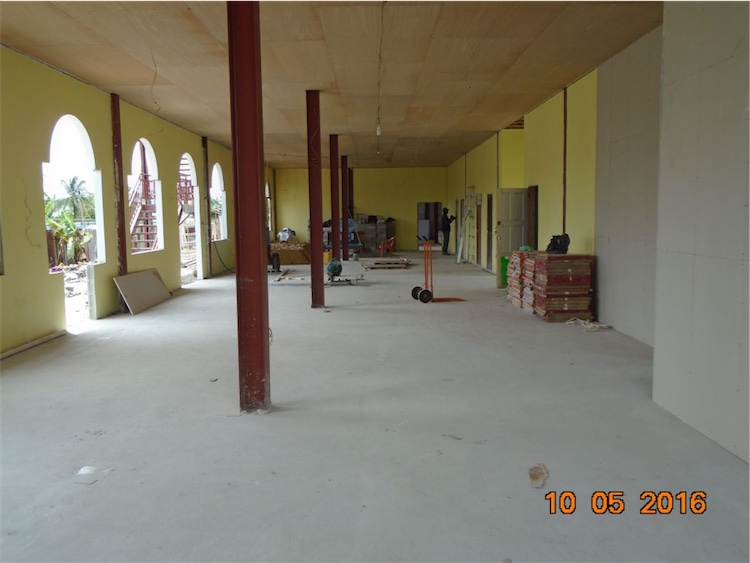 Inside the under-construction temple
From ISKCON, Bhakti Vasudeva Swami, GBC Virabahu Das, and kirtaniya Agnideva Das have been invited.
The festival's first day – the 50th anniversary of ISKCON's incorporation in New York – will see the dignitaries and devotees celebrating that historical occasion with a full stage program of dramas, talks and more praising Srila Prabhupada and his contribution to the world.
On the second day, devotees hope to invite government officials to tie the temple opening and ISKCON 50 in with the 50th anniversary of Guyana's independence, also happening this year.
"The politicians will be talking about Guyana's 50 years of independence from their point of view," says Prabhupada Deva. "And we will be presenting what ISKCON has done in Guyana since Prabhupada's only Guyanese disciple, Bhutadi Das, established the society here over forty years ago. These achievements include our village outreach program which contributes to nation-building, our weekly national television program Hare Krishna Today, our distribution of spiritual literature, and the different services our temples have been doing for people in general."
The next day, July 15th, will be an Ekadasi. It will be dubbed Prabhupada Day, and will see senior devotees sharing their memories and realizations about the ISKCON founder alongside a six-hour kirtan mela and ceremonial bathing of Srila Prabhupada's murti form. Organizers also hope to plant an American elm similar to the tree Srila Prabhupada first chanted under in New York's Tompkins Square Park, as a way to commemorate ISKCON 50.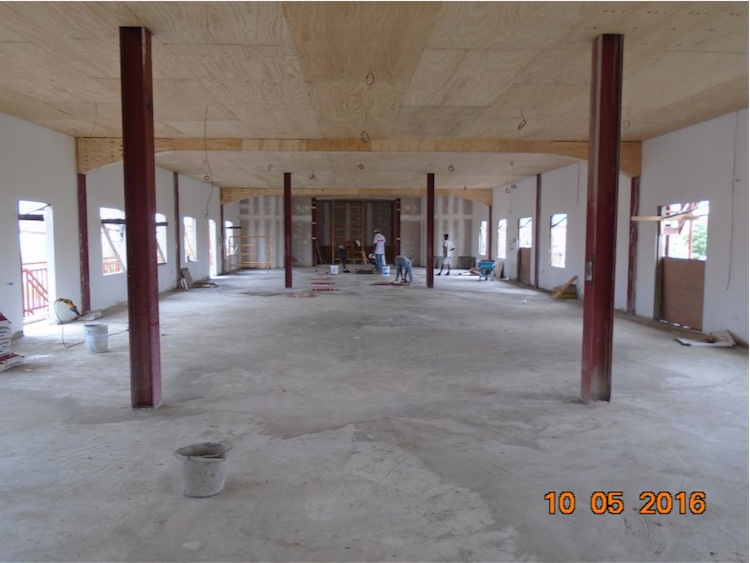 The temple room
On July 16th, a major Rathayatra festival will be held in honor of Lord Jagannath, with the familiar red and yellow chariot parading through main Georgetown streets like Vlissengen Road and Railway Embankment Road, before arriving at the new temple.
At last, the grand finale on Sunday the 17th will include all-day kirtan in a separate pandal (tent). Meanwhile, in the temple room there'll be an abhisekh or bathing of Nitai Gaurachandra and a stage program featuring dance, drama and presentations about ISKCON Georgetown's vision. The festivities will conclude with a delicious feast served to all.
Looking past the opening, ISKCON Georgetown will be very busy. For ISKCON's 50th anniversary year, many devotees will be pledging to distribute fifty books each, and Padayatra walking tours will be held every month. The new temple will be equipped with a kitchen big enough to feed 5,000 people daily during food relief initiatives. It will also offer Gopal Fun School Saturdays for children aged 5 to 12 to learn Krishna consciousness in a fun way. And its Bhaktivedanta Hall will offer classes on vegetarian cooking, yoga, music, dance, and philosophy.
Most of all, however, ISKCON Georgetown will focus on reaching university and college students. Its computer research and learning center will provide University of Guyana students with all the facilities for their regular studies, along with a full library of Vedic and Vaishnava texts to pique their interest. And devotees plan to hold many programs and festivals tailored to connect with the students.
"The vision of this project is to bring spirituality to the Guyana's brightest young minds," says Prabhupada Deva.